How I Share My Expertise with My Audience of Consultancy Owners
I've been working four days per week since 2020. In the four business days of the week, I do calls with prospects, work with my clients, and spend at least one hour every day putting together my learnings into various forms of content.

I know way too many consulting leaders that are constantly stressed about time management. What we discover upon initial conversations, in most cases, is that the lack of a proper time management strategy is not the underlying issue. It's the priorities and the strategies of going about these priorities.

Consultancy owners and leaders spend too much time working in the business – especially when it comes to business development and project execution.

Pitching and chasing prospects is a very time-consuming process. But it doesn't have to be. It's not for me. It never has been for me.

My client recruitment strategy is rooted in educating my audience, sharing my expertise, building trust with prospects, and then discussing project parameters with qualified leads – consultancy owners that come to me with an inquiry, not the other way around.

So in this post, I wanted to share with my audience of boutique consultancy owners and leaders my strategy for audience education, engagement, and, ultimately, business development.

I'm revealing all this information because it's a straightforward process that is 100% replicable. I encourage consultancy owners to use this as a blueprint.
What I share with my audience and my source of inspiration
What do I share with my audience? Everything!

Of course, my work with clients remains confidential. But my learnings on the processes that work, strategies that deliver strong ROIs, etc. – I share it all.

I openly discuss the common mistakes I see consultancies make and offer advice on how to remedy them. I share the roadmaps I've helped my clients set up to adjust their positioning. I provide step-by-step explanations of why certain business strategies work (e.g., vertical service integrations) and why others are doomed to fail (e.g., growing through horizontal service expansion).
For me, sharing my expertise, knowledge, and learnings has always been an exercise of carving out my niche and building trust within it. I do not try to cater to a larger audience. I am not interested in writing about topics I have superficial knowledge of. I am laser-focused on providing value to a narrow audience within a narrow subject.

Does every reader/follower/subscriber become a client? No, of course not. But every single client that I've worked with in the last few years was someone who reached out to me because they thought my expertise was well-positioned to help them tackle very specific problem areas.

Recommended reading: Business Development In Consulting Is Rooted In Educating Your Audience
Where I source my topic ideas
"Luk, what do I write about?"
I've heard this question more than once. My answer is the same: 'Your area of expertise, the subject you know most about and can provide the most value on to your audience.' It's really that simple.

I source my topic ideas from my daily interactions and work with boutique consultancies.
Had a call with a prospect? I jot down the pain points they brought up, what their biggest challenge in running the business is, what their current strategies are, and so on.


Made a post on LinkedIn? I take note of the comments, the questions that arise, the feedback, and new perspectives.


Completed a client project? I gather and review the data for patterns from my assessments and KPI analysis. I also summarize my learnings – how I helped, what new information I learned that allows me to deepen my expertise, what challenges we prioritized addressing, what the end result of this client engagement was, and more.


Someone responded to my newsletter with a request to clarify my point of view? I instantly add it to my long document of content ideas.
My daily interactions with my audience - both off- and online - are of utmost importance because they allow me to put together posts not in a vacuum but by actively listening to my readers.

This helps me ensure that my expertise-sharing time is well-spent: my content is relevant and provides my target audience with value.

Every single boutique consultancy owner can do the same. It's not rocket science.
Recommended reading: How Boutique Consultancy Owners Can Reclaim Their Quality of Life
Content formats that work for me
My three main platforms for sharing my expertise are:
My blog
LinkedIn
My newsletter
I love to get involved outside of these three channels. I frequently accept invitations to join webinars, podcasts, guest authorship, etc.

Recommended podcast episode: unbillable hours' episode Productizing Services – I discuss what productization means for consultancies
However, the three platforms I listed are where I put 90% of my energy when creating educational content.

So I'm going to dive deeper into why these three channels work for me and how they help me continuously grow my reputational footprint and, ultimately, generate new business.
The Visible Authority blog
My blog is my largest repository of the knowledge I share with my audience. I tend to go into detail when covering a subject and posting it on my blog.

My goal is to provide as much depth as possible in my posts – within the bounds of reason, of course (who has the time to spend 2 hours reading an article!).

Currently, I get on average 3,600-4,000 monthly reads – around 1,000 of those are through organic traffic.

The average time a user spends reading my posts is 3,5 minutes (according to global statistics, the average time that users spend on a website is 45-54 seconds in 2023!). Between 2% and 3% of blog visits convert to newsletter subscriptions.

I make sure to write new articles twice a month as a bare minimum.

However, like any database, my knowledge database, too, requires regular maintenance and upgrades. That's why I make sure to spend time every quarter reviewing my older posts, determining what could use a refresh, analyzing which posts should be split into a separate post, etc.

As my service offering evolves over time, so does my blog.

Over time, I was able to build up enough authoritative content within a narrow focus area that I now generate most of my traffic through organic search.
Below are just a few examples of searches consultancy owners enter into Google and come across my content – usually on Page 1 of search results.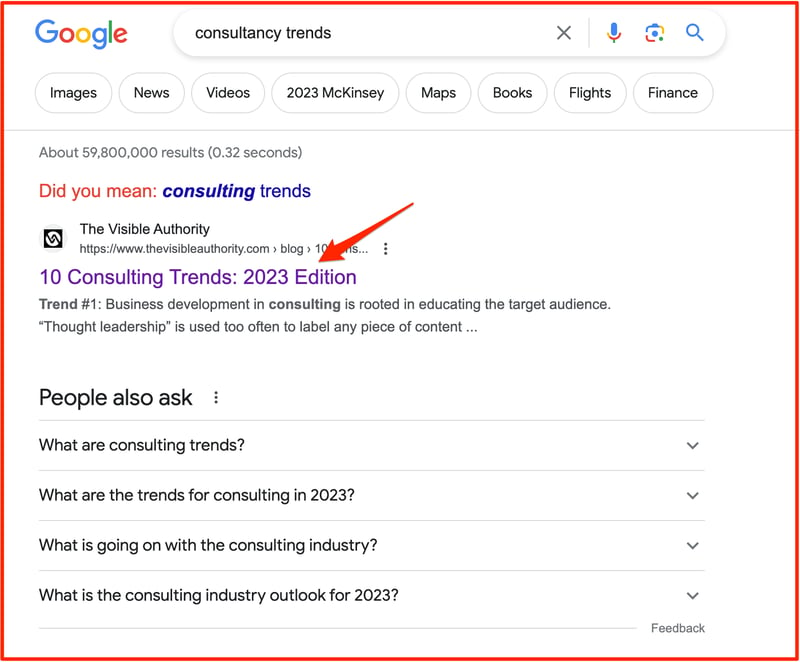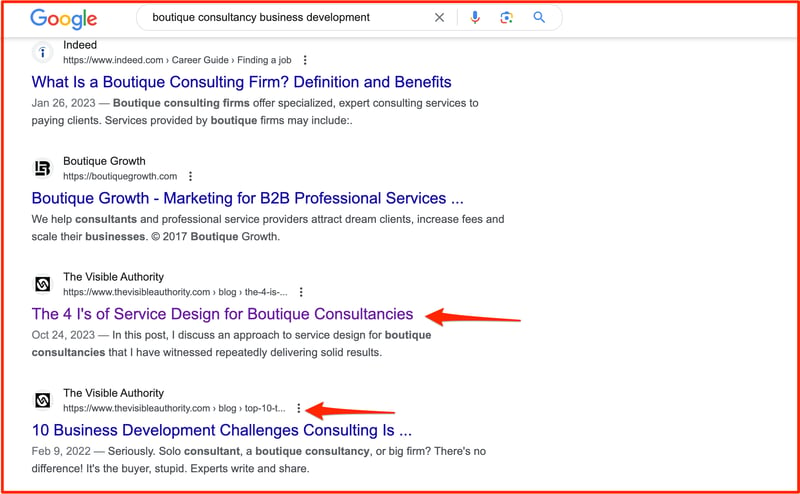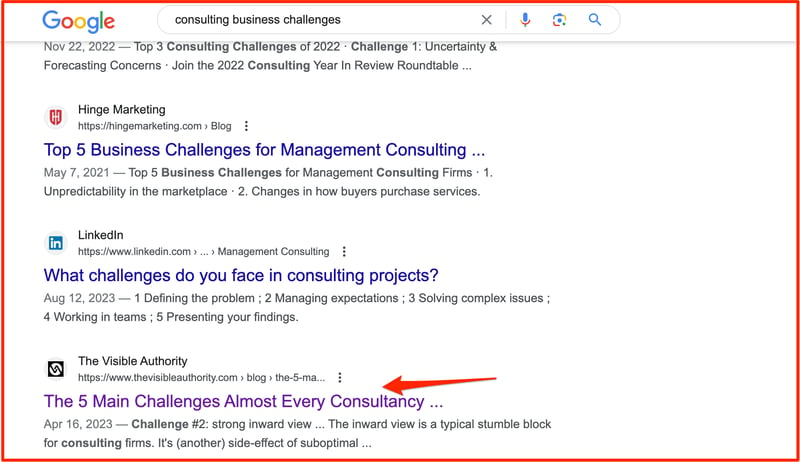 Of course, I am very mindful of the importance of SEO. However, I never dedicated more time to it than covering my basics: valuable content above all, and making sure I have elements like an attractive title, meta tags for each article, removing dead links from older blog articles, etc.

Beyond that, it has never been a matter of making sure certain keywords appear evenly throughout H2 and H3 headers, sending out requests for backlinks, and other SEO strategies.

Yet, because what I write seems to resonate with a specific audience, I get returning visitors (⅓).

My content gets linked to by other sources. It generates engagement on social media platforms. I regularly update older posts to keep them relevant. These are all signals that Google takes into consideration when determining the ranking of websites.

As a result, my educational pieces get discovered by consultancy owners and leaders from outside of my immediate readership base.

Oftentimes, these users turn into frequent readers. Many subscribe to my newsletter. Others connect with me on LinkedIn.

Over time, this creates a natural funnel of prospects who, upon getting familiar with what I do, how I do it, and my point of view, reach out to me with a collaboration inquiry.
Recommended reading: Why Are Consultancies Appointing New Partners Without a Voice?
My LinkedIn network
My business is B2B. I work with boutique consultancies. Where do I find them in large numbers? On the biggest professional network in the world – LinkedIn.

I'm not particularly invested in other social media platforms – Facebook, Twitter, or anything in-between.

While I probably could generate a few leads from those, I prefer to put my efforts into one platform that has my target audience's attention than try to disperse my efforts.

As a result, I now have 10,000+ followers on LinkedIn (from 5,000 in 2021).
Most consultancy owners/partners totally misunderstand LinkedIn.

They are stuck in archaic thinking about LinkedIn, treating it as a bulletin board for self-promotion or as a picture diary of all sorts of events.

These consultancy owners and leaders are missing the point of social engagement for business growth.

While they muse over the pictures of their fabulous keynote presentation from last week (that doesn't drive real engagement), their LinkedIn-savvy competitors are engaging in real-time with clients and prospects, learning directly from the market through immediate feedback on their shared viewpoints, on-the-spot sharpening their thinking with each interaction.

I urge consultancies to embrace the power of instant feedback loops — how a single post can trigger insightful discussions, becomes a two-way street of insights, where the feedback they receive is as valuable as the expertise they share.

That is the currency of influence on LinkedIn, and many boutique consultancy owners are letting it slip through their fingers.

They bypass LinkedIn, and bypass deep client understanding.

I use this platform to share my knowledge in short form – for my target audience to consume it on-the-go. Content on my website may gather digital dust, and may remain unchallenged, whereas LinkedIn breathes split-second life into my words, my thinking, my expertise.

The result? In the past few years, I've written a treasure trove of >400 pages of firsthand knowledge, and I have a backlog of insights to last me (and my readers!) for at least the next 2 years.

To keep myself organized, I have a schedule of the type of content I post throughout the week.
Monday: I share a small piece of advice based on my observations in work with consultancies.
Tuesday and Wednesday: I share case-based experiences and my advice how to deal with them. My goal with the LinkedIn posts on these days is to challenge common – yet outdated – thinking in consulting. These posts tend to garner a lot of attention in terms of comments, reactions, and impressions.
Thursday: I share my newsletter
Friday: I offer my network advice in the form of a carousel post – a format that allows me to provide a fair amount of information in a very user-friendly, reading-on-the-go way. I stick to addressing one single problem within a post, often using bullet points and list formats to help my network get an "executive summary."
Saturday: I reshare my most recent articles with my point of view added to it
Sunday: I make sure to acknowledge other experts whose work helped/inspired/challenged me throughout my journey. It can be an author whose book gave me valuable insights, an organization whose report allowed me to get a better understanding of an industry, etc.
LinkedIn has proven to be an effective audience engagement channel for me. I make sure to read all responses, reply to comments as much as possible, thank my followers for new perspectives, and, of course, use it as a source of inspiration for my longer pieces that I put out on the blog. I treat each comment, each share, each piece of feedback as a free lesson in market demands, client pain points, and industry understanding.

Now, here's 'the shocker': I never do outreach. I don't send connection requests on LinkedIn. And I haven't spent a minute on direct sales.

And yet…I doubled my followers from 5k to nearly 10k in 2 years. I am fully booked—100% inbound.

So, to every consultancy owner or leader, don't you dare tell me you don't have time to share your experiences. And don't tell me LinkedIn doesn't work. It does. Every consultancy can do it.
Here's some data to back it up – curated by Mandy McEwan.
98% of B2B enterprises see value in social selling, but only 49% of them have developed social selling programs. (Anthony Barnum)
Social sellers have a larger volume of new customers (65% vs 47%) and better customer conversion (46% vs 31%) compared to those who are not using social media for sales. (Hubspot)
96% of business professionals would be more inclined to buy products or services from businesses whose sales professionals understand the needs of their business. (LinkedIn)
75% of B2B buyers and 84% of C-level executives are influenced by social media when making purchasing decisions. (IDC)
Creating value by sharing your experiences and transforming your consultancy into a hub of education isn't just a task…
While I make sure to consistently post every day, it barely takes any time. I often use my blog pieces to filter out a single idea and break it down in my LinkedIn post.

It works the other way around too. I frequently make posts inspired by conversations I have with prospects or as a result of comments from followers.

Summarizing my advice in a short form, I then use the idea to create a more in-depth piece for The Visible Authority blog.

It's all interconnected.
Consultancy owners and partners saying they don't have time for LinkedIn is like them saying they don't have time to understand the market.
The Authority newsletter
Last but certainly not least is my newsletter – The Authority – that I send out every other week.

I use my newsletter to provide my highly treasured list of subscribers with a catalog of all the educational pieces I've created in the previous two weeks.

I make sure to include my blog pieces, LinkedIn posts, shout-outs to community members and those who inspire me, etc. This gives my subscribers an opportunity to browse through my latest content and read posts that address the most pressing problems for them.

I am very meticulous about nurturing my subscriber list. Growing the list at a certain speed is not my priority. I only care about reaching the right audience – my target audience. I'd rather have 1,500 highly relevant subscribers than 100,000 subscribers from a wider audience.

As a result, my open rates are far above any industry average, and my subscribers regularly engage with the newsletter in the form of clicks, responses, comments, etc.

I see my newsletter as a dialogue opportunity. Not just random self-promotional stuff I throw at my database of people.
How my education-driven strategy fuels my business growth
My education-driven content creation IS my business development strategy.

As I, hopefully, made abundantly clear by now in this post, I create content that will help my prospects shift their thinking by sharing best practices, providing in-depth advice, and introducing business strategies that high-performing consultancies utilize.

By the time prospects reach out to me, they have very little doubt about my expertise. My educational posts have already convinced them that I have the required depth of knowledge to help them.

I don't negotiate on pricing. I don't have endless back-and-forths. In my conversations, I'm extremely forthcoming about exactly what I do, for who I work, and how I do it.

Because of the depth of my expertise, I'm able to deliver transformational outcomes. As a result, 99% of my new leads are ICP-fit: owners or partners of boutique consultancies with approximately 25-150 employees and/or >2M to 25M revenue.

My blog articles, the newsletter, and the LinkedIn daily posts do a vast majority of prospect qualification for me.

By the time prospects reach out, they've already read at least three pieces of my content during a period of 4-6 months (self-reported attribution).

They have browsed through my website multiple times. They already know that they fit in my target audience (because I publicly communicate my ideal client profile all the time), so they know I'm able to assist them.

Of course, there are nuances to any education-driven content strategy. For example, in one of my posts, I explain in detail how different types of content can be used to prompt certain types of actions from the target audience.

Similarly, it's best to figure out around what time of day/week, your audience is most engaged and try to post accordingly.

However, the foundational elements are really not complicated. In the end it boils down to consistent high quality content and advice.

Recommended reading: Why You Should Share Your Expertise To Grow Your Consulting Business
In conclusion
My education-driven content strategy for reaching consultancy owners and leaders is a testament to the power of narrowly-focused expertise sharing.

By consistently providing valuable insights and in-depth advice through various content formats, I am able to constantly grow my reputational footprint as a subject matter expert.

The expertise, authenticity, and relevance of my content is what fuels my business growth.

I strongly encourage boutique consultancy owners who find themselves in a hamster wheel of chasing prospects and stressing out about endless follow-ups to change their approach.

There is a better way to go about it – it's better for reclaiming these consultancy owners' time, it's better for their prospects, and it's better for the business as a whole.

Instead of talking AT their audience, it's time to listen to their pain points, struggles, challenges and business needs and create high-value content that addresses these.
Interested in receiving all my learnings to build a better consultancy?
Subscribe to my newsletter.

Hello, I'm Luk Smeyers, and I'm helping mid-sized consultancies become high-performing consulting firms. I have been in the consulting businesses for more than 20 years, in very different roles: as European CHRO in a global consultancy, as a founder of a mid-sized analytics consultancy, and as a leader in a 'Big 4' consultancy, post-acquisition of my consultancy. I had the privilege of achieving global visibility as a consulting leader, and I never had to sell, persuade, or negotiate as a result. I have now bundled all those experiences, expertise, know-how, research, reading, successes, struggles, and failures from managing and advising consultancies in the past years.