Why Vertical Service Integration Is the Future of Growth for Boutique Consultancies
It's time to bury the old-school, linear growth model in the boutique consultancy.

A linear growth model in consulting is one where revenue growth is directly proportional to headcount growth.

Usually, boutique founder-led consultancies start with a narrow focus. It's often created by a small group of consultants with deep expertise – technical SAP consultants, social media advertising specialists, growth marketing consultants, data analytics specialists, or supply chain experts – you name it.

As the team starts to grow, founders begin entertaining the idea of expanding the services offered by their consultancy. It's pretty standard. I've been there myself.

So they start hiring more consultants to take on the expanded services. Before they know it, they now offer everything to everyone.
We live in the labour shortage era.
It's a slippery slope. And I strongly advise boutique consultancies against it. In a talent-scarce, hypercompetitive arena, consultancies can't really afford to link revenue growth with headcount growth.

Not to mention the hit that consultancies tend to take in terms of profitability because of the expanded services. As a specialised firm with deep expertise and a strong reputation in the market, a consultancy could charge premium prices.

However, the more unrelated services are added, the more diluted the reputational footprint of the consultancy becomes, the less impactful marketing and business development efforts get, the more competition waits around every corner, and the higher the pricing pressure gets. And three years later: the total disintegration of the original consultancy concept.
"The variation in consulting work is exciting at first. I get that. But to be honest, it's wearing off over time. Then, fatigue hits the road. A narrow focus is maybe boring at first but becomes more exciting over time. People start inviting the expert consultancy that knows (almost) everything, has the most compelling data, can spot intriguing patterns, explain fascinating solutions, gets admired for thought-provoking ideas, and doesn't need to sell or convince."
It's time to confront the uncomfortable truth and transform how we grow in a boutique consultancy. Let's leave the linear headcount growth to the big consulting firms (who also continue to rethink their leverage models).

My favourite approach is vertical service integration,d in this post, I'll explain why through the use of two case studies of consultancy clients of mine.
Linear vs non-linear (vertical service integration) growth models for boutique consultancies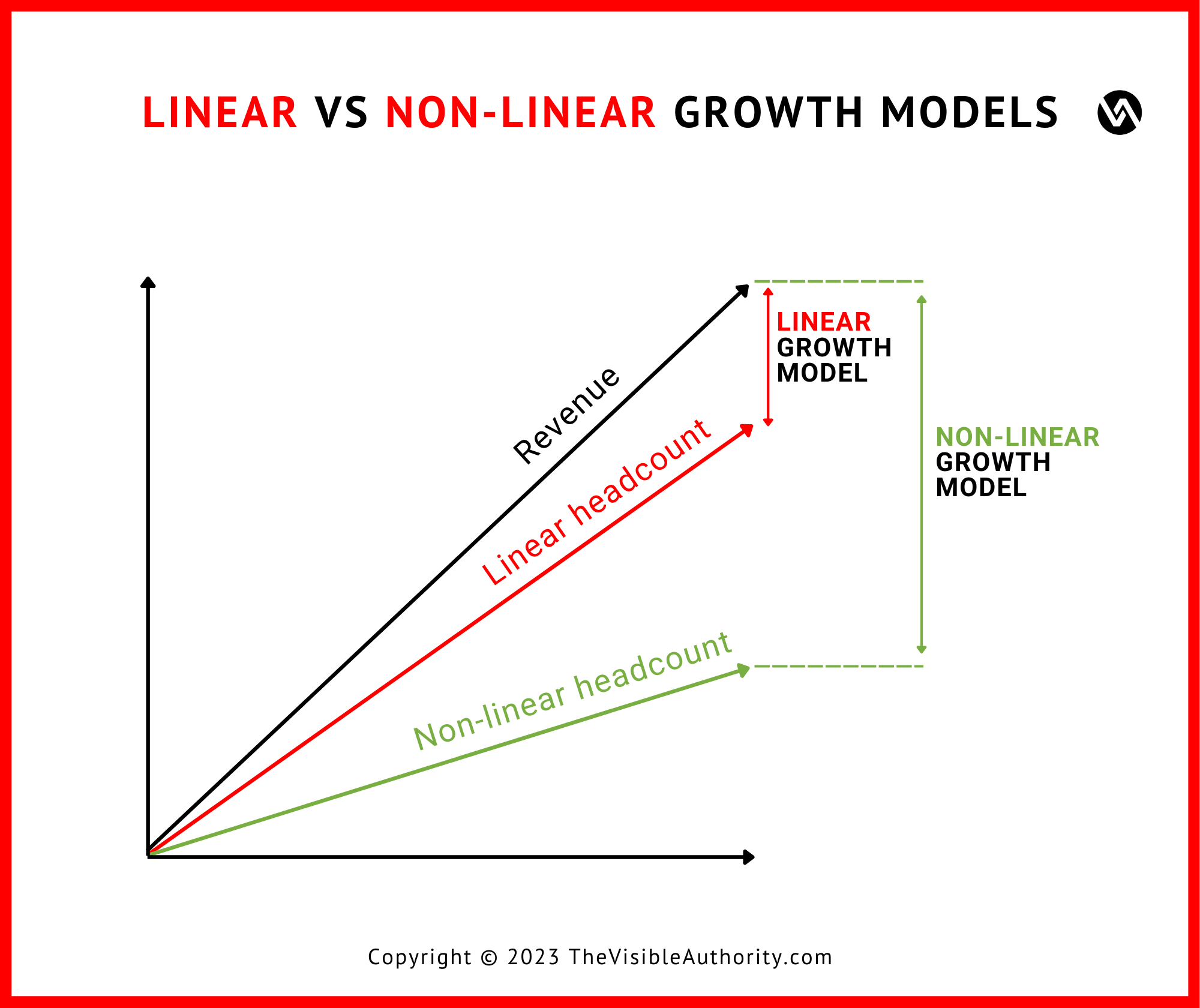 The linear growth model – known as "the leverage model" in consulting – ties revenue to headcount. Headcount growth is needed to grow the revpaymentnd payroll costs increase linearly. Project margins either remain the same or slowly deteriorate.

Making (overly diverse) revenue growth dependent on the headcount means endlessly recruiting the right talent. It means constantly having to onboard new consultants. The competition for talent is ruthless, and onboarding often becomes a high cost in these consulting firms.

Furthermore, a consultancy that hires employees to expand its diverse service offering horizontally will always have difficulty with knowledge transfer. There simply isn't enough focused repetition of processes and approaches to create a knowledge bank that can be quickly passed down to the next employee.
Vertical integration, avoiding the 'hire to scale battle'
The 'hire to scale battle' is something vertically integrated boutique consultancies don't have to worry about. ​​This model is one of the most powerful methodologies to avoid the 'hire to scale' battle.

Here's my definition of vertical integration in consulting.

"Vertical service integration in consulting refers to the strategic expansion of services within a specific domain of expertise. It's about progressively deepening the consultancy's service offering, providing a spectrum of solutions that span from broad strategic advice to highly specialised, granular interventions. This approach cultivates richer expertise, enables a more comprehensive service to clients, and fosters a deeper understanding of the patterns, intricacies and nuances within a particular field."

Instead of diversifying the offering to increase the pool of prospects (horizontally), high-performing consultancies diversify their offerings through depth (vertically) by identifying additional services that can be provided to the same small pool of prospects within the same pain-resolution field.
Due to the narrow focus of their work, these consultancies tend to have well-documented processes. They spend less time on proposal writing, have a better deal closing rate and speed, are more adept at creating experience-based thought leadership, and, ultimately, have more effective and efficient operations and service delivery.
"In working with consultancies week after week, I am realizing more and more that the extraordinary success of some of those consultancies is directly determined by how narrow they were able to make their focus."
Within this vertical service integration model, there are many ways to go. Some diversify through retainer or subscription-based products. Some productise or package repetitive consulting processes and sell them as an add-on. Others offer services that would be 'the next natural step' in their work with clients once the initial project is completed.

Whichever new revenue stream these consultancies create, they are strongly connected – and sometimes even dependent – on the core offerings within the narrow area of expertise.

Recommended reading: Why 'Hiring to Scale' Is a Losing Battle for Mid-sized Consultancies
Case study #1: A boutique consultancy specialising in sales forecasting for large international supermarket chains
I had the pleasure of working with a boutique consultancy that carved out its niche in the data and analytics space.
This is a highly competitive space – thousands of data analytics consulting firms are out there. This consultancy, however, wasn't interested in competing for every data and analytics project out there.

The co-founders decided to, instead, utilise their experience in sales forecasting to make that the foundation of the consultancy's offering.

However, they didn't stop there. They decided to focus exclusively on catering to multinational supermarket chains. They strategically decided to develop all their processes around this segment of prospects, perfect their pitches to these prospects, design a highly outcomes-driven service offering around it, and put all their marketing and business development efforts into cornering this market segmentation.

Important information: the whole process of narrowing down the focus and verticalisation took almost three years. Step by step, without destroying the revenue from other work streams (that gradually faded out).

This firm became highly profitable. Their process repetition allowed for the optimisation of resources, making them extremely efficient. As the expertise level deepened – again, by working with the same types of clients on resolving the same pain point day in and day out – their offering became more valuable, allowing them to charge exponentially higher fees than other consultancies.

Whenever the co-founders felt that it was time to grow and diversify the service offering, instead of expanding the services to capture other types of clients – say fashion retailers or large e-commerce brands – they thought of what additional services they could develop for large international supermarket chains within the pain point of sales forecasting.

So, over time, this consultancy developed a vertical range of underlying, connected services derived from the narrow focus of sales forecasting for large international supermarkets.
Here's an overview of the vertical integration model
Sales Forecasting (the foundational service): This primary service leverages advanced analytics and machine learning to predict future sales patterns of supermarkets. It accounts for factors such as historical sales data, seasonal trends, promotional activities, and wider market dynamics. By providing accurate sales forecasts, supermarkets can make informed decisions on inventory management, pricing, marketing strategies, and overall business planning. This service forms the foundation of the consultancy's vertical integration model, setting the stage and the data sources for the more specialised underlying services.


Store Inventory Management: This service optimises inventory levels based on forecasted sales, ensuring supermarkets have the right amount of each product at the right time to meet customer demand without overstocking.


Shopper Segmentation: This service uses sales forecasting data to identify distinct shopper groups based on buying behaviour and preferences, allowing supermarkets to better cater to the needs of different customer segments.


Pricing Optimisation: This service uses forecasted sales data and shopper segmentation insights to develop dynamic pricing strategies, maximising profitability while maintaining customer satisfaction.


Store Layout Optimisation: Based on sales forecasting and shopper segmentation data, this service advises on optimal store layouts to enhance the shopper experience and maximise sales of various product categories.


Fraud and Theft Detection Analytics: This service leverages the discrepancies between forecasted and actual sales to identify potential instances of fraud or theft, providing supermarkets with insights to mitigate losses and improve security.
These five underlying services, derived from their primary sales forecasting expertise, allow the consultancy to provide more comprehensive and customised solutions to their supermarket clients. This deepened expertise enhances their value proposition and supports their highly profitable vertical service integration model.
The most significant advantages this consultancy has learned over the years (same learnings in case study #2)
Upselling: Not only were they able to attract new clients within their suite of integrated services, but their success rate for upselling to existing clients also went through the roof. By establishing trust with their clients with the initial sales forecast project by delivering high-value results, they barely have to convince their clients to start the journey through their other integrated offerings. As a result, this consultancy's current marketing and business development expenses are almost negligible. Growth is all about upselling in the vertical model.


Multiple-year collaborations: The upselling within the vertical service model with existing clients has enabled them to upsell a single client for all their services effortlessly and has already created several multiple-year collaboration contracts with stable, recurring revenue from existing clients at premium prices.


Non-linear growth: By rigorously implementing its vertical service integration, the consultancy has ingeniously uncoupled revenue growth from headcount expansion. By emphasising and cultivating depth of knowledge in a strategic, interconnected manner, they've transformed how growth is achieved, reducing reliance on team size and instead leveraging their deep-seated expertise.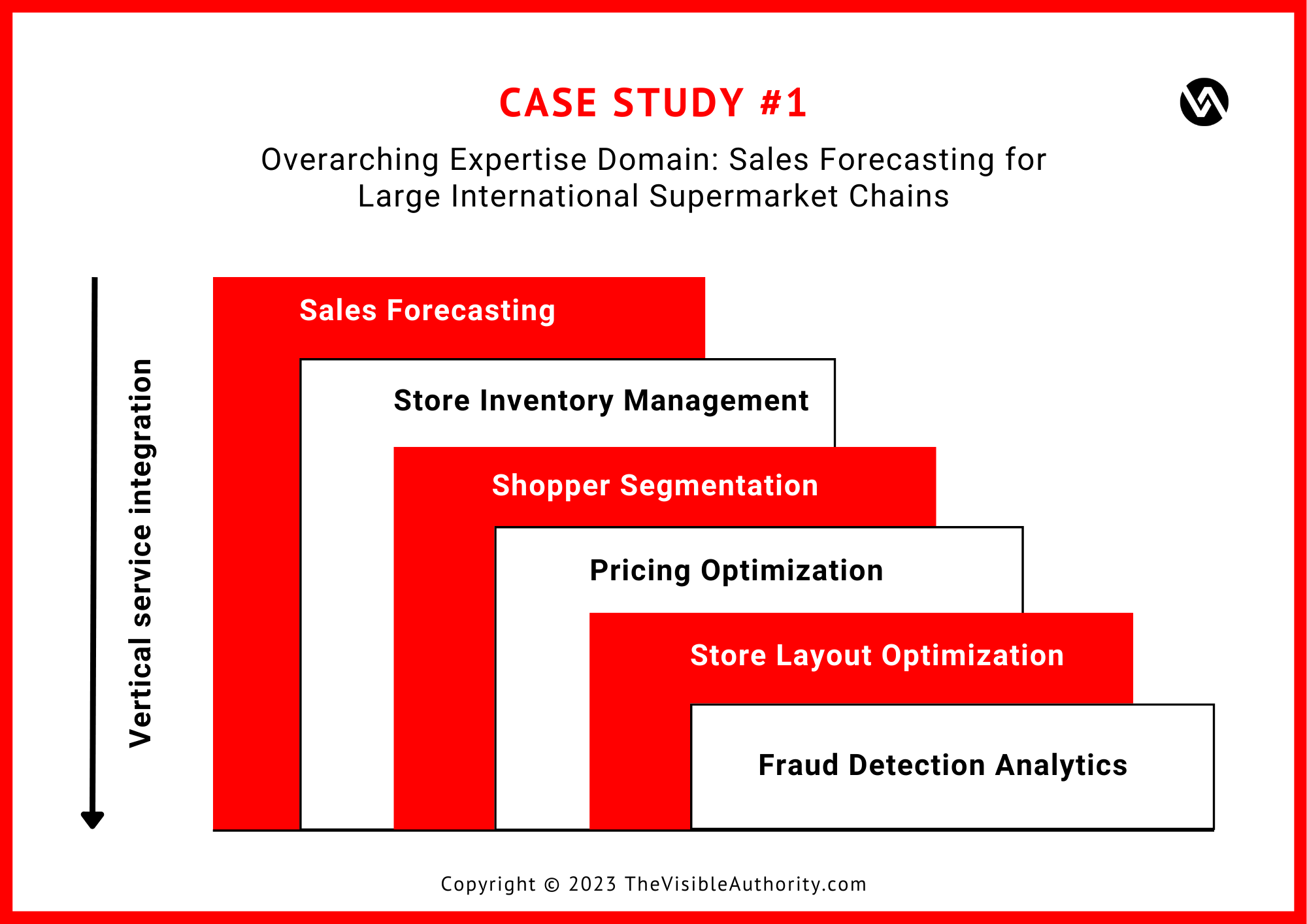 Recommended reading: Why High-Performance Consultancies Are Obsessed with Specificity
Case study #2: A boutique consultancy specialising in supply chain risk management in manufacturing
The second case study that perfectly represents the growth potential of the vertical service integration growth model is a supply chain boutique consultancy – another former client of mine. They are a group of daring supply chain leaders (a mix of former Big 4 consultants and supply chain execs) solely focused on supply chain risk.
Like in the first case study, when it was time to grow the consultancy, the co-founders threw out the age-old linear growth model in favour of vertical service integration. Their focus isn't on expanding the team; it's about deepening their supply chain risk expertise and offering an interconnected suite of services that move from global to granular.
"In consulting…
Narrow focus is the path to repetition.
Repetition is the path to expertise.
Expertise is the path to value.
Value is the path to profit.
Profit is the path to quality of life."
Here's their vertical 'risk cascade'
Supply chain risk management: At the top of their vertical cascade is the holistic approach to supply chain risk management. By looking at the big picture, they're helping businesses navigate the labyrinth of global logistics, ensuring every part of the supply chain is robust & resilient.


Supply risk management: Delving deeper, they zoom in on specific supply risks to optimise operations.


Supplier risk management: Further down the vertical integration, they scrutinise every supplier relationship. They don't just evaluate potential partners; they aim to transform risk into reliability, guaranteeing sustainable collaborations.


Supply contract risk management: Finally, they tackle contract risk management at the deepest level of their vertical model. This isn't just about avoiding legal hitches but safeguarding the client's interests.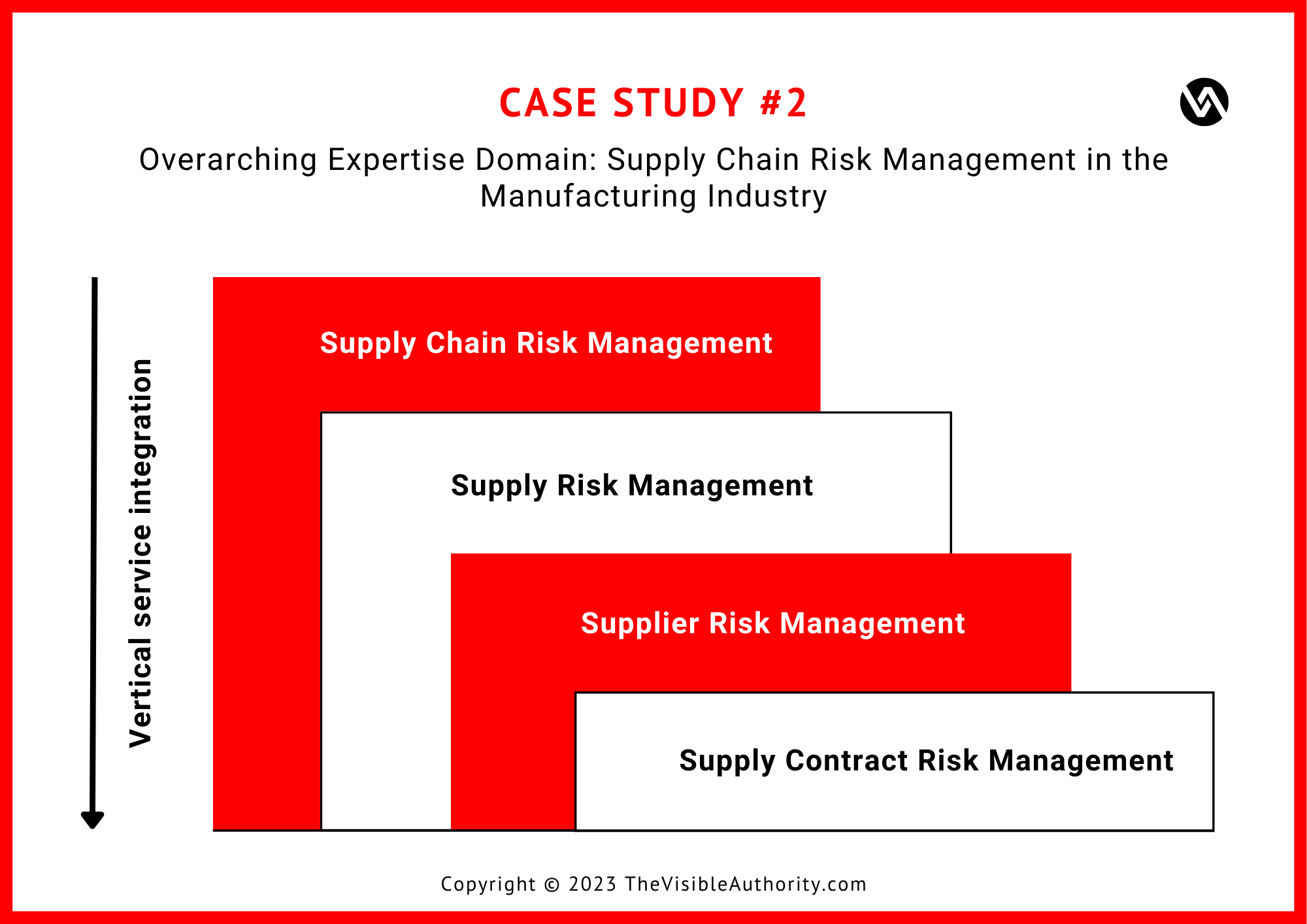 In conclusion
Unfortunately, based on my observations of 200+ boutique consulting firms, most jump wider instead of deeper.

Life in these (horizontally) diversified boutique consultancies is often problematic from financial health and quality of life standpoint. The pressure on each consultant and marketer to sell, sell, sell is enormous. I've encountered too many cases of consultancies' founders feeling burnt out and noticing an unhealthy, overstressed culture in their teams.

Not to mention, it requires tremendous efforts, including constantly hiring people with all kinds of expertise and a lot of training time for these people (if you can find them). They might grow on paper, but each step in this linear growth model comes at increasingly unjustified costs and stress.

I won't argue that vertical service integration is the only growth model for boutique consultancies. However, it has a blueprint that I've seen consultancies utilise with fantastic success rates. And that's worth considering.
Remember: diving deeper rather than wider is a proven success formula.

Hello, I'm Luk Smeyers, and I'm helping mid-sized consultancies become high-performing consulting firms. I have been in the consulting businesses for more than 20 years, in very different roles: as European CHRO in a global consultancy, as a founder of a mid-sized analytics consultancy, and as a leader in a 'Big 4' consultancy, post-acquisition of my consultancy. I had the privilege of achieving global visibility as a consulting leader, and I never had to sell, persuade, or negotiate as a result. I have now bundled all those experiences, expertise, know-how, research, reading, successes, struggles, and failures from managing and advising consultancies in the past years.