Getting Over 'The Project Wall' To Grow A Consultancy Firm
This article was last updated on 8 August 2023
I often conduct workshops with mid-sized consulting firms as a follow up to a positioning audit I conduct for them. One of the discussions that comes up during such workshops rather frequently is how boutique consultancies and mid-sized firms can 'move upstream' – moving from project work to strategic advisory. In this post, I summarize the main points of such discussions and the strategies I've shared with consultancies over the years.
But first, I'll provide a quick review of the upstream vs downstream concepts in consulting business models.
Upstream vs downstream work
Downstream work is low-altitude. It centers primarily around day-to-day execution and/or implementation work, which has relatively low impact on the clients' true pains.
Upstream work, on the other hand, is high-altitude. It's all about high-level strategic and/or diagnostic advisory. This type of work tends to have a relatively big impact on the clients' true pains. High-performing consultancies tend to fall in the latter category. They position their offering as "transformative", which means the work requires deep expertise and they are able to charge premiums.
Switching to an upstream 'client transformation' consulting approach is THE #1 pillar of success in consulting – the type of success where consultancies regain control of their time, when consultancy owners comfortably and organically grow their business and pick which projects their teams work on (and say NO to any project outside of the consultancy's focus zone), and where marketing is inbound.
Recommended reading: There Are Two Ways Of Doing Consulting, One Is Toxic
Hitting and overcoming the 'Project Wall'
Unfortunately, too many consultancies never get over 'the project wall'. They wish to become strategic advisors but get stuck in lower-value project work (or even 'body shopping').

Here is a visual representation of the growth trajectory.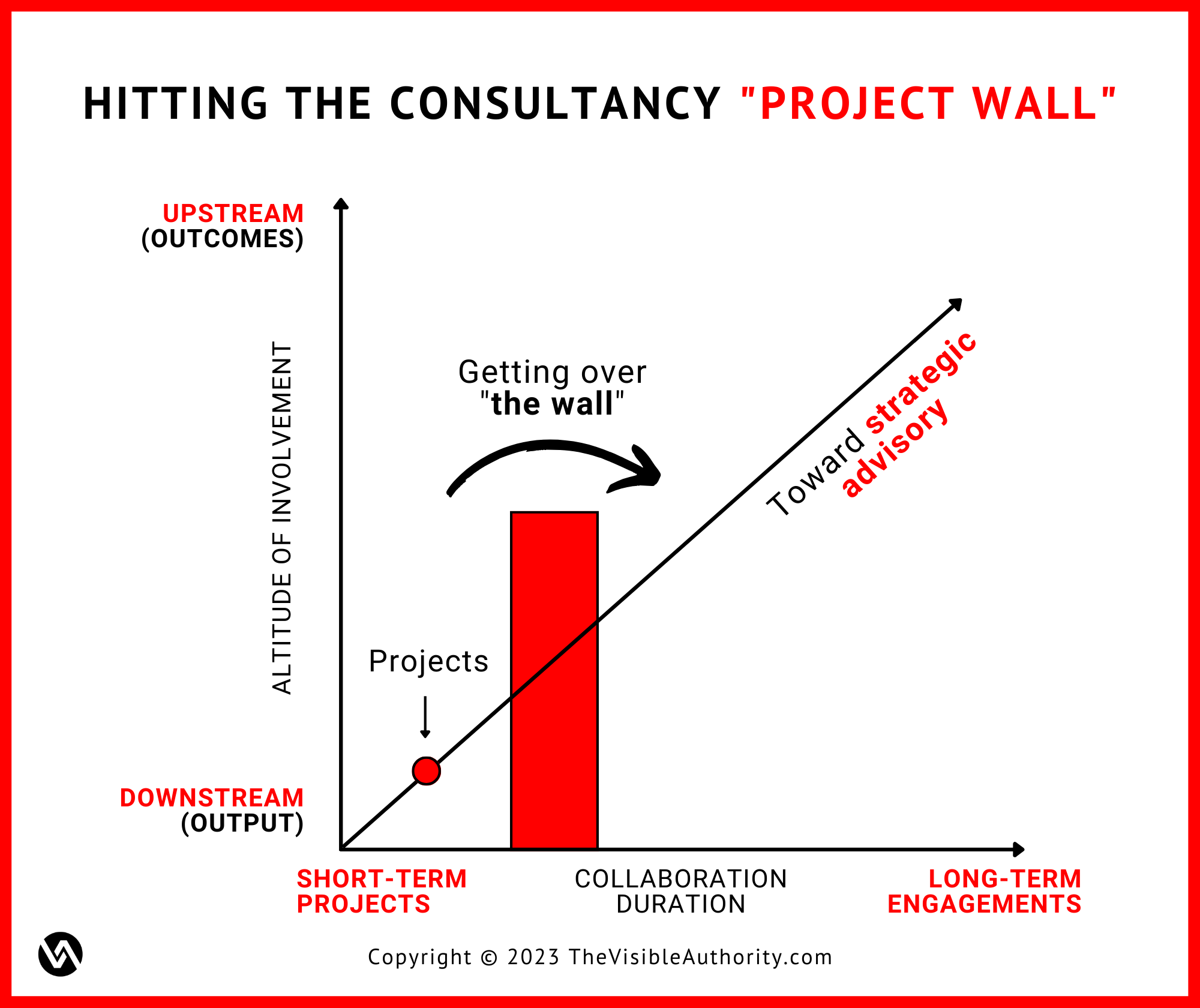 Typical characteristics of consulting work in front and behind the wall
Characteristics of the project work '
in front of the wall

'
Frantic pace and high unbillable time: Consultancies tend to engage in a never-ending cycle of writing proposals, pitching, and onboarding new clients – all of which leads to significant time that cannot be billed, causing inefficiency and stress.


Low revenue/FTE: A lack of high-value projects results in diminished revenue generation per employee or a sub-standard 'cost-to-revenue' ratio.


Growth ceiling: These consultancies growth pattern gets stagnant. They are unable to break through to new levels of expansion and success.


High cost of sales (COS) to acquire new clients: The constant need to win new clients leads to significant sales costs, draining resources that could be allocated elsewhere.


Capacity issues: Over-extension causes internal capacity challenges, disrupting workflow and potentially affecting the quality of deliverables.


Financial instability and uncertainty: Fluctuating revenue streams and the ever-present need to secure new projects create an environment of uncertainty and stress in consultancies in front of the wall.


Employee burnout risk: The relentless pace often leads to employee fatigue and burnout, affecting performance and retention.


Lack of long-term client relationships: Since such consulting firms tend to focus on one-off projects, they miss opportunities for deeper client engagement and recurring revenue.


Reactive instead of proactive approach: The continuous scramble for new projects promotes a reactive culture, missing the opportunity to position a consultancy for future success strategically.
Understanding these signs is crucial for transforming toward a more strategic, stable, and growth-oriented consulting approach.

Relying on one-time projects is like running a race with ever-changing finish lines. Each completed project leads to another wall, another beginning, with no sustaining momentum or cumulative growth.
"What is the number one reason why consulting firms fail?

Because they haven't succeeded in becoming TOP-OF-MIND with the right prospects when those prospects need help.

They are not on the radar screen of the prospective client, they are the big unknown club."
Recommended reading: Utilization or Demotivation? The Hidden Cost Consultancies Pay When Chasing Billable Hours
Characteristics of consulting work '
behind the wall

'
Minimal unbillable time: The proposals process tends to be highly standardized and optimized due to the very narrow range of services offered. In fact, almost every process and system in such high-performing consultancies behind the wall is optimized for maximum efficiency. They are able to do that due to repetition in types of projects they deliver and continuous commitment to deepen the expertise.


High revenue/FTE due to value-based premium pricing: These consultancies do not sell availability. They sell the transformational value they deliver to clients. As a result, their profit margins are high and their revenue growth is not directly tied to headcount growth.


Low cost of sales (COS) to acquire new clients: Because of the strong positioning of such consultancies as exceptional experts in a narrow field and their reputational footprint backed by social proof, such firms spend very little – if anything – on marketing and business development.


Strong capacity planning: Resources and team members can be allocated to projects with high accuracy. With forecast planning usually quite meticulous and precise in such firms, overstretching or underutilizing staff and resources is an exception rather than the rule.


Financial stability: High-performing consultancies behind the wall secure financial stability through recurring revenue sources – be it monthly retainers, subscription-based models, or long-term client projects. New business is used for business growth, to diminish the risk of financial dependency on a few big clients, and to keep the pricing at healthy levels.


Solid employee retention rates: These consulting firms rarely face high employee turnover problems. Revenue is predictable. There is no pressure on individual consultants to sell. Consulting leaders at such firms tend to place a lot of value into continuous learning, enabling consultants to deepen their expertise. There is prestige associated with working at such high-performing consultancies due to their strong reputational footprint.


Proactive and strategic approach to consultancy management: Financial stability and the ability to say no to incoming requests gives consulting leaders the time and space to think of business growth and management strategically instead of making reactive decisions. They have the luxury to set the parameters for where they want to see their business in 2/5/10 years and make decisions that can deliver success over the long term as opposed to chasing short-term wins.
Recommended reading: Why Vertical Service Integration Is the Future of Growth for Boutique Consultancies
In his book, 'Crossing The Chasm', Geoffrey Moore talks about 'the chasm' – a concept similar to what I refer as a 'project wall'. His definition of 'the chasm': reaching a plateau and struggling to move to the next level.
When I talk to the consulting firms struggling with 'the wall' (or 'the chasm'), most of them have the ambition to get over the wall but don't know how to start that journey.
I've been there, got the t-shirt.
Two ways to cross the project wall in consulting
On the road to growing more mature, every boutique consultancy hits the project wall. I've been there myself, and it was sometimes very frustrating.

But 'getting over the wall' became my motivation to strategic service offering design (vertical service integration being my absolute favorite), building longer-term client collaborations, establishing revenue and profit stability, and ultimately a better quality of life.
In my workshops, I introduce consultancies to two relatively straightforward ways to help get over the wall.
#1. Developing a discovery audit
The discovery audit helps clients understand their improvement opportunities in a specific (strategic) domain, e.g., supply chain inventory improvements, cyber security risk analysis, data analysis feasibility study, etc.

The delivery 'product' is a roadmap with a summary of the improvement areas and the recommendations for improvement. Based on its internal capacity (people), a consultancy can decide (reverse-engineer) how much of such a roadmap it can help the client implement.

It's consultancies' Trojan Horse to move upstream with their consulting work. I know several consulting firms that do most of their new client work with these audits and get both roadmap implementation and strategic advisory work as an outcome of such an audit.
I wrote a detailed article on how to develop discovery audits.
#2. Developing a 'building the function' value proposition
Most consulting firms don't have a specific value proposition to help organizations 'build the function' (or improve, which can also be included in the discovery audit).

An example from my consulting days in People Analytics (PA): the PA discipline (and function) used to be in the early stages of maturity in most companies between 2010 and 2018. We've helped many organizations with establishing the PA function, solving all kinds of questions related to:
the structure of the function
the business case to build the function
the needed expertise
the role/job descriptions
the functional objectives (and challenges)
the hiring of the team
the training
the collaboration with the data center
the data governance, and much more.
It took me a while to understand the power of such work in moving upstream and crossing the project wall. I encourage consultancy owners to reflect on this. It's an ideal 'breaking through the wall' proposition.
Final advice
Hitting the project wall is not a dead-end.

I've learned to consider it as a call to:
shift from downstream output to upstream outcomes,
recognize that strategic service offering design is a core competency I had to learn,
understand the above characteristics as symptoms signaling the wall.
It's not easy to move upstream for consultancies that have been doing project work in an organization for a long time. And going for premium pricing after years of lower-level project pricing could cause a few stupefied client faces.

My advice will always be to first test and develop 'crossing the wall' activities with new clients.
Interested in receiving all my learnings to become a better consultant? No spam, no BS. Pure teaching! Subscribe to my newsletter.

Hello, I'm Luk Smeyers, and I'm helping mid-sized consultancies become high-performing consulting firms. I have been in the consulting businesses for more than 20 years, in very different roles: as European CHRO in a global consultancy, as a founder of a mid-sized analytics consultancy, and as a leader in a 'Big 4' consultancy, post-acquisition of my consultancy. I had the privilege of achieving global visibility as a consulting leader, and I never had to sell, persuade, or negotiate as a result. I have now bundled all those experiences, expertise, know-how, research, reading, successes, struggles, and failures from managing and advising consultancies in the past years.