Getting Over 'The Project Wall' To Grow A Consultancy Firm
I did a workshop a few weeks ago with a mid-sized consulting firm as a result of a positioning audit. We had a long discussion about 'moving upstream' as a consulting firm, moving from project work to strategic advisory, and how to go about this. So I thought I'd summarize our discussion and the strategies I've shared with them.
But first, let's quickly review the upstream vs downstream concepts in consulting business models.
Upstream vs downstream work
Downstream work is low-altitude. It centers primarily around day-to-day execution and/or implementation work, which has relatively low impact on the clients' true pains.
Upstream work, on the other hand, is high-altitude. It's all about high-level strategic and/or diagnostic advisory. This type of work tends to have a relatively big impact on the clients' true pains. You position your offering as "transformative", which means the work requires deep expertise and you are able to charge premiums.
Switching to an upstream 'client transformation' consulting approach is THE #1 pillar of success in consulting – the type of success where you are in control of your time, when you comfortably and organically grow your business, when you pick which projects you work on (and say NO to any project outside of your focus zone), where your marketing is inbound, where (in a consultancy firm or boutique) you can be the door opener . Your team can do the revenue-building implementation work.
Recommended reading: There Are Two Ways Of Doing Consulting, One Is Toxic
Hitting and overcoming the 'Project Wall'
Too many consultancies never get over 'the project wall'. They wish to become strategic advisors but get stuck in lower-value project work (or even 'body shopping'). Does that resonate with you?

Have a look at my late-night sketching…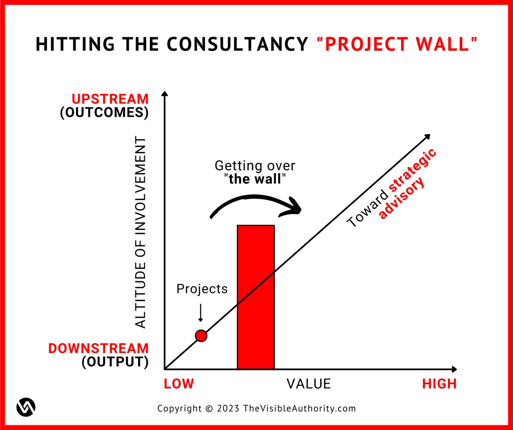 Typical characteristics of consulting work in front and behind the wall
1. Characteristics of the project work 'in front of the wall'
Lower value work
Lower pricing, mostly hourly billing
Output-driven
Client in the lead
Selling activities, time/hours as the measure
Lower average project revenue
Lead generation pressure (selling a lot of smaller projects to hit revenue targets)
(lower) Manager-level connection
2. Characteristics of consulting work 'behind the wall'
Higher value work (e.g., strategic advisory)
Premium pricing, more often some form of value pricing
Outcome-driven
Expert in the lead
Selling impact, transformation results as the measure
Higher average assignment revenue
Concentration pressure (risk of a few big clients driving all the revenue)
C-level connection
If you are familiar with Geoffrey Moore's book 'Crossing The Chasm', the chasm stands for 'the wall' in my sketch below. His definition of 'the chasm': reaching a plateau and struggling to move to the next level.
When I talk to the consulting firms struggling with 'the wall' (or 'the chasm'), most of them have the ambition to get over the wall but don't know how to start that journey. I've been there, got that t-shirt.
SUBSCRIBE TO 'THE AUTHORITY' NEWSLETTER
2 Easy ways to cross the project wall in consulting
During the workshop, we discussed these two relatively easy ways to help get over the wall.

1. Develop a discovery audit

The discovery audit helps companies understand their improvement opportunities in a specific (strategic) domain, e.g., supply chain inventory improvements, cyber security risk analysis, data analysis feasibility study, etc.

The delivery 'product' is a roadmap with a summary of the improvement areas and the recommendations for improvement. Based on your internal capacity (people), you can decide (reverse-engineer) how much of such a roadmap you can implement with your consulting firm.

It's your Trojan Horse to move upstream with your consulting work. I know several consulting firms that do most of their new client work with these audits and get both roadmap implementation and strategic advisory work as an outcome of such an audit.
I wrote a detailed article on how to develop discovery audits.
2. Develop a 'building the function' value proposition

Most consulting firms don't have a specific value proposition to help organizations 'build the function' (or improve, which can also be included in the discovery audit).

An example from my consulting days in People Analytics (PA): the PA discipline (and function) used to be in the early stages of maturity in most companies between 2010 and 2018. We've helped many organizations with establishing the PA function, solving all kinds of questions related to:
the structure of the function
the business case to build the function
the needed expertise
the role/job descriptions
the functional objectives (and challenges)
the hiring of the team
the training
the collaboration with the data center
the data governance, and much more.
It took me a while to understand the power of such work in moving upstream and crossing the project wall. I'd say: reflect on this. It's an ideal 'breaking through the wall' proposition.
Final advice
The perception of your consulting firm as a project or services-first firm is difficult to change. It's not easy to move upstream if you have been doing project work in an organization for a long time. And going for premium pricing after years of lower-level project pricing could cause a few stupefied client faces.

My advice will always be to first test and develop 'crossing the wall' activities with new clients.
Interested in receiving all my learnings to become a better consultant? No spam, no BS. Pure teaching! Subscribe to my newsletter.

Hello, I'm Luk Smeyers, and I'm guiding consulting firms through the journey of growing their business by helping them transform into go-to experts in their market. I have been in consulting businesses for almost 20 years, in very different roles: as European CHRO in a global consultancy, as a startup founder in an analytics consultancy, and as a leader in a 'Big 4' consultancy, post-acquisition of the startup. I had the privilege of achieving global visibility as a consultant and I never had to sell, persuade, or negotiate as a result. I have now bundled all those experiences, expertise, know-how, research, reading, successes, struggles, and failures from managing and growing that visibility in the past years.