Every Consulting Firm Needs a Discovery Service
This article was last updated on 13 June 2023.
It has become an all too common story; a company hires a consulting firm to help them with a specific problem and winds up spending a lot of money without any real solution.
In a recent UK study, more than 50% of consulting-firm clients have the feeling that the value they receive in return for their payment doesn't match up (says this Harvard article).
Unfortunately, this happens because many consultancies rely on the outdated "trial and error" method to solve problems for their clients.
Let me be straightforward here. I would never again start an important consulting project with a new client with such a 'trial and error' mindset.
Just like an operator wouldn't order spare parts for a broken manufacturing machine without a full diagnostic, a consultancy should only quote costs on a large-scale project with a proper discovery.
And to avoid 'hit and miss', I've learned to leverage the incredible power of an upfront discovery or diagnosis approach, fully paid.
What is upfront discovery or diagnosis in consulting?
In today's business climate and complexity, more and more companies seem to turn to consultancy expertise to get an edge on the competition. Depending on the source: all major consulting firms have been growing between 10 and 20% in the past years. Amazing.
I am currently working with a few high-tech consulting firms to develop an upfront discovery service. This service will help their clients assess their needs and objectives, gaps, and roadblocks and identify potential areas of improvement in the context of the issues they are dealing with.
I've been iterating many times already, but here's my current definition:
An upfront discovery process in consulting is a systematized method of gathering pertinent information on the client's pressing business problem, analyzing gaps and roadblocks with the goal of developing an improvement roadmap that will guide the client achieve the desired business outcomes.
The deliverable of such an upfront discovery is an IMPROVEMENT ROADMAP.
Below is a picture of my colleague and myself - several years ago - with a printed (on the wall of the meeting room, on special request of the C-person) improvement roadmap (150k discovery project!). It was my biggest (in Euro) ever discovery project.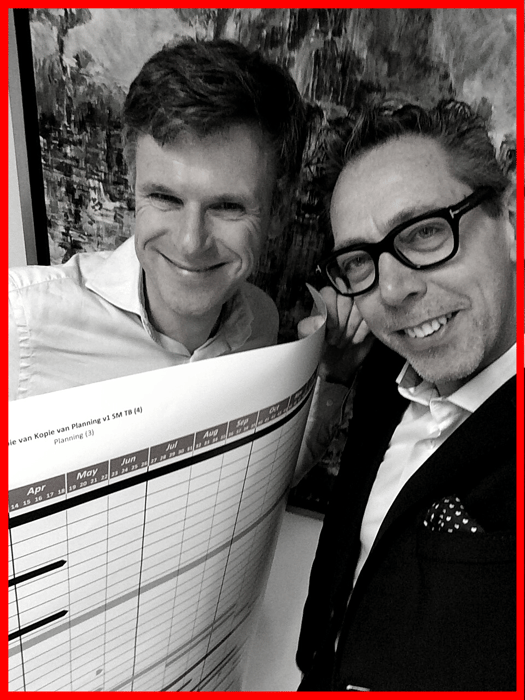 The advantages of discovery: the consulting perspective
There are many advantages to the discovery service for consultancies and consulting leaders:
Deep understanding: It is crucial to understand the business's motives, vision, challenges, specific roadblocks, and historical data to grasp the AS/IS of the client fully. The discovery will provide an intimate look into the client's company and the pressing problem that must be solved.


Consistency: It allows systematization of the consulting work: almost every new project starts with the same first step – discovery. This creates consistency, high repeatability of analysis, little variability in data sources, and high predictability of outcomes (the roadmap structure and content).


Investment: It guarantees baseline financial commitment: irrespective of the long-term commitment of the client to the consultancy's services, the discovery service provides the bare minimum that consultancy owners can expect from a client in terms of fees.


Knowledge: The more discovery projects, the more patterns will be identified, the more precise the roadmap components, and the fewer 'hits and misses' or 'trial and error' in the ultimate problem resolution proposal. As I always say: repeatability is the foundation for expertise.
The advantages of discovery: the client's perspective
From the client's perspective, there is one giant reason to start working with a consultancy through a discovery process: the unique information they get on their business, the expert assessment of gaps, and the recommendations that specifically target their pain points and business outcomes. This expert information is of incredible value.
If you'd ask me: it's the most inviting format for the client to get 'expertise in a box', reduce risk, avoid trial and error, increase decision-making quality and delivery speed, understand the scope and timing, outline their precise involvement, and seize the final output/delivery they will receive.
The entire process, that's what I have experienced, becomes far more open and honest, and encourages greater collaboration and trust.
Sounds like a stroke of genius, doesn't it?
Recommended reading: (Case Study) How This Consultancy Cut Back 30% of Its Services Yet Improved Profitability
A 4-step model for consultancies
Here's the 4-step process I've been using myself, observing high-performance consultancies use, and teaching my clients. I've discovered that it has broad applicability. It works for smaller, 50k projects and projects of €500k or even >1M in scope.
It's a unique way of conducting consulting projects and remaining in the driver's seat all the time. Consulting leaders can successfully apply it to almost any consulting project. Yes, any.
Step 1: Performing an upfront discovery, diagnosis, or audit
Step 2: Developing an improvement roadmap
Step 3: Developing the ultimate project plan
Step 4: Providing implementation guidance (advisory retainer)
I will go through each step individually.
Step 1: Upfront discovery and/or diagnosis
I've learned that most clients don't understand their problem(s) or have difficulties explaining them accurately. The biggest win? Consulting leaders don't have to write proposals. Never. They are not order takers but experts, authorities in their expertise domain.
A consultancy's diagnosis is its fixed-priced methodology to understand the client's problem and is a stepping stone, a Trojan Horse to (hopefully) start a more significant project, engagement, or long-term client relationship.
Clients commit to a precise and transparent project with a specific result in mind: understanding the outlook and specifics of their problem and receiving a roadmap (Step 2) for improvement.
Included in the consultancy diagnostic: every possible characteristic of the prototypical client pain it is specialized in. And all these characteristics are the input for the roadmap in Step 2.
Step 2: Roadmapping as the core deliverable
The upfront discovery or diagnosis leads to Step 2, creating a so-called roadmap. It is a consultancy's critical strategic process of determining the actions, chronological steps, and resources needed to solve the client's problem.
Roadmapping is often falsely assumed as the act of designing a roadmap. Huh. And indeed, a vital output of the roadmapping process is a roadmap :-).
However, creating such a roadmap requires a synthesis of all the knowledge and expertise of a consultancy. It determines all the significant components and the prioritization hierarchy to solve the client's problem. And most importantly, it also secures buy-in and support from executive stakeholders.
On top, roadmapping supports structured visual narratives in workshops and beyond. I had great collaboration experiences with it.
Here are a couple of resources consulting leaders and their teams can use to help with roadmapping:
The

virtual collaboration tool Miro

has a special section on roadmapping. Consultancies can use their roadmap templates to collaborate with their client. (Enter the search term 'roadmap' in the Miro search bar.)





Cambridge University

has a department that provides roadmapping expertise and training! Great expertise!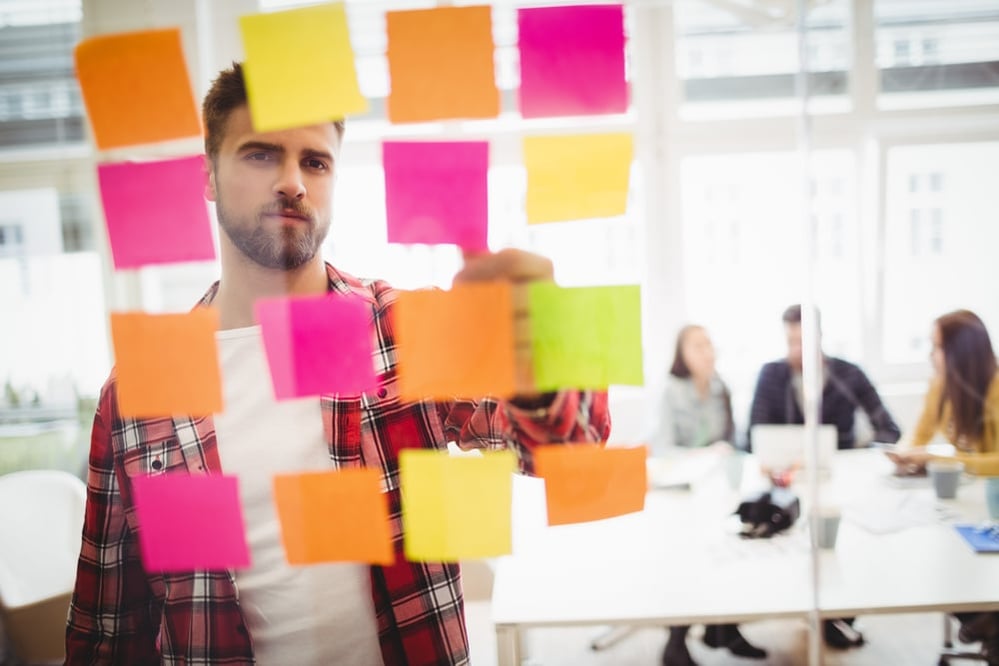 Step 3: The ultimate project proposal
The risk of writing an inadequate proposal is always greater without an upfront discovery phase. When the final project goes without discovery, I am 90% sure it will cost more time and money to get started because there won't be enough information even to understand why certain decisions were made during the proposal preparation.
The proposal produced as a result of an upfront discovery project will be much more detailed and tailored than what would have been developed without it. The client gave full access, allowing for an in-depth assessment of the pressing problem(s) they'd like to solve.
A few important tips
The roadmap is the proposal:

The discovery roadmap is the consulting leaders' expert guide to developing the proposal (all the problem and resolution components are in the roadmap, right?).
Assessing the quality of your roadmap? Consulting owners should ask themselves: can competitors steal this roadmap and start doing a flawless implementation with it? If yes, their consultancy's done an excellent job.
Altitude of involvement? The depth of involvement of the consulting firm depends on the capacity to deliver. Big consulting firms with excess capacity can go all the way and do both upstream (strategic) and downstream (implementation, execution) work. For small consulting firms, I'd recommend being careful with full roadmap implementation and staying as upstream as possible no to jeopardize their aspiration to turn into a high-performance consultancy.
Roadmap ownership: It's important that consulting leaders ensure that the client owns the roadmap implementation. Of course, the consulting firm is there to guide and support the implementation, but the client remains accountable for the ultimate success. I've always guided my clients to become self-sufficient one day. Even if that feels counter-intuitive for a consulting firm, clients ultimately will need to move on and adopt the changes. Giving self-sufficiency guidance is a big trust-builder, you bet!
Step 4: The long tail, the advisory retainer, the client's 'peace of mind'
Several of my current consulting clients are keen to sell advisory retainers after full project delivery.
The client is buying 'peace of mind' over a more extended period (e.g., 6 or 12 months) and pays 'access to the consultancy' to look over the shoulder of the client, giving guidance for further implementation and/or adoption.
'Being available' is the essential difference between 'pay for access' (upstream advisory retainer) versus 'pay for work' (downstream implementation work). Again, it depends on the size of the consulting firm (capacity to deliver) to choose between upstream (my favorite approach) or downstream project support.
I'd always advise consulting owners to give the advisory retainer a basic structure, such as reviewing the roadmap monthly with the team or the C-person (preferably) in an (e.g., 90') workshop format.
By the way, even the big, famous management consulting firms (you know their names, right?) seem to offer more and more of these advisory retainers. They are 'staying close' to the CEO or other execs to give them transformation guidance and peace of mind. It seems to be a new trend and, of course, an excellent business development strategy. I've seen high-performance consultancies of small and medium size adopt the same strategy.
There's much great content about advisory retainers that explain the pros and cons, reasons, costs, payments, etc. Here's a great article from Hubspot (my business software).
Two watch-outs I experienced with my clients.
C-level only: I recommend that consulting leaders limit their contact to the C-level (or senior project owner) and avoid getting dragged into the implementation work by the implementation team (being in cc in hundreds of emails, help!). That's why consultancies better define the boundaries of their retainer (e.g., 1x workshop per month for roadmap review, C-level only, etc.).


Volume risk: Selling advisory retainers is a great way to have predictable revenue, but consultancy owners also have to be careful to oversell and run out of capacity suddenly with too many retainers.
Pricing the discovery consulting services
I've always been a big fan of openly pricing a discovery service. There are two ways to go about pricing a consultancy's discovery/diagnostic service:
Fix fee: communicating a standard, fixed fee that a client of any size needs to commit to paying. Although it's easier to sell, I'd never recommend fixed pricing. Why not? See next bullet point. But, if the projects have a similar size all the time (difficult to imagine, though), fixed pricing is more straightforward.


Fee range: communicating a fee range (e.g., 30-80k for SMEs or 50-150K for Enterprises) depending on the size of the company a consultancy is taking on as a client. The logic here is that the larger the company, the more potential stakeholders consulting leaders would have to involve in the discovery process. It's important to remember that the pricing here is more flexible but the discovery process is set and non-negotiable. For the (big scale) 150k roadmap of the picture above, we did almost 30 interviews (much work, including the planning to get those busy people on the agenda).
Examples of 3 discovery consulting services consultancy owners can learn from
Having spoken to 200+ consultants, dozens of whom were my clients, there are several excellent examples of consultancies offering discovery-roadmap-advisory services that I've aggregated. Here are a few examples.
Example 1: Salesforce post-M&A integration consultancy (boutique high-performance consultancy, experts in merging Salesforce after large-scale enterprise M&A):
Step 1: diagnosis (they call it 'an audit') of integration challenges, opportunities, duration estimation, and cost estimation
Step 2: a roadmap to integrate the two systems (mainly done by the client with expert guidance)
Step 3: client implements with the expert guidance of the consultants
Step 4: CIO gets personal guidance for 12 months (advisory retainer)
Example 2: CRM sales cycle improvements (midsized consultancy, experts in enterprise B2B sales process improvement):
Step 1: diagnosis of improvement opportunities (understanding the process of both marketing qualified leads and sales qualified leads)
Step 2: a roadmap to enhance the internal sales process, including the development of playbooks and a training program (delivered by consultants)
Step 3: the agreed roadmap gets implemented in co-creation with the internal team, mostly 70-80% of the workload is for the consulting firm
Step 4: CMO and CSO getting personal guidance for 12 months (with one workshop per month - follow-thru of the roadmap) and execution of training program (to help clients get self-sufficient)
Example 3: Retail demand forecasting improvements (midsized consulting firm, experts in automating supermarket demand forecasting using AI):
Step 1: a feasibility study to uncover demand forecast improvement opportunities, including initial opportunity-based cost estimations.
Step 2: a roadmap to improve demand forecasting, with much focus on the assessment of data availability and data quality
Step 3: implementation of a new demand forecast program in 2 phases (phase 1 by consultancy only, phase 2 in co-creation, including a training program for the CoE analytics with a self-sufficiency objective)
Step 4: 6-12 months of personal guidance for the demand forecasting leader
A few tips and tricks
Standardizing discovery services is an important element of the consulting business approach that I advocate. Here are a few lessons I learned in my consulting work and what I am experiencing with my clients.
Focus (1): The narrower the focus and expertise of the consulting firm, the easier it is to build a discovery approach. For consultancies with a mix of practices and/or expertise domains, it can be a heck of a job as they will need to understand all the patterns of the prototypical pains of their multiple target audiences. It requires solid experience and training of the team, so consultancy owners should think twice. I know a few 'multiple-audiences consultancies' that have developed discovery services but only for a limited number of strategic expertise domains (e.g., digital transformation).


Focus (2): I urge consultancy owners and consulting leaders to not take on clients outside of the scope of their ideal client. Their deliverables (from the roadmap) will not match their expectations. Why? Because their components of the discovery and the roadmap MUST be of the highest possible standardization, and the only way to achieve that is by sticking to the same target audience (with similar problems)
Visibility and trust: I cannot advise it enough. Consulting leaders must keep sharing their discovery case studies as much and as broadly as possible, and allocate enough time for the writing and distribution. I've always experienced that prospects are impressed by a robust discovery approach and quickly start trusting the consulting firm's expertise.
UX:

Consultancies must strive for a 5-star experience in how they execute the diagnostic (e.g., automated questionnaires, top-notch reporting, top interview style, and advanced data gathering). The high-end visual delivery of the roadmap (e.g., with the virtual roadmap tool

Miro.com

) will be a key reference point to build market trust.


Agile: I recommend that consultancy owners start building a discovery service in small steps, carefully testing and validating their approach before going big.


Upstream: Consultancies should beware of becoming the 'order taker' of the project leader, and make sure they stay away from getting in cc in team email streams. As the expert, the consultancy is the strategic advisor and provide 'peace of mind' for its C-level clients.
Recommended reading: (Case Study) Replicate the Secret of This Highly Profitable Consultancy
In conclusion
Offering discovery services as a standard business development approach is an excellent way for consultancy owners to leverage the expertise of their consultancies.
Clients will be happier and more relaxed, knowing exactly how to recommend this consultancy's discovery expertise to their network.
Discovery and roadmap development are not about eliminating customization. It's about leveraging deep expertise to categorize prospects' pain points and needs. It's about creating transparent expectations with new clients and delivering a 5-star experience.
The discovery-based consulting model that I suggest will work for any consultancy, irrespective of the size or project scope. It's also a way for a owners to turn their firms into high-performance consultancies.
Good luck!
Interested in receiving all my learnings to become a better consultant? No spam, no BS. Pure teaching! Subscribe to my newsletter.

Hello, I'm Luk Smeyers, and I'm helping mid-sized consultancies become high-performing consulting firms. I have been in the consulting businesses for more than 20 years, in very different roles: as European CHRO in a global consultancy, as a founder of a mid-sized analytics consultancy, and as a leader in a 'Big 4' consultancy, post-acquisition of my consultancy. I had the privilege of achieving global visibility as a consulting leader, and I never had to sell, persuade, or negotiate as a result. I have now bundled all those experiences, expertise, know-how, research, reading, successes, struggles, and failures from managing and advising consultancies in the past years.