The 5 Main Challenges Almost Every Consultancy Struggles With
This article was last updated on 16 April 2023.
In the past couple of years, I've audited the positioning and business development models of 50+ consultancies. In addition, I had in-depth conversations with 100+ leaders of consulting firms of various sizes on the challenges they face, trying to get to the root of the problem.
There are many similarities in the struggles that consulting leaders report having in their business development efforts. The ones I'd like to focus on today have been coming up most often and most prominently.
The foundation of my assessment process that consultancies can replicate
I'm not going to dive into the details of my assessment process in this post. While it's a straightforward process, it does deserve elaboration to do it justice, and that's not what this article is about.
However, I would like to share a bit about what lies at the foundation of my assessment process – checking the extent to which the market perception of a consultancy matches the expectations and business growth aspirations of that firm.
More specifically, I try to understand the following:
How a consultancy markets itself
How they recruit new clients
What their existing client profile is vs. what their ideal client profile is
How their marketing message and business development efforts are perceived by the ideal clients
What internal processes the firm has in place to produce and communicate its positioning
Whether there is alignment across teams – from practice leaders to individual consultants, to marketing executives, to entry-level researchers – on what the positioning is and how it is communicated
Whether there are any gaps or silos in the way positioning is communicated to existing and prospective clients
More often than not, I discover that the problems consultancies come to me with are not really superficial.
It rarely comes down to picking out the wrong social media channels for marketing campaigns or failing to track a metric or two.
Usually, the problems consultancies come to me with are symptoms of larger issues embedded in everything they do.
And here are the five big underlying challenges that I witness most consultancies struggle with and my advice on overcoming them.
Challenge #1: substandard positioning
Without strong positioning, a consultancy's target market has no clear idea of what exactly they do, how they do it, and why what they do is of value for the target audience.
Moreover, such firms do not have a proper framework to organize their priorities, client work, educational efforts, and business development processes.
Weak positioning makes firms take on any incoming projects just to fill up the pipeline of client work. It dilutes the value of expertise and forces consulting companies to lower their fees to compete for work.
Substandard positioning impacts every marketing action – every message, every post, and every speaking engagement. There is no single, laser-sharp message that everyone in the company communicates and works towards reinforcing.
Without strong positioning, client referrals and case studies fail to demonstrate the unique value of a consultancy.
I can go on for a long time. You can find a long list of symptoms of weak positioning in my article.
But let's get to the solution.
"Your narrow positioning is an exercise in irrelevance. The more irrelevant you become to non-ideal prospects by turning your positioning away from them, the more relevant you become to your chosen target clients. But that requires courage and discipline". - David C. Baker
How to address the problem of substandard positioning
I recommend that consultancies think long and hard about their target audience.
Who are they? What are their prototypical pain points? What results do they expect? Are their pain points superficial, or do they point to larger problems that must be addressed in a larger context?
I urge consultancies to regularly conduct structured client research to be aware of what's happening with their target audience.
Once the target audience is crystalized, the positioning should be developed based on the value proposition that's problem-resolution-based.
Consultancies shouldn't consider positioning reviews as a mundane task of fixing a problem.
Positioning reviews and updates are great. I love them. Because it's a sign of growth, development, reflection, of getting in sync with new evolutions in the market.
Whether it's because the current positioning is weak or because a firm has outgrown its current positioning, re-working this foundational element is making progress. It's a symptom of taking the consulting business to the next level.
Positioning is never set in stone. On the contrary.
A consultancy might have been primarily focused on execution-type of work. However, over the years, the consultancy's expertise has deepened and achieved a higher level of involvement, strategic advisory – upstream-type of work.
Positioning should reflect this upward growth.
Recommended reading: A Consultancy's Positioning Has the Single Biggest Impact on the Buying Decision
Challenge #2: strong inward view
The inward view is a typical stumble block for consulting firms. It's (another) side-effect of suboptimal positioning because a strong positioning will always pull towards client-centered thinking.
I learned that consultants and consultancies have a tough time getting rid of their inside view: "We are the best in this", We are the best in that", "We are unique", "We are award-winning", "We have a collective experience of X years", "We are innovative, leading, passionate, result-focused, client-centered, and fascinated about teamwork" – to name a few examples.
It's often driven by pride, passion, or a strong belief in expertise and sometimes by egos. I get that. I've been there.
But here's the thing.
No one is interested in this we-we-we show. Clients and prospects don't care that a firm has a zillion years of combined experience. They care if a firm has a proven track record of solving a very specific problem (this could be the case with only a few years of experience).
Prospects don't care if a consultancy is calling itself unique. They care whether the consultancy has the expertise to fully grasp a problem and provide targeted advice.
Clients want results. They want to trust their consulting partner. They want experts whose knowledge far exceeds the knowledge the client has internally.
It's ALL about the client and the client's needs. The inward, self-centered view is useless.
How to address the problem of the inward view
It should be clear by now – firms need to flip the messaging inside out.
The client-centered narrative should be at the forefront of every communication. The service offering should shift from output-driven ('here's what we do') to outcome-driven ('here's what can be achieved).
The language should seamlessly integrate the prototypical challenges of the target audience.
Consulting firms need to shift the focus from themselves and their 'unique services' to the problems and pains of their prospects and clients.
Here's what I recommend consulting firms think and talk about as they draft their communication – be it a social media post, a website copy, an email to a prospect, or a case study:
Where's the client in all this?
Which clients are the focus of all the messaging?
What are the pains of the client the firm can transform?
What specific transformation can the consulting firm deliver for those prototypical pains?
What is the firm's point of view about this prototypical client pain?
What is the value or impact the consultants of the firm will have?
Where's the firm's value proposition?
Where is the consultancy's specific social proof linked to the value proposition?
Where's the firm's educational effort and pain-resolution advice?
Consultancies need to take a step back and re-evaluate and rewrite their messaging to put the ideal client in the center of it.
Recommended reading: Lead with your expertise, not with your consulting services
Challenge #3: hitting the project wall
'Hitting the project wall' is typical in project-driven consulting firms.
And, unfortunately, too many consultancies never get over this 'project wall'. They wish to become strategic advisors but get stuck in lower-value project work at a low level of involvement.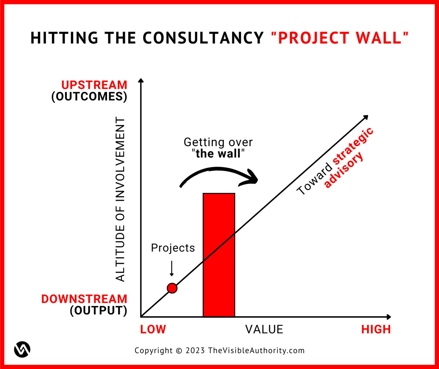 Most consultancies are telling me they have the ambition to move upstream.
However, it's not easy if a consulting firm has been doing downstream project work for a very long time.
The team is experienced in doing project work (and got hired to do project work), and the external perception of this consultancy as a project firm is difficult to change.
And moving more upstream and doing strategy work (going for premium pricing) after years of (lower) project pricing could also cause a few stupefied client faces.
However, consultancies with upstream-work ambition have to make the active push to jump over the wall and transform their market image as an advisory-driven firm deeply rooted in a very narrow area of expertise.
Once on the other side of the wall, it will be able to reach the next level of business growth.
It's the level where a firm takes on only ideal clients, easily saying no to all irrelevant opportunities. It's when a firm charges premium fees because of being in high demand for their deep expertise and the transformational impact of their work.
It's when a firm gets invited to take on a client as opposed to having to bid on (lower rate) projects and sending endless follow-up emails.
How to address the problem of hitting the project wall
What I have experienced in the past decade in consulting is an almost inescapable downstream pull towards smaller projects at lower revenue.
This is leading to the following:
high lead generation pressure to keep the engine going, and
overall annual revenue per FTE substantially below market averages.
This downstream pull, however, is another side-effect of suboptimal positioning. Really.
Ambitions to become a more upstream, more strategic, premium pricing consultancy? My short advice would be to build an action plan to jump over the wall more permanently with the following:
Developing a discovery audit. The discovery audit helps companies understand their improvement opportunities in a specific (strategic) domain, e.g., supply chain inventory improvements, cyber security risk analysis, data analysis feasibility study, etc.
The delivery 'product' is a roadmap with a summary of the improvement areas and recommendations.
Based on the consultancy's internal capacity (people), they can decide (reverse-engineer) how much of such a roadmap they can offer to implement.
It's a Trojan Horse to enter organizations and move upstream with consulting work.
Developing a 'building the function' value proposition. Most consulting firms don't have a specific value proposition to help organizations 'build the function' (or improve, which can also be included in the discovery audit). An example from my consulting days in People Analytics (PA): the PA discipline (and function) was in the early stages of maturity in most companies between 2010 and 2018. We've helped many organizations with establishing the PA function, solving all kinds of questions related to the structure of the function, the business case to build the function, the needed expertise, the role/job descriptions, and much more.
It took me a while to understand the power of such work in moving upstream and crossing the project wall. I'd say: reflect on this. It's an ideal 'breaking through the wall' proposition.
Aligning the team behind this upstream move, most likely also hiring different profiles in the future (because of the project expertise and not the strategic experience), and making the team (more) aware of the impact of the current lead-gen pressure (lots of smaller revenue projects)
Recommended reading: Getting Over 'The Project Wall' To Grow A Consultancy Firm
Challenge #4: content that doesn't generate demand
I'm an avid proponent of educating the audience to grow a consulting business.
It's not a feel-good strategy. It's a proven business development and marketing approach that, in the digital age, not only remains relevant but only grows in its importance.
However, firms that put audience education at the forefront of their marketing activities should not fail to do so based on a demand-gen strategy.
I've seen dozens of firms produce truly expertise-driven content yet see no meaningful results.
Why?
Because they fail to succinctly explain the consultancy's transformative approach that will allow clients to move from their pain-ridden state to 'The Promised Land'.

It's all about creating a bold vision about the potential of switching to a new, different approach.

The vision of the consulting firm should be contagious. What the consultancy 'sells' is not what it is, but what it does for the client (never forget this sentence!).
For example, it's not enough to say, "This is trend X for the upcoming year." To generate business opportunities, consultancies need to go further.
How is this trend going to impact the target audience? What should be done to prepare for this trend? Why is there the urgency to take action NOW, before the trend settles in? What opportunities does the target audience miss out on by not doing XYZ?
In addition to being educational, content needs to be action-driven.
How to address the problem of content that doesn't generate demand
To create the demand for the consultancy's expertise, it's critical to consistently cover these three perspectives linked to the firm's value proposition:
Shifting the potential client's thinking: bringing hidden problems and patterns to the surface, inspiring the audience to shift the way they think about their fundamental or underlying innovation challenges.
Picturing the transformational potential: creating a bold vision about the transformational potential of switching to a new, different approach (e.g. getting future-ready).
Explaining the cost of inaction: explaining opportunity costs or costs of maintaining the status quo. The target audience doesn't want to hear what they already know about their problems.
The target audience needs to be motivated to take action. Education doesn't stop at explaining what's happening. It further educates on the impact of what's happening and what will happen in the future.
Only true experts can foresee and deliver this type of educational content.
Recommended reading: Shaping Your Consultancy's Thought Leadership To Accelerate Growth
Challenge #5: missing voices of consulting leaders
It keeps surprising me immensely. Consulting leaders and partners have always hesitated to openly share their bold opinions and experiences.
Why is this?
Does being open threaten their power base? Are they afraid to get criticized? Have those leaders 'made it to the top' and no longer care about their voice?
Or are they intentionally silent to keep all options open, avoiding getting 'boxed' into a particular expertise domain, industry, or management role?
Sometimes it's that. Sometimes it's the refusal to make the time to create thought leadership audience-education-based content regularly.
This is so damn wrong as a consulting leader, and it is a very shortsighted vision.
No wonder specialized boutique consultancies with 'new school' consulting leaders (openly educating their audience) can crush the bigger guys when pitching.
How to address the problem of missing voices of consulting leaders
The best consultants I meet are also exceptional teachers.
They educate their buyers/clients, share best practices with them, tell them what trends to look out for, consistently share valuable advice on achieving success, and demonstrate how they've helped others in their shoes.
Remember genius Richard Feynman: "The ultimate test of who you are is your capacity to transfer knowledge to others".
Consulting leaders that have made it to the top have a unique opportunity to widely share their leading thoughts and attract new high-end clients for their consultancies.
People buy from people with a leading voice that builds trust and shifts their thinking about the everyday challenges they face. Right?
Consulting leaders, your story is more important than you think.
Your inimitable 'background story' as a consultant - the clients you've worked with, the knowledge you've accumulated over the years, and the types of projects you've completed - are all part of your overall, distinctive value proposition.
Here's my advice on sharing thought leadership content in a way that converts to business development success.
Never focus on self-promotion. Here is the watch out: instead of self-promoting blah blah in he/she format, you will need to connect the dots between your background story and your client-centered value proposition.

In other words, everything you learned all those years about those specific pain points of your ideal clients will add tremendous value to their future problem-solving journey.
Always focus on problem resolution. And this background story, therefore, is always problem-resolution focused: what did you learn all those years that the client can leverage to solve their pain/problem? Your consulting expertise is probably not truly exceptional, but you certainly are. Therefore, 'the you' is indispensable to the consultancy's overall value proposition.
Recommended reading: Consulting Leaders, Stop Outsourcing Your Thought Leadership Responsibility to Marketing!
In conclusion
The five problems I outlined today are all at the foundational level. That means they usually lead to many issues throughout a consulting business.
To achieve sustainable, predictable business growth, consultancies should not focus on the symptoms but use them to understand why they are in their current position.
Only by building a strong foundation can consulting firms adjust every other process and business development effort to consistently deliver results. Only by aligning all teams around the strong core can consulting firms maximize the return on every message, proposal, and campaign.
Interested in receiving all my learnings to become a better consultant? No spam, no BS. Pure teaching! Subscribe to my newsletter.

Hello, I'm Luk Smeyers, and I'm helping mid-sized consultancies become high-performing consulting firms. I have been in the consulting businesses for more than 20 years, in very different roles: as European CHRO in a global consultancy, as a founder of a mid-sized analytics consultancy, and as a leader in a 'Big 4' consultancy, post-acquisition of my consultancy. I had the privilege of achieving global visibility as a consulting leader, and I never had to sell, persuade, or negotiate as a result. I have now bundled all those experiences, expertise, know-how, research, reading, successes, struggles, and failures from managing and advising consultancies in the past years.