I Never Had To Sell, Persuade Or Negotiate To Grow My Consulting Business
This article was last updated on 20 January 2023.
I never had to sell, persuade or negotiate.

That's what I wrote shortly following my departure from Deloitte in 2020 after a 4-year period, post acquisition (2016).

Throwback time.

I got (and still get) this question all the time: is my continuous audience education work paying off?

Well…it's paying off big time. For more than a decade now. People keep asking me – often somewhat skeptically – if my hard content work has been paying off, has helped me to grow my consulting business in the past years.
I get those questions because becoming visible with valuable content is something most consultancies really struggle with. The truth though is that visibility is the only thing that is going to make a firm stand out in a crowded and very competitive consulting world.
The biggest blunder that consultancies can make is to think that somehow potential clients will find them. Nothing could be further from reality.
Unlocking the inner teacher
It wasn't always easy to produce valuable content. Not every swing was a hit. But it never felt like an uphill battle to me and sharing my expertise has enabled me to create opportunities that I would not have had otherwise.
Instead of developing short-lived content with the aim of telling potential clients how great we were (which would have been a darn uphill battle), I always focused on sharing deep experience and knowledge. The teacher in me kept asking:
What did I learn in the project trenches about the biggest client pains that others could learn from?
Which experiences did I acquire that could be valuable for others?
What were the unique client stories (with successes and struggles) that could inspire others to pursue better outcomes?
Marketing in the consulting field is surprisingly easy! Consultancies simply need to share their unique stories and experiences in an authentic and passionate way and they will organically create a strong and loyal client base!
At the risk of sounding arrogant, I've always been surprised that by sharing my stories from the front line I was able to outperform the visibility of thousands of top consultants at Deloitte globally.
The more content I shared, the bigger the results, the easier to grow the consulting business.
It's a little bit like a real estate developer: the bigger the assets, the bigger the results. I've always considered my content to be the assets of my library.
Recommended reading: Why You Should Share Your Expertise To Grow Your Consulting Business
The more assets I had, the bigger my follower community became, the more traffic to the website I generated, the wider my reach and visibility got, the easier to grow the consulting business. Here's an overview of the 'secret weapon' I was able to unlock for the business.
Result #1: Speaking invitations - the 'content flywheel'
I call this the 'content flywheel': sharing valuable content leads to receiving speaking engagements, which, in turn, leads to more content opportunities and, as a result, to more speaking engagements, etc.
The 'content fly wheel' resulted in almost 100 conference and event invitations over the past decade. It was an incredible amplification of my visibility within my expertise domain.
Many consultancies view 'speaking' as too narrow and are not leveraging something I'd call the 'collateral visibility'.
For me, actually being on a stage and presenting has only been a very small part of the game. It's the 'collateral visibility' that has always been a solid consulting business development engine for me, worth investing a lot of time.
Here are a few 'collateral visibility' effects:
Client leads: encounters with potential consulting clients.
Social media traffic: substantial visibility before, during, and after the conference/event, which I would often either initiate or amplify.
Sharing new content: sending my conference presentation to participants (I always added a few 'extras' to it) as a way to build trust and strive for new contacts.
Networking: general networking opportunities, a chance to listen to 'the typical pains' of participants (I've always been passioned about carefully listening to the pains and gains of potential clients).
Flywheel maintenance: meetings with other conference producers (keeping the 'flywheel' going) and/or discuss renewed participation in the next year's conference (I did sent conference participations - with my content - to the most important other conference producers to keep them in the loop of my activities).
Competition check: listening to and better understanding speaking/exhibiting competitors (this is so so so so important!).
Self-learning: personal development opportunities (listening to trends, speaking topics, and case studies). I often came back with 20-30 pages of notes that I took during the conference. Prospects and clients always expected me to understand the trends and the industry.
New content sources: a birthplace of new content ideas (e.g. typical challenges of clients). I always came back home with at least 10 new content ideas.
SUBSCRIBE TO 'THE AUTHORITY' NEWSLETTER
Going to international conferences, webinars, and trainings is often perceived as the 'nice side of working at a consultancy', but for me those were top opportunities for business development and I always tried to leverage every single minute. I loved it!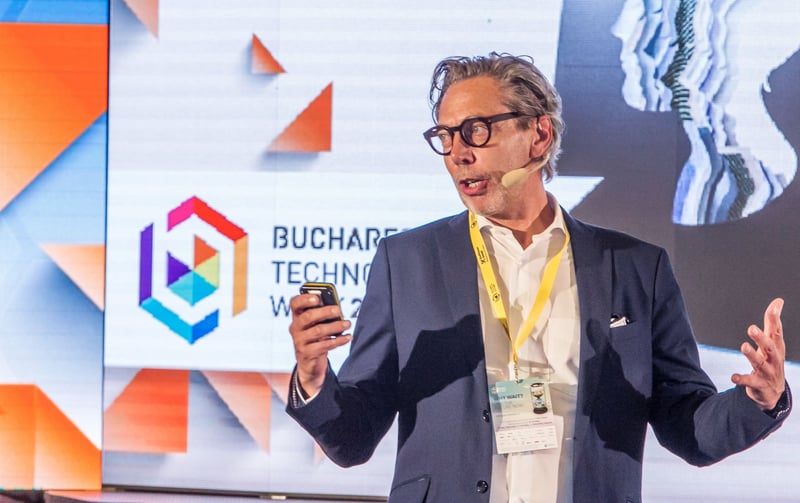 (Picture: Keynote presentation at the Bucharest Technology Week)
Result #2: A rock-solid reputational and digital footprint and following
It has never been easier to get online visibility but, at the same time, it has never been more difficult to convert this visibility into real business opportunities.
Success no longer comes from sharing a few articles or infrequently scattering 'likes' on LinkedIn (and I see a lot of consulting leaders doing just that). The game has changed in the past years. Dramatically.
Recommended reading: 10 Consulting Trends: 2023 Edition

I see many consultancies struggle with the digital and social media jungle, but it's actually not as difficult as it seems. 'The game' is not at all about social media as such, although it remains my most powerful tool to share my existing content.
As a consulting leader, I've always been a big believer in (and an active content contributor to) social media.
I invested (and still invest, of course) a lot of time in social media, not only sharing the educational content I post here, but creating original posts – bite-sized advice – on some of the most pressing subjects I see consultancies dealing with.
Recommended reading: 140+ Pieces of Advice I Shared with Consultancies on LinkedIn in 2022
A few outcomes of my visibility and online footprint:
Website traffic: at the peak of the iNostix visibility, the website had unthinkable weekly traffic of around 10,000 clicks. This traffic was driven by the content on the blog. Experts were telling me that, given our relatively small company size and the narrow scope of my expertise, this was far beyond their imagination. I successfully replicate this model to generate organic traffic to my current website – The Visible Authority.
Average time spent on the blog: readers were spending around 3 minutes on our blog, reading on average at least 2 articles. Content researchers report that the average time spent on blogs is about 20-35 seconds! (The iNostix blog got shut down in 2016 due to the Deloitte acquisition.)
Accumulated sharing of the blogs: almost 1/3 of all articles were shared by the readers via social media - another amazing result!
Google search 1st-page appearance: in the 'golden years' of iNostix' visibility, my articles got us on the first page of Google search at least 2 or 3 times for keywords such as 'HR Analytics' or 'People Analytics'. Pure organic traffic, content-driven. For the past three years, my piece on consulting trends (that I make sure to update at least once a year) has been at the top of Page 1 on Google.
Twitter influencer of the month: measured by external source NodeXL, I remained in the top 5 'global Twitter influencers of the month' for the hashtag #HRanalytics (until 2016) and in top 10 globally for the hashtag #peopleanalytics (until 2018, even after having closed the iNostix blog due to the Deloitte acquisition).
A few other 'events':

content awards (e.g., top 10 articles of the month, top 40 of the year, etc.),
media coverage in my markets (e.g. interviews in HR magazines, monthly columns in leading HR magazines in 2 countries, etc.),
invitations for jury participation (e.g. in start-up competitions, best people analytics case study competition),
many teaching invitations at universities and business schools.
Currently, the majority of my traffic is organic – meaning my website shows up for relevant web searches.

Result #3: The business impact of visibility
And of course, the most relevant and most significant question: did my visibility in the market have an impact on the consulting business growth? Yes, it did. Big time!
Revenue: the concept is very simple: valuable content = visibility + trust = consultancy growth. Although I never started developing content for monetization purposes as such, I could easily draw a correlation line between the content quality+consistency, the improvement of my visibility, and growing the consulting business. Content definitely gave access to more clients and a more consistent flow of new client leads. I never had to chase new clients. Clients came to me/us instead of me/us having to convince and sell. Inbound instead of outbound. And, by the way, aggressive revenue growth targets (especially after the Deloitte acquisition) were always achieved, with zero marketing!
Recommended reading: Shaping Your Consultancy's Thought Leadership To Accelerate Growth
"Are you generous with your content? If you are not, you are losing! Generosity is an engine for going viral. The more you share, the more you will grow. Selfishness doesn't spread". (Josh Spector, social media expert)
Zero marketing investment: in all these years, apart from my travel costs to conferences, there was zero investment in marketing: no advertising, no campaigns, no marketing materials, no sponsorships, no conference investments (on invitation only), etc. The power of authority is an incredible (free) source of attraction, branding, and consultancy growth.
Rates: due to my industry visibility as a people analytics expert, I was able to apply premium rates for myself and the team in consulting projects and, only with very few exceptions, they never got questioned. It's clear from research from around the world that visible experts (no matter at what level: local, regional, or global players) are able to command premium rates.
Client tenure: during all those years, due to the expert profile in the market, a substantial part of clients became long-lasting client relationships and/or projects. Visible expertise drives client retention and, as a result, overall engagement value!
Ideal clients: it became clear to me quickly that clear (and sometimes bold) positioning of expertise (due to the content, the speaking engagements, the presence in social media, …) was causing a more organic pre-qualification of clients. People could easily understand what they could get from me and that has always been a big efficiency gain (not wasting time on irrelevant clients).
Upstream work: due to my position in the market, the majority of the projects were much more high-ticket upstream work for me (strategically focused) instead of low-ticket downstream work (implementation focused).
Hiring: my strong external visibility has also helped me dramatically in finding the best people to grow the business. I had a constant flow of great profiles who were keen to join us because they had seen, read, and heard a lot about us, our expertise, and our clients. As a result, we had close to zero recruitment costs over a period of almost a decade. Hiring was an organic process on the back of being well-known in the industry.
Acquisition: I discovered the tremendous power of confidence and peace of mind that prospective clients were looking for when inviting me as an expert. I participated in many proposal pitches and was competing against the Big-4 consultancies on a regular basis. In 90% of the cases, the iNostix proposal seemed to be the best. The feedback: you guys are THE experts. In the years 2014-2015 I received calls from 3 of the big 4 consultancies to check out acquisition possibilities. They cited "a compelling expert profile in the market" as the reason. We proudly landed with Deloitte in 2016: a Gardner upper-quadrant analytics leader with a bunch of inspiring people. What a journey!
Recommended reading: Consulting Leaders, Stop Outsourcing Your Thought Leadership Responsibility to Marketing!
One of the main drivers behind the acquisition of iNostix was Luk's status as a well-known global thought leader in the people analytics space. Luk has proven that amplifying visibility as a consultant is more than a feel-good marketing technique. He has clearly demonstrated that a deliberate and systematic approach to thought leadership and expert visibility is a compelling business development strategy. During more than a decade, he consistently and openly shared all his experiences and learnings in an authentic and passionate way leading to an incredibly strong and loyal client and follower base. (Yves van Durme, Partner at Deloitte and iNostix acquisition lead)
Takeaway
Clients don't buy from consultancies that they don't know, don't like, or don't trust. So how can firms get their target audience to know and trust them?
I hope I was able to demonstrate that investing in visibility and trust in a consistent and authentic (hard-working) way through educational content can ultimately deliver an incredible impact on the growth of a consulting business.
Interested in receiving all my learnings to become a better consultant? No spam, no BS. Pure teaching! Subscribe to my newsletter.

Hello, I'm Luk Smeyers, and I'm helping mid-sized consultancies become high-performing consulting firms. I have been in the consulting businesses for more than 20 years, in very different roles: as European CHRO in a global consultancy, as a founder of a mid-sized analytics consultancy, and as a leader in a 'Big 4' consultancy, post-acquisition of my consultancy. I had the privilege of achieving global visibility as a consulting leader, and I never had to sell, persuade, or negotiate as a result. I have now bundled all those experiences, expertise, know-how, research, reading, successes, struggles, and failures from managing and advising consultancies in the past years.