Why Thought Leadership Will Be Developing A Consulting Business
Openly sharing all my learnings has enabled me to create consulting opportunities that I would not have had otherwise.
Putting in the effort toward creating valuable content gave me the privilege of becoming a 'visible authority' globally. It didn't happen overnight. It took a lot of hard work, a structured approach, and a laser-sharp focus.
Read here my separate blog post with all the results I was able to achieve in the past years.
Amplifying your visibility as a subject matter expert is more than a feel-good marketing technique. When done deliberately, systematically, and strategically, it is a proven business development and inbound marketing tool and there's ample research to back up this claim.
Here's where I got the evidence from:
Here's the infographic of all the data from this blog:

SUBSCRIBE TO 'THE AUTHORITY' NEWSLETTER
3 Ways how thought leadership helps with customer acquisition
1. It adds credibility
The findings of Edelman's 2020 edition of its annual B2B Thought Leadership Impact study alone should be an eye-opener for consultants.
89% of decision makers believe that thought leadership can be effective in enhancing their perceptions of an organization they are interested in collaborating with.
Producing content that adds value -- be it in the form of written articles, speaking engagements, or both -- puts a spotlight on your expertise.
Anyone can write a generic article that barely scratches the surface of a topic.
It's the subject matter expert who can provide a more in-depth, educational or analytical type of content, which allows decision makers to identify specialists in a sea of generalists.
2. It is perceived as more authentic
The same study reveals that:
59% of senior executives perceive thought leadership to be a more trustworthy basis for assessing an organization's capabilities and competencies than its marketing materials and product sheets.
Such content tends to be more authentic. It doesn't have the obvious sales layer and is instead focused on providing relevant insights.
69% of decision makers believe that thought leadership is one of the best ways to understand the type and caliber of an organization's thinking.
This number goes to show that your potential clients are very likely to make up their mind about which consultant or organization to hire based on the level of expertise they perceive you or your organization to have.
In fact, a different study conducted by The Financial Times company, Longitude, titled Learning from Leaders, found that:
87% of executives were influenced by the quality of thought leadership provided during a sales process to decide on who to award a deal.
3. It helps you get noticed by your target audience and generate inbound leads
According to the study by Grist, Value of B2B Thought Leadership:
Senior executives see thought leadership content as a valuable tool to stay ahead of emerging trends (66%) and to make better, more informed decisions (60%).
As such, they actively seek out high-level, informative content.
Citing once again Edelman's study:
48% of decision makers spend at least 1 hour a week reading thought leadership articles (31% - 1-3 hrs, and 17% - 4+ hrs).
As a consultant, you are drastically increasing your chances of getting noticed for your expertise by potential clients if you create unique, thought-provoking content and promote it via channels your potential clients utilize on a daily basis.
Furthermore, the Grist study found:
40% of decision makers will speak to the firm that produced thought leadership content when it hits the mark.
This type of conversion is unparalleled. When it comes to inbound marketing, nothing comes close in terms of ROI to high-quality thought leadership.
What channels and techniques can you use to place your content as a consultant?
Well, let's turn to data again. According to the study by Grist:
Senior executives are most likely to seek thought leadership content from 44% - professional services / advisory firms (44%), industry events (43%), and online search (40%).
This leads to the natural conclusion that you should be actively publishing and promoting your content on your consultancy's page and social media channels, presenting at relevant industry events, and paying attention to optimization of your content for relevant keywords.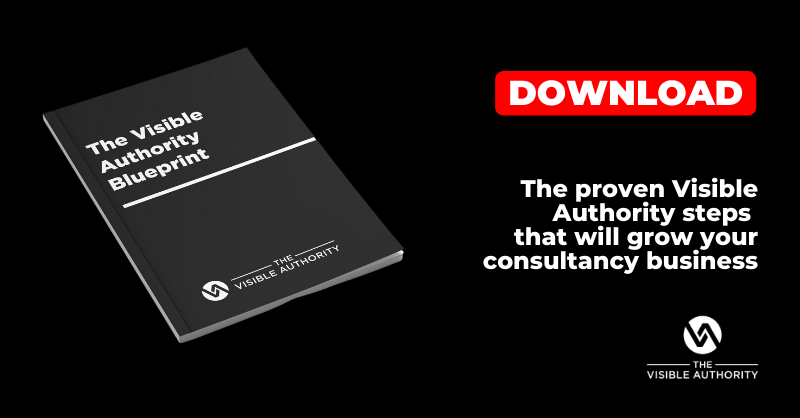 How to produce thought leadership content that stands out?
Of course, not every piece of writing out there can be considered "thought leadership" and, even if it is, you still need to fight for the attention of relevant decision makers.
To help you figure out exactly what type of content to produce, I supplement recommendations from my personal experience with those identified by studies.
According to Edelman's study:
46% of executives prefer content in the form of case studies, 37% - shorter research-based articles, 35% - opinion pieces, 33% - interactive data tools, and 22% - long research-based reports.
Grist's study reveals that decision makers are looking for:
Content that explores issues or challenges from new and different perspectives (46%) and analysis of important or emerging trends (32%).
However, with the amount of content available online and at various industry events, it comes as no surprise that senior executives are rather selective about which content they consume.
As reported by a study by The Economist Group and Hill+Knowlton Strategies, over 80% of decision makers cite the volume of content as the main reason for their high level of selectiveness.
As for the length of content, let's once again turn to Grist's findings:
63% of senior executives prefer short articles of 800 words, 57% - blog posts of 300-500 words, 45% - feature articles of 1,200+ words, and 28% - white papers/research reports of up to 4,000 words.
This is how I've built my thought leadership
People keep asking me – often somewhat skeptically – if my hard thought leadership work has paid off all those years.
I get those questions because becoming visible with valuable content is something most consultants really struggle with. The truth though is that visibility is the only thing that is going to make you stand out in a crowded and very competitive consulting world.
The biggest blunder that consultants can make is to think that somehow potential clients will find them. Nothing could be further from reality.
It wasn't always easy to produce valuable content. Not every swing was a hit. But it never felt like an uphill battle to me and sharing my expertise has enabled me to create opportunities that I would not have had otherwise.
Instead of developing short-lived content with the aim of telling potential clients how great we were (which would have been a darn uphill battle), I always focused on sharing deep experience and knowledge. The teacher in me kept asking:
What did I learn in the project trenches about the biggest client pains that others could learn from?
Which experiences did I acquire that could be valuable for others?
What were the unique client stories (with successes and struggles) that could inspire others to pursue better outcomes?
Marketing yourself as a consultant is surprisingly easy! Share your unique stories and experiences in an authentic and passionate way and you will organically create a strong and loyal client base!
At the risk of sounding arrogant, I've always been surprised that by sharing my stories from the front line I was able to outperform the visibility of thousands of top consultants at Deloitte globally.
The more content I shared, the bigger the results.
It's a little bit like a real estate developer: the bigger the assets, the bigger the results. I've always considered my articles to be the assets of my library.
The more assets I had, the bigger my follower community became, the more traffic to the website I generated, the wider my reach and visibility got, the bigger the output became. Here's an overview of the 'secret weapon' I was able to unlock for the business.
Read here my blog with the results of openly sharing my expertise and thought leadership.
My final recommendations
Make your content stand out by:
tailoring it to the needs and the pains of your (very narrow!) audience,
generating this content frequently and systematically,
paying attention to the distribution of content just as much as to the creation of content.
Hopefully, the data that I've cited in this article convinced you of the power of thought leadership when it comes to building a strong reputation among your target audience, generating leads, and converting them into clients.
I recommend that you find a balance between producing content on a regular basis and maintaining its high quality. Your potential clients are turning to thought leadership pieces in search of trends, insights, and analysis.
Interested in receiving all my learnings to become a better consultant? No spam, no BS. Pure teaching! Subscribe to my newsletter.

Hello, I'm Luk Smeyers, and I'm guiding consulting firms through the journey of growing their business by helping them transform into go-to experts in their market. I have been in consulting businesses for almost 20 years, in very different roles: as European CHRO in a global consultancy, as a startup founder in an analytics consultancy, and as a leader in a 'Big 4' consultancy, post-acquisition of the startup. I had the privilege of achieving global visibility as a consultant and I never had to sell, persuade, or negotiate as a result. I have now bundled all those experiences, expertise, know-how, research, reading, successes, struggles, and failures from managing and growing that visibility in the past years.