10 Consulting Trends: 2022 Edition
In the last two years, I spoke to >200 consultants and consultancies, read close to 1,000 articles on trends and evolutions in the consulting space, and hosted eight webinars, with a total of 400+ attendees.
I also stayed on top of great research on topics such as thought leadership and visibility as an expert consultancy. I refer to some of those studies in the article (such as Edelman, Grist, Longitude, Hinge).
For this post, I don't pretend to have written a scientific study. My findings are based on what I've seen and experienced first-hand in the consulting world. And there's one common denominator: experts and authorities thrive, even in uncertain times!
Enjoy the reading!
-----------
A Consulting Trends Workshop for your consultancy? Would you like me to talk to your team, your colleagues, or your leaders in your consultancy about these trends and how to deal with them? I am doing a lot of workshops for consultancies to help them deal with these consulting industry trends. Booking inquiries via info@thevisibleauthority.com. Looking forward!
-----------
10 Consulting Trends You Should Be Ready For In 2022



#1. Clients want faster (than ever before) results
#2. Client loyalty at an all-time low
#3. Digital marketing will continue to run the show
#4. Generalist consultants and consultancies have a dark future
#5. Google's E.A.T. algorithm is the barometer of your visibility
#6. Content is your key asset
#7. Online data is your new GPS
#8. Getting visible requires a time strategy
#9. Adopting the new consultant archetype is a prerequisite
#10. Scaling requires building and growing a reputational footprint
Trend #1: Clients want faster (than ever before) results
Consulting clients are less inclined to search for brand new consultancies to help solve their problems. Over the last couple of years, they have become less patient and more risk-avert in the selection of advisors.
According to a study by Source Global Research, 87% of clients feel that trust has become a more important part of their purchasing decisions due to COVID. Your prospective buyers need to feel like they know you: who you are as a consultant, the level of your expertise, the area of specialization, the approach you take on in your client work, and your point of view. That's the core of authority-led business development in consulting. And for the big firm consultants: that's NOT done by marketing but by YOU and your team.
Furthermore, the Grist 2021 Thought Leadership Study found that 19% of executives are now zeroed in on the next 3 months and 38% have their sights on the 3-12 month period.
This has inevitably led to:
Clients seem to stick more to their existing consultants if these consultants have a solid track record as their in-house trusted advisors for quite some time already (no risk, fast project onboarding)
Shorter selection lead time for new consultants (less patience) in combination with a much stronger focus on selecting visible experts with a well-established social proof in their market or industry
I am 100% sure this new client mindset and/or behavior will remain unchanged in 2022, if not get (much) stronger.
It became more and more clear to all the consultants and consultancies I've been talking to or working with in the past 1-2 years: prospects are searching for subject matter experts to help solve their problems in a fast and reliable manner.
As a consultant, trying to access new prospects, you'd better be able to clearly explain in no more than 30" what specific problem you are able to solve for your client, and how.
SUBSCRIBE TO 'THE AUTHORITY' NEWSLETTER
Trend #2. Client loyalty is at an all-time low
Based on what I'm seeing with my clients and what they're reporting, there has been growing pressure from clients in organizations to find new ways to save money. Some of that squeeze has led to consulting contract reviews, and price reductions but also quite a few account or project cancellations.
It has been a hybrid situation (see also trend #1):
On one hand, clients seemed to be less risk-taking, striving for a continuation of the collaboration with long-time trusted advisors
And on the other hand, there has been a substantial loyalty decline. Recent research (Hinge Research Institute) quantifies the loyalty decline in the professional services space at approx. -20% (which is a lot!).
This environment has forced consultancies (all of them: from solo consultants to small/medium-sized consulting practices but also the big consulting firms) to improve their visibility, their offering, their pricing, the (virtual) delivery, etc. The overcrowded consulting market was already quite competitive and is now even more merciless.
But what has been clear to me more than ever before - amidst the growing pressure and incredible noise in the market - visible authorities and trusted advisors with solid social proof were able to keep most of their clients (see also trend #1).
Almost every consultancy I talked to reported being put on hold in the early days of the pandemic or even lost projects. However, all of the well-positioned experts, specialists, and visible authorities in their markets got back on track quickly, and, in 2021, were able to achieve business growth! Amazing evolution!
The key lessons learned:
Expertise wins! Deep expertise in a specific subject matter always wins in the long run, even in difficult times. Such expertise can be vertical, e.g. client pain-related, or can be horizontal, e.g. industry-related).


Trust building. The most successful consultants are big 'trust-builders': they generously share their knowledge and provide authentic educational value to their clients. They kept doing this consistently during the pandemic crisis (some of them - having more time - increased/improved content production big time).

Systems. Having 'systemized' their existing relationships and their network made some of my clients hugely successful. They had created a detailed database of clients, ex-clients, contacts, and prospects and were able - with solid educational content, of course - to quickly activate the network and to keep all their contacts in the loop of the latest trends and learnings. It's what I did a decade long (updating my network with new learnings and trends) and I was privileged to always have a magnetic client and network loyalty.
Trend #3. Digital marketing will continue to run the show
What do you do when you need to solve a problem at home?

Exactly: you start googling! And what else do you read, apart from the solution details and the price? Exactly, you verify the customer reviews. Little or poor reviews? You skip the page. No mercy.

Now, what do you think buyers of consultancy services do when they evaluate candidate consultancies?

Exactly, they google the consultant. And hopefully, the envisioned consultant profile shows an abundance of expert evidence. Without social proof and immediate evidence of deep knowledge (content!), the risk-averse and impatient buyer will skip to your digitally savvy competitor. No mercy.
The 90/80 rule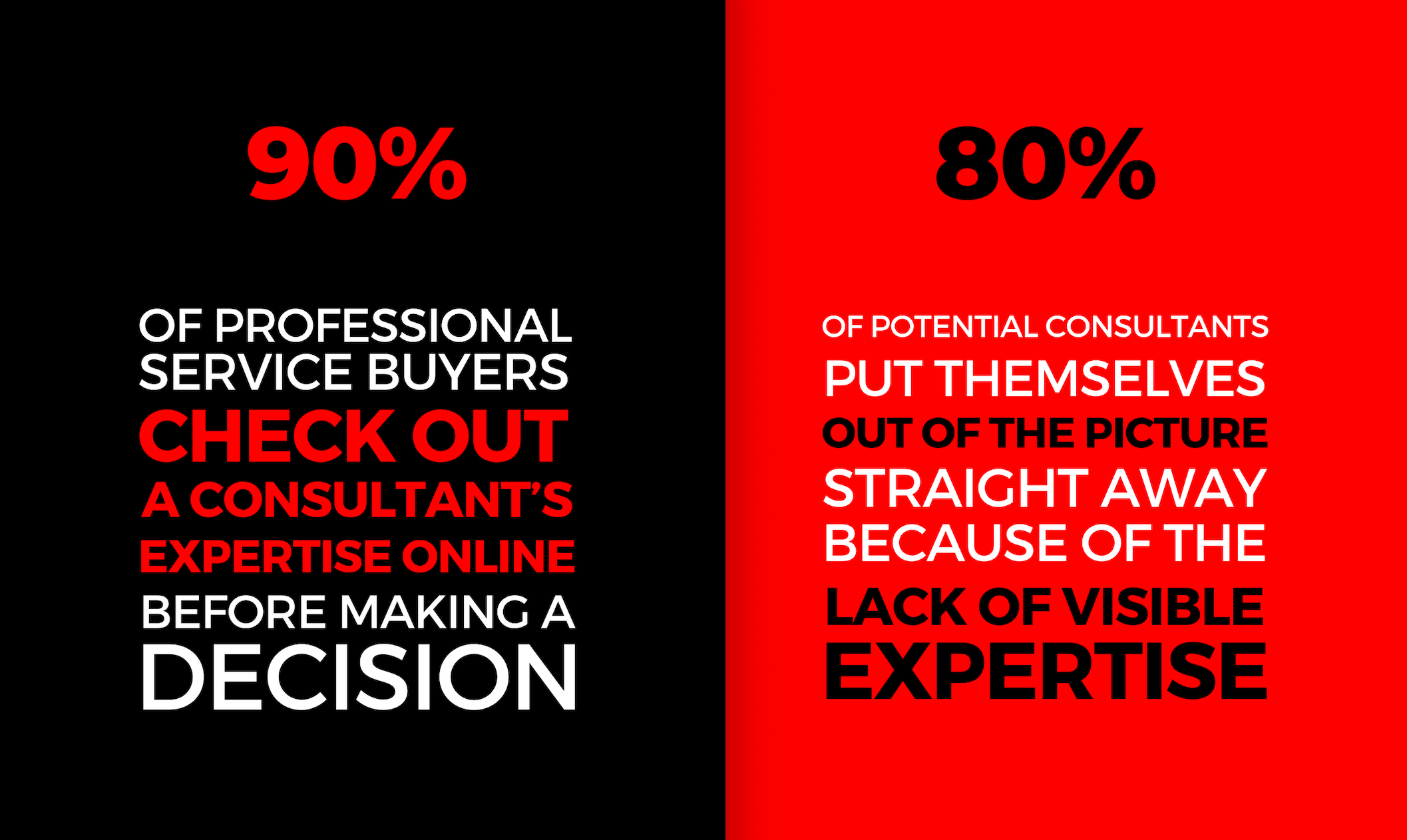 Data backs it up. The 90-80 rule (Hinge Research Institute) is quite simple. 9 out of 10 service buyers will actively do their own research on a consultant. Unfortunately, 8 out of 10 consultants automatically get rejected because their digital footprint does not point to a desired level of expertise.
Many consultants that I've spoken to told me: "Luk, growing my consulting business is all about my network and my relationships". I've heard variations of this statement more times than I can count.

However, in my experience, heavily relying on networks and relationships to sustainably grow a consulting business, might result in an unreliable pipeline and unpredictable future. In an overcrowded consulting market, digital is how new business is won.
The traditional marketing model in the professional services industry is in trouble. Client loyalty, satisfaction, and referrals are in a slow downward spiral. The old strategies and techniques won't cut it anymore. A modern, digital-fueled content marketing approach, however, hits all the right notes. (Hinge Research Institute)
Four reasons why consulting business development has changed forever
Pre-buying research: buyers do their homework before getting in touch. Recent studies state that 70-80% of the decision-making process happens during this homework phase! They have access to a plethora of information that empowers them to manage most of the pre-buying research on their own.


Purchasing with a click: buyers of professional services have been 'trained' by B2C for 'purchasing with a click' & those expectations have blended into the consulting buying mindset. Buyers are inclined towards easy-to-find, 5-star Amazon-like-reviewed consulting resources. All your 'trust stuff' should be easy to find/navigate.


Social media impact: we're in the social era where your buyers discover & evaluate professional services and consultants through their social network: analyst reviews, social media, peer-based word of mouth, content platforms, etc.


Covid tax: consulting is a trust-based business. As mentioned earlier, a study by Source Global Research concluded that 87% of professional service buyers feel that trust has become a more important part of their purchasing decisions due to COVID. Buyers need to trust you before getting in touch after 'the homework'.
The digital chips are down
The global pandemic has made the incredible weakness of a network-heavy approach apparent.
Consultants are confronted with an unreachable and unpredictable network, cutting them off from their usual consulting development approach. The network 'call to arms' proved to be weak, unpredictable, inconsistent, and not scalable.

During this past year, I've seen a lot of consultancies jumping on the digital bandwagon and getting better at fighting the overcrowded consulting market, and at trying to stand out against the rest.

So, the digital challenge for lagging consultants becomes bigger and more difficult. We live in the digital-first world. And this will not change anymore. The chips are down. Consultants understand their future business growth becomes more and more digitally driven.
I've never been reliant on my network ONLY to grow my consulting business. Building relationships was never my ultimate goal but rather the result of my expertise, my visibility and reputation on the market. (Luk Smeyers)
Prospects, more than ever before, will expect consultancies to reach out to them through digital channels, provide them with insightful content, educate them, keep them in the loop of the latest trends, deliver superior experience virtually, to let them book a 1-hour virtual diagnostic call in 10" (with direct access to the consultants' agenda), to verify references and social proof, to check-out delivery methods and project approach (see list in Trend #1).
If you want to be serious about growing your consulting business and starting to attract your ideal clients in a more consistent and predictable way, you will have to get comfortable with online marketing.
Remember what I keep saying to all my clients: your digitally-astute competitor is only one click away (and client loyalty is at an all-time low, see trend #2).
Trend #4. Generalist consultants and consultancies have a dark future
I guess you've been reading Trends 1, 2, and 3? Assume it's not difficult anymore understanding the far-reaching impact of specialization in consulting.

In fact, it's maybe easier to understand by calling it 'the narrow focus of your consultancy work'. Aka positioning (check out my positioning assessment service).

Almost every consultant I've talked to in the last year has some kind of (big or small) ambition to become considered an expert. And 95% of those consultants know pretty well that 'saying yes' to everything is not the best way to become proud of their work.

The majority of consultants I meet don't end up where they had hoped, however. They aren't building a healthy pipeline or aren't working with the type of clients/projects they really wanted.
They understand that being unfocused leaves them spread thin and disorganized, confuses their clients (they don't know what they are standing for), and burns them out in the long run.
In most cases, they played the safe, low-risk generalist game for way too long. It's a losing battle in our hyper-connected Google world.
Nobody will come across their profile. Google search will put them on page 59, irrelevant as they are, unfortunately. And nobody is coming to rescue them. They don't get rewarded for trying, failing, or working hard.
That's the reality of the 2022 consulting world.
Narrow focus in consulting and the T-shaped profile
The debate about specialist versus generalist in education and teaching is a totally different debate and has nothing to do with specialization as in 'narrow focus' in a consulting practice.

But to be entirely clear: consultants will need to combine deep subject matter expertise (and focus on it to grow their consulting business) with an incredibly broad overarching know-how. The T-shaped consultant, remember?

Within their narrow subject matter focus, consultants need to be able to entirely grasp the organizational context, the strategic background, the interrelational dynamics, the typical stakeholder objections, the C-level hesitancy (and how to deal with it), the legal bottlenecks, the technology barriers, the data challenges, etc.

In other words: deeply understanding all the critical business challenges of the expertise-related pain points of their target clients.
Profound subject matter expertise (the vertical in the T-shape) combined with broad contextual, overarching know-how (the horizontal in the T-shape). That's what we are talking about here.
Your narrow positioning is an exercise in irrelevance. The more irrelevant you become to non-ideal prospects by turning your positioning away from them, the more relevant you become to your chosen target clients. But that requires courage and discipline. (David C. Baker)
The 2 pain points to consulting success
Covering multiple expertise areas or multiple audiences makes it almost impossible to accomplish such deep knowledge status.

Ambitious consultancies understand they will not stand out and build trust by being a generalist 'something'. Our job as consultants is to ensure we are top of mind - the first specialist clients call when they need help.

Publicly voicing expertise is helping consultants tremendously with positioning, focus, saying no to other work, developing the right marketing messaging & content, pricing, and financial planning, to name a few.

However, in trying to get to such 'publicly stated narrow expertise' most consultants continue to struggle with:
Fear of missing out (FOMO): Most consultants are afraid that if they niche down and say 'No' to potential (non-ideal) clients, they are going to lose business and miss out on new opportunities.

Rather than being laser sharp in their public consulting positioning, they continue to show expertise in multiple areas and take on any remotely related opportunity that comes their way.

I am always surprised how difficult those discussions are about 'publicly announcing their specialism'. It's a real acid test for most of them.

Most consultants don't really understand however that saying 'No' is the biggest force for building their business. The biggest authorities in the world relentlessly say 'No' in order to protect and maintain their narrow positioning and reputation.


Most consultants have too big EGOs: Saying 'No' feels like capitulation to the big Egos in consulting. Every new opportunity feels for them like an attractive business challenge they need to crush (and demonstrate that to their 'small world').

Their ego is detrimental to narrowing their positioning, focusing on their single biggest mastery, and refusing all other inadequate work.
My expert mountain bike coach in Munich
A couple of years ago, I enrolled for the 2nd time for 'The Untamed' Cape Epic 8-day stage mountain bike race in South Africa.
It's the 'Paris-Dakar' of the mountain bike sport, with the world's elite professionals competing in the front row and about 1.000 hobby bikers behind them (always in teams of 2). It's broadcasted live on TV in more than 30 countries. It's every mountain bikers' dream to get selected.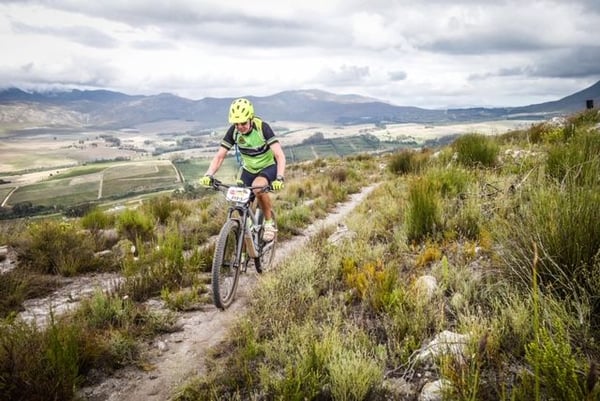 As I had relocated to Munich since my previous participation, I had to search for a new cycling coach. Google told me there were several excellent cycling labs in Munich but to my uttermost surprise, one lab had specialized in 'long distance stage mountain biking' (heck!) and the scientific lab leader and the field coach both participated in the Cape Epic previously. Wow!
To keep it short: despite much higher lab costs, an expensive monthly mobile app subscription, and 2 mandatory 1-week training camps on Gran Canaria (a huge time/money investment), I chose to work with these guys given their incredible experience and know-how in competing in such difficult multiple stage races, such as the South African Cape Epic.
No wonder I survived the race and still felt fit and healthy after 8 extreme MTB days. Their detailed, MTB-specific advice, lab testing, training planning, nutrition program, race mapping, game planning, etc. made them stand out from all the others on the market (for my specific needs, of course). I had never seen this before and I've had several great coaches before.
Expertise always wins. Generalist sports labs have their place – but if you ask me, I would choose a specialist lab 10 out of 10 times. The jack-of-all-trades is seldom an expert at one.
Focus! Extremely, infinitely, strikingly!
The consultant's typical fear of narrowing their expertise domain will definitely become the fastest way to becoming commoditized as a consultant in 2022 and beyond.

I get this question all the time: what is the biggest challenge for consultancies? My easy answer: the fact they're struggling to vigorously adhere to a narrow focus and the accompanying public message (of that narrow focus).

Hopefully, we will see a growing understanding that striving for variety (consultants love to constantly brew new 'blends') should evolve into a focus on building the deep and unique competence that clients are looking for (see Trend #1) and are prepared to pay a premium for.

Focused expert consultants thrive and will continue to do so in 2022.
The #1 rule for success is focus. Do less. Pick one thing and do it 100%. Don't let anything distract you. Say no. Say no. Say no. (Ev Williams, founder of Medium)
Related article: Want To Be a Furiously Successful Consultant? Put All Your Eggs in One Basket.
Trend #5. Google's E.A.T. algorithm is the barometer of your visibility
The biggest consulting blunder
Do you know the biggest blunder that consultants can make in 2022? It's thinking that somehow potential clients will find them. Nothing could be further from reality these days.
I do quite a bit of consultancy practice business reviews and, in 90% of those reviews, the practice and the partners/principles are totally invisible externally (and internally disagreeing about it). Their digital footprint with evidence of (focused) expertise is in a bankruptcy state.
Unfortunately for those consultancies, content-driven visibility is the only thing that is going to make them stand out in a crowded and very competitive consulting world. Now even more than before!
In 2022 and beyond, consultants will have no other choice but to devote a considerable amount of time to educating their prospects AND existing clients, share best practices with them, tell them what to look out for, give them valuable tips on how to achieve success, and demonstrate how they've helped others in the same shoes.
More than ever, consulting clients are searching for subject matter experts and trusted advisors to help solve their problems. And prospects and clients have an unprecedented number of options today.
Remaining relevant for Google
In a way, Google is encouraging us to become more and more specialized in order to become and remain relevant.
Without going into all the details – but in the context of what's going on in our fake-news world – Google's search algorithm has been continuously upgraded over the past years and now includes 3 important evaluation pillars: the so-called E.A.T. evaluation criteria.
The search engine assesses content (amongst many other criteria) on the basis of Expertise, Authority, and Trustworthiness. As a consultant, you will only appear in Google's top hits if Google considers you to be E.A.T.-proof.
It may come as bad news for those in the game for a quick win, but expertise, authoritativeness, and trustworthiness take time to build and nurture, with no real shortcuts; this is important to remember. The E-A-T criteria, by definition, means incrementally growing a positive online presence in a natural way. (Ian Booth, Moz)
That's why it will be imperative in 2022 to keep the education of your audience - the E.A.T. way - at the forefront of your mind and your goals and use your unique story to show them how they can implement what you've learned to achieve similar results.
Going forward, it will increasingly be the key driver of growing your expertise, authority, trust-building, and, as a result, of course, consulting business growth.
SUBSCRIBE TO 'THE AUTHORITY' NEWSLETTER
Trend #6. Content is your key asset
Business development in consulting is NOT about sales.
Marketing isn't about pushing a product or service. Instead, business development in consulting is about sharing your knowledge and providing something of authentic value to your clients.

I still meet quite a number of consultants struggling with openly sharing their expertise. This type of thinking is just plain wrong, more than ever.

Amplifying your visibility as a subject matter expert in 2022 is more than a feel-good marketing technique. When done deliberately, systematically, and strategically, it is a proven business development and inbound marketing tool and there's ample research to back up this claim.

Sharing educational content is the best possible way to build a strong and credible reputation as a consultant. Without trust in your expertise, you won't get that call to meet. And if they don't call you, you will never know, unfortunately.
Give people an abundance of confidence in your expertise by creating an abundance of value and share it again and again. (Seth Godin)
As I've seen time and time again, consultants don't like marketing and sales. Many of the Consultants I've met in the past believe that marketing is beneath them.
Marketing is not separate from you, as a consultant.
Whether you like it or not, you are marketing yourself all of the time. A good consultant is a good content-driven marketer of his/her expertise.
It's extremely important for you as a consultant you move past this strange marketing belief and start embracing content marketing as a critical trust-building, visibility-improving activity.
If you are struggling to start developing educational content, start with telling the authentic (and vulnerable) story of your project struggles, your suffering in the trenches, your dealing with bottlenecks, the way you've solved critical client problems, and what others can learn from it.
The more you write about how YOU have solved the problems of your clients, the more clients will relate to you and build a mental connection with you over time. I have seen this time and time again.

Even if all of this could be profoundly personal, potential clients will quickly recognize their own problems in your story and can truly connect with you. In the 2022 overcrowded consulting world, your consulting expertise is probably not truly exceptional but YOU certainly are.
Don't create to put something — anything — out there without considering if what you're sharing is valuable or useful to your audience. Don't publish as a desperate means to validate your existence. Don't add to the content trash heap. (Felicia C. Sullivan)
The easiest sale ever in my career
Content marketing is not a sales tool. It's designed to build visibility, trust & reputation. It has enabled me to create consulting opportunities that I would not have had otherwise. Here's such an opportunity that 'fell from the sky'...
A few years ago, I met with an HR Director at a conference.
I had been giving the opening keynote speech (as always, with a 'lessons learned' angle) at the conference, and apparently the learnings I'd presented had intrigued her. She asked me for my contact information and promised to call me to discuss a collaboration.
Months went by, without a single call from her. However, in the background, she kept receiving my new case studies as she was subscribed to our email list. About six months later, her assistant called for a meeting in her office.
It was one of those many meetings where I sat in front of the 'buyer' with a printed stack of my case studies on the desk.
She apologized for the delay in getting back to me. She had to study and research to be able to present a business case for consultancy investment to her boss, and that took her a while.
"Your case studies and articles had been my single source of information," she admitted to me with a big smile.
The HR Director finally got the approval from her boss, and at the end of our 1-hour meeting, she gave me the go-ahead for one of the most rewarding projects I've ever done. Amazing!
The easiest way to summarize the learnings from this story is with a quote from my fellow content coaches Sharon Tanton and Sonja Jefferson from their fantastic book 'Valuable Content Marketing' (a must-read!). They point out:
Educate your buyers, show them best practice, tell them what to look out for, give them valuable tips on how to achieve success, demonstrate how you've helped others in their shoes.
Not sharing your expertise is a risky approach
Openly sharing your expertise sends a message that you are not afraid to reveal your expertise because you are that confident in your own skills and knowledge.

It sends the message that you have a lot more to offer because of how freely you share your knowledge. It propels massive trust.

However, the risk of not doing this is much higher and the damages to your business are much more significant. Without any proof of knowledge, you will remain under the radar, and google will put you on search page 27.

So adopt a leader's mindset. Don't worry about your competitors. You will be looking at them in the rearview mirror anyway.
Become a baker, not an eater
As Guy Kawasaki so wisely put it: 'Eaters want a bigger slice of an existing pie, bakers want to make a bigger pie and share it with others'.

Do not worry about your competitors trying to get a slice of your existing pie. By being intentional in sharing your real-life experiences you will enjoy an infinite supply to bake more and bigger pies. Bakers will always be seen as leaders, as winners. And clients want to work with winners.

Ordinary consultants sell. Authorities share!
Clients will be significantly pickier in 2022 about who they work with
They will look for transformational value, stability, reliability, and authenticity. They will spend even more time doing their own online research on potential partners – consultants and consultancies – so content marketing will become the battlefield.

In absence of visible expertise (valuable content), you will need to compete on price trying to survive the race to the bottom. It's a losing battle in our hyper-connected world. Nobody will come across your profile, irrelevant as you are, unfortunately. And nobody is coming to rescue you. You won't get rewarded for trying, failing, or working hard.

More than ever, 2022 will be about differentiating yourself from your competitors, and an excellent way to do that is by creating valuable content that's 1) authentic, 2) provides educational value, 3) transformational (problem-solving insights), 4) tells a unique story, 5) consistent.
My final advice: go fast!
Your competition is moving forward aggressively (it's amazing what is going on right now!). You will need to propel the digital and data-driven thought leadership status to stand out in an overcrowded, extremely competitive consulting market.
Trend #7. Online data are your new consulting GPS
Understanding existing clients and prospects
Another outcome of my consultancy business reviews is the lack of data to monitor the digital footprint. It's extremely hard to understand why consultants and consultancies (even the big consultancy firms) have an almost fatal data inadequacy.
How the heck will you ever know the business impact of educating your audience (E.A.T.-inspired) if you don't evaluate your progress based on concrete metrics?
You can no longer afford to scream into the void or, rather, the noise of your network. It's amazing how little data knowledge consultants have about prospects, ex-clients, and existing clients.
Most consultants (98%?) have no clue about the impact of their digital activities (if activities at all). Sorry to be so harsh.
The bigger picture of sharing your expertise
As a consultancy, you will have to get much more targeted and strategic in your approach in 2022 as competition has never been so backbreaking to deal with.
Like it or not but your content (any educational content: blog, articles, case studies, presentations at conferences, video, podcast, references,...) should be the key driver of the TLC process: from Traffic to Leads to Clients.
About 80% of the traffic to my website originates from the content that I am sharing. My content has always been like 'my assets': the more I wrote, the more traffic, and ultimately, the more clients I got.
Sharing your expertise and educational content in 2022 should be organized so it drives leads to your consulting business. Sounds like a no-brainer, or?
And how will you monitor your TLC success without data? It feels like doing business
blindfold
and letting things take their chance.
And don't worry, your digitally savvy competitor (who is only one click away) has done his data-rich homework!
"The investment isn't in the content, it's in the result of the content: the subscribed audience". (

Robert Rose

, Content Marketing Institute)
Fanatically trying to understand your audience
To maximize the ROI of your efforts – and believe me, 2022 will require you to put a lot of effort into marketing and sales – you will have to learn how to collect and evaluate data on your audience.
Who is visiting your website, your blog? What are they reading? How long? Why? Where are they coming from? What do they do next? How can you further improve the value you offer? What's the traffic you generate via social media? Is your content traffic growing organically? How can you more efficiently convert users into leads? Do your leads convert into revenue? Does your content help to nurture and retain your existing clients? And 100 more questions!
All of this can only be optimized through the use of data. It's no longer a "competitive advantage." It's a must to survive and grow as a consultant.
Learn from your data. Get educated at it! It's key to your success! Iterate, adjust, iterate, and adjust again, 100 times. Play the long game. Out-analyze and out-work your competitors, heck!
The 2022 consulting data manifesto
The manifesto: in 2022 every consultant becomes obsessed with data-driven monitoring of the business impact (TLC, traffic to leads to clients) of their digital, content-driven activity and footprint!
And if you get quickly overloaded and stressed about too much data, focus on the #1 KPI chain: does your content grow your subscribed audience, and does that subscribed audience (ex-clients, existing clients, and new prospects) grow your revenue?
Your unfair advantage in 2022: the subscribed audience!
Recommended reading: Building an Email List Is Your Ultimate Trust Weapon as a Consultant
Trend #8. Getting visible requires a time strategy
It's all in the mind, heck!
Many consultants have the mindset of 'there's not enough time to develop my business'. Is that really true, though?
Can you instead see the problem as a fixable issue? Can you shift it towards one of, 'how do I create more time so that I can work on business development of my consulting'?
It's a question of mindset more than anything. It is imperative, in the crowded consulting space in 2022, that consultants will start making more time for (digital) marketing.

If you firmly believe there is not enough time in your day, then that will be your reality. If instead, you begin to look at the problem creatively and find pockets of time in your day, you'll be more motivated to do a complete overhaul of your mindset and the way you work.

Solving the time pain is not difficult in itself. It doesn't require any special skills or investment.
I also realised today that I'm not even focusing on business development because I don't have the time, my days are filled with clients, you know? On the one hand, it's great, on the other it creates a lot of anxiety because what if it stops for whatever reason? I don't have a business development engine behind me. (one of my clients)
To get visible in 2022, you will need a 'time strategy'
People are always surprised when I tell them about 'having a time strategy'. I've always set myself the target of creating actions that will lead to at least a 30% of available time to devote to my marketing and consulting business development.
I am damned serious when I say that my business growth in the past decade was a result of my state of mind to free up that 30% of my time to grow my consulting business.
If you really want to develop your consulting business, you will have to get rid of the vicious mindset that tells you 'I don't have time to win more clients' or 'I don't have time to nurture my existing clients'.
Consulting IS marketing: marketing is not separate from you, as a consultant. A good consultant is a good marketer of his or her expertise.
4 Ways to free up 30% of your time to invest in business development
I already hear you saying: how the heck can I free up 30% of my time? I did it, a decade long. So why not you?

Here's my advice to you for 2022. These are the 4 biggest time-saving approaches, tested and developed over the past decade.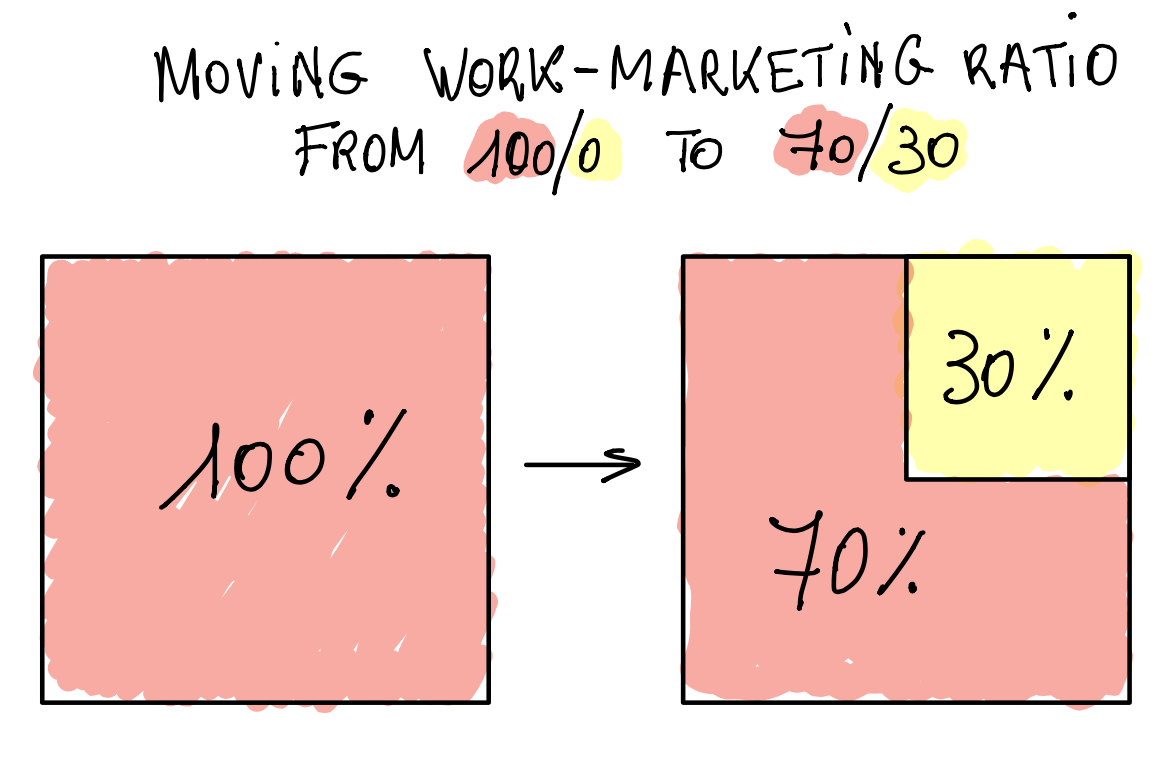 1. Focus (generalists have a dark future, see Trend #4)

I already talked about focus earlier in Trend #4. However, I have to once again emphasize the importance of narrowing down your expertise and drilling into that niche with everything you got.

By doing so, you will reject opportunities that do not go in line with your narrow focus. That, on its own, will already save you a ton of time that you can allocate towards business development and marketing in your niche market.

Without focus, this is what will happen:
To protect your income, you say yes to almost everything
Because you say yes to almost everything, you have no time to do marketing
Because you don't do business development, you have to say yes to everything to survive
Got it? The vicious loop to hell.
2. Staying upstream

I teach consultants and consultancies to remain productive (and save lots of time) 'by staying upstream' as much as possible: packaging their expertise into a 'strategic system' and pricing it as a premium diagnostic service (upstream being strategic versus downstream being operational).

As an authority, you should stay (far) away from implementation work (if you have a team, they can support the downstream work). That's how I 'survived' the past decade: strategy, road mapping, diagnosing, teaching, C-level guidance. That's your new mindset to save time as a consultant (and authority).

3. Standardizing your consulting service(s) to the max

Many consultancies are still providing highly customized services rather than standardized packages (and are afraid to move to highly standardized approaches).

Even if you focus on a single expertise domain, you may still have a hard time packaging that expertise into an easy-to-sell system. If you don't have a packaged system, you risk moving 'downstream' quickly (highly customized, difficult to scale operational/implementation work) in your consulting activity rather than 'staying upstream' (standardized, strategic, diagnostic higher paid work – process and value-driven, much easier to scale).

Offering highly customized services - although it can be a differentiation factor - is the biggest draw on your time I could think of, and it is also immensely difficult to reverse that downward spiral. It will burn you out one day, watch out!
4. Cross-pollinate work and marketing

99% of consultants consider marketing work as something they need to do 'on top' of their regular work. Which makes marketing a stubborn bottleneck.

Here's what you should learn to do in 2022: cross-pollinate work and marketing with the ultimate goal of bringing work and marketing in an organic synchronization.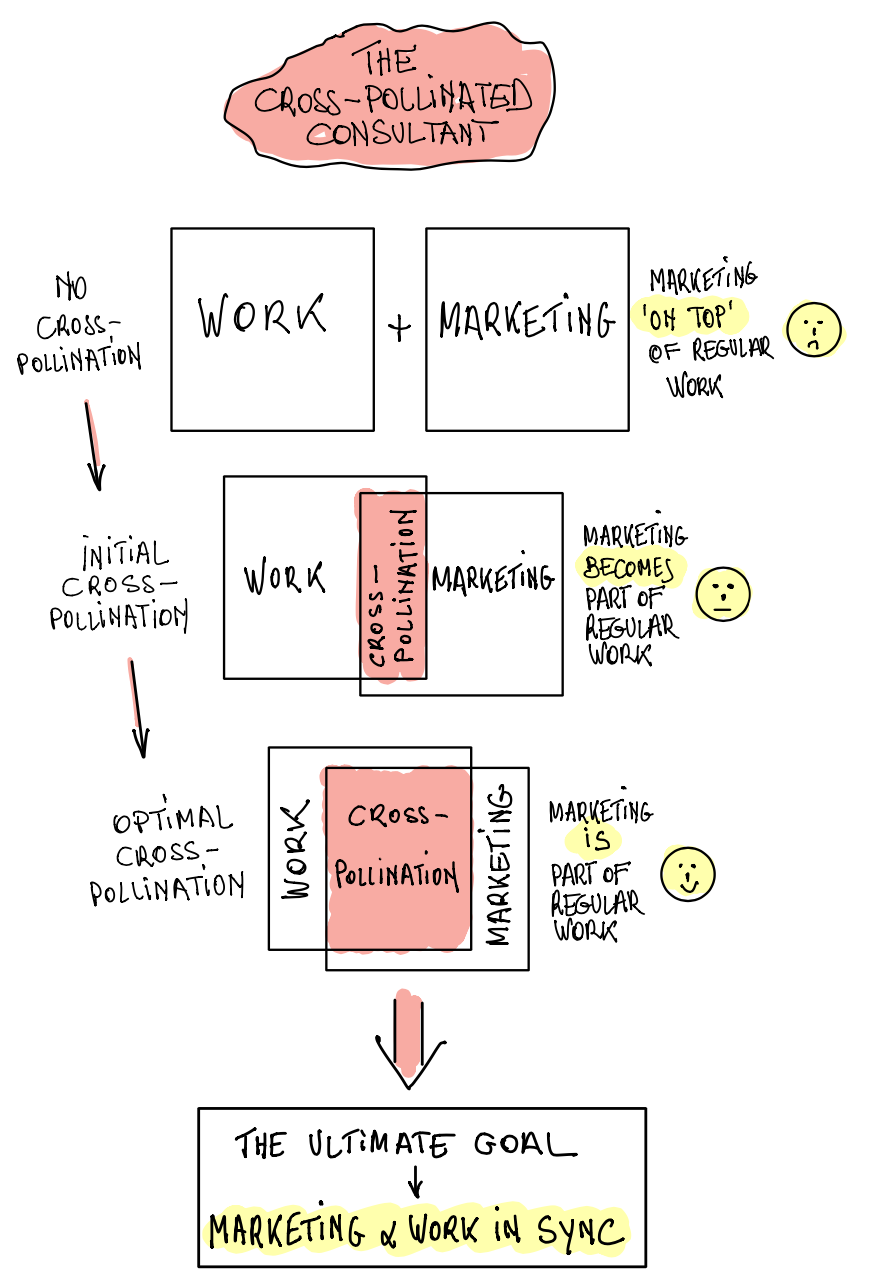 Let me give you a (very) small example to explain a work-marketing cross-pollination in my current consulting work.

As part of my private support package for senior consultants, they get 24/7 email access to me to answer all their questions.
Here are some cross-pollination examples of such an email question:
Using the Q&A mail as a reader/client question in my bi-weekly newsletter (anonymously of course or with approval from the client) to teach all my subscribers


Using the Q&A in my future (external) content as examples or case studies in my blogs and social media posts


Using the Q&A in my training sessions with other clients as 'lessons learned'
This is just one example of leveraging your work to avoid extra content development work. I am writing between 15-20 answers to clients via mail per week, an infinite content source. My treasure trove. It would be a great loss to not use those client emails as input for new content.

My ballpark percentage of cross-pollination in my current work? I guess 50-60%. How many client questions do you answer per week/month you could use as content marketing input? Ever thought about that?
The 2022 'time strategy' manifesto
'No time for marketing' is the cry of consultants the world over. That cry will have to disappear in 2022. Everybody can do that!
Trend #9. Adopting the new consultant archetype is a prerequisite
Are you a baker or an eater?
As my great inspirator Guy Kawasaki so wisely put it: 'Eaters want a bigger slice of an existing pie, bakers want to make a bigger pie and share it with others'.

Despite the immensely growing competition in the consulting world, consultants should never worry about their competitors trying to get a slice of their existing pie.

By being intentional in openly sharing real-life experiences they will enjoy infinite supply to bake more and bigger pies. Bakers will always be seen as leaders and clients want to work with leaders.
Research from Adam Grant
In his fantastic book 'Give And Take' (see summary here), Wharton Prof. Adam Grant provides scientific evidence that those who like to give away their time, knowledge, or resources to others will be ahead in the long run. Because they build a large network and earn valuable trust and respect from their fellow human beings.
Grant explains that takers may enjoy periods of success, in his research however he experienced such consultants often got 'punished' by what he calls the 'taker tax' (spreading the word of a taker's bad behavior), greatly hindering their chances of continued success.
Getting/staying in the 'helping mindset' is an unparalleled mental guiding principle. Not only did it result in developing better content to help my audience, but it also made it way easier to embrace the marketing aspect (sharing educational content) in consulting.
The new consulting archetype
Although it often appears to us that successful people simply take what is due to them, the 2022 consultant archetype looks nothing like it did a decade ago. The new consultant archetype has the following indisputable qualities:
Helpful, educative, and authentic in the knowledge and expertise he/she renders to their (narrow) audience. The new archetype consultant openly shares an abundance of 'lessons learned' and does that in a systematic and uninterrupted manner.


Caring, empathic, and supportive in identifying and addressing their target audience's pain points. Always on the lookout for new trends to keep their audience educated.


Transparent, vulnerable and real in admitting past challenges, mistakes, struggles (and share, share and share again).
If your personality cannot get in sync with this new archetype, you will struggle to become visible and valued as a consultant in your market!
More and more people gravitate away from consultancies that feel too pushy or sales-focused. B2B became P2P, people buy from people they trust and value. The new archetype profile lends an authenticity that literally can't be bought.

Here's my experience from all those years in consulting: ordinary consultants sell (and they don't get it....this new archetype 'thing'), authorities share. Ordinary consultants eat. Authorities bake. Ordinary sales-like consultants tend to have big egos. Authorities tend to be modestly brilliant and take others with them.
The 2022 archetype manifesto
The new archetype consultant is a baker (with infinite supply)!
Trend #10. Scaling requires building and growing a reputational footprint
Servicing your clients to death
You start working with a client and you want to make sure you make a fantastic first impression.
You go out of your way. You respond to their emails within minutes, you change your timeline a hundred times because your client asks you to, you re-work the same project multiple times because your client keeps changing his/her mind on the deliverables, and on and on it goes. Before you know it, your clients start taking this approach for granted.

You can't really blame your client, though, can you? If that's how you've positioned yourself from the start, your clients will assume that it's your normal mode of working. You are the only one who can tell them otherwise.

This is a very common trap I see so many consultancies - big or small - fall into. This challenge of 'servicing my clients to death' (to protect income) belongs to the top 3 discussions I had with consultants in the last couple of years. Difficult discussions.
Getting back in control: there are only three paths
Path #1: You can work more hours, risking getting burned out and putting the long-term health of your consulting business, yourself, and your relationships on the line.

Path #2: You can add additional (in- or external) team members. And keep adding to grow. But watch out, it can transform you from a consultant to a manager of 1001 small issues, heavily disconnected from the (wonderful) client work. Wanna build a reputation for what you know? Be careful with the pitfalls of path #2.

My path? Number 3!
Path #3: You can...
...reduce at least 30% of the volume of your work by...
...deliberately saying NO to (non-ideal) clients and...
...start developing deep subject matter expertise (focus!) and...
...getting visible in your market or industry by…
...building a reputation for what you know...
...amongst a very specific audience...
...that has buying/decision-making power...
...and that suffers from (expensive) problems or risks...
...and is willing to pay a premium…
...for your distinct, transformational, problem-resolving approach.
But...you will have to escape the vicious hamster wheel of trading time for money in 2022 to become such a subject matter expert with a strong reputation in your market or industry.

The ultimate goal: doing less to enable the scaling of your consulting business! The most important word in consulting in 2022: NO!
Doing less to scale? What the heck!
In the past years, I reduced my work volume to 70% in the first phase and to 50% now. And always in a context of aggressive revenue growth (e.g. my record Deloitte year with +100%)!
The remaining time: investment in my reputational footprint as a subject matter expert. Writing these trends for example :-).

I kept challenging myself all those years to say 'NO' to anything that fell outside of my narrowly positioned area of expertise.

I stopped chasing the next client, I accepted to earn less periodically if needed. In return, I was able to free up time to grow my business on the back of my earned market visibility. It has always been a rewarding and prosperous approach. Growing authority to scale the business.

I love this quote from Blair Enns (I am a big fan of him):
We must simply choose to take control, first by specializing and shifting the power back from the client toward us, and then we can begin to shape our future as consultants.
It's scary to reduce, I know
Do you know the cost of not focusing on the growth/scaling tasks for your consulting business?
I call it the 'Vicious-Loop-To-Hell-Tax' (VLTH-Tax) and it undermines your health, your wellbeing, your relationships, your sleep, your business success: the FEAR TO SAY NO!

I've seen many consultants fear saying NO to ill-suited opportunities in order to please a client and/or earn an income/revenue. I get that, been there myself.
However, there's this tragic VLTH-Tax result: compromised market credibility, endangered future consulting growth, and exposed personal wellbeing.

Many years ago, I told myself: "Luk, you either specialize and stand out in the very crowded consulting market or you'd better start looking for a regular job".

The fear of narrowing your expertise domain is the fastest way to becoming commoditized as a consultant and to get in the hamster wheel of having to say yes to everything to protect income.

The yes-saying-to-everything-to-survive Jack of all trades doesn't have the time anymore to develop the business. The Vicious Loop To Hell.
The single piece of advice that will impact your consulting business in 2022 the most
The single piece of 2022 advice: focus on building the deep and unique competence that clients are looking for and are prepared to pay a premium for!

Consulting clients are searching for brilliant subject matter experts and trusted advisors to help solve their problems. Clients have more options today than ever before - there are more consultants and experts and advisors than ever and buyers can find anything in seconds.

Evolve from 'doing activities for your clients' to 'doing a pain-resolving transformation for your client'. Picture them 'The Promised Land'. Explain to them your distinctive 'vehicle' to drive them from point A (problem status) to point B (problem-solved status).

Show them how you can secure a transformation home run, with process details. Show them how you can ensure stakeholder buy-in. Shift their thinking. Inspire behavioral change.

And with the premium fees for such transformational expertise, you can compensate for saying NO to protect your business development time. I've done that and you can do this too.
The 2022 Glorious Loop To Heaven! Authority scales!
------------------------
Interested in receiving all my learnings to become a better consultant? No spam, no BS. Pure teaching! Subscribe to my newsletter.

Hello, I'm Luk Smeyers and I'm guiding consultants through the journey of growing their business by helping them transform into visible authorities. I have been in consulting businesses for almost 20 years, in very different roles: as European CHRO in a global consultancy, as a startup founder in an analytics consultancy, and as a leader in a 'Big 4' consultancy, post-acquisition of the startup. I had the privilege of achieving global visibility as a consultant and I never had to sell, persuade, or negotiate as a result. I have now bundled all those experiences, expertise, know-how, research, reading, successes, struggles, and failures from managing and growing that visibility in the past years.