10 Business Development Challenges Consulting Is Struggling With
In January 2022, I hosted a webinar, where I presented my learnings from 2021. These are my observations on the world of consulting, what market trends have been shaping the way buyers make their decisions on purchasing consulting services.
I also reviewed the challenges I witnessed consulting is struggling with, and the types of business development and marketing strategies that allowed consultancies – both small and large – to withstand the test of time, of economic uncertainty, and changing buyer habits.
So today, I'd like to summarize these learnings and I urge all consultants to think about their own business model and identify ways to improve or optimize their business development strategies in 2022.
Here is the list. If you want to skip to a particular learning, click on it.
Learning #1: Authority-Led: the need to build your reputational footprint
Here's my 'Authority-Led Approach'. It is a four-pronged approach:
Positioning: a laser sharp definition of your business focus & value proposition
Visibility: without visibility, you will seriously struggle with your business development
Social proof: the need to build credibility with the help of previous projects
Network: your network is the reward of your reputation, not your starting point
It comes down to this: without visible authority in your consulting market, you will sit on the second (or third?) row to win new business, and you will - most likely - need to compete on price. And competing on price is not a great place to be in consulting.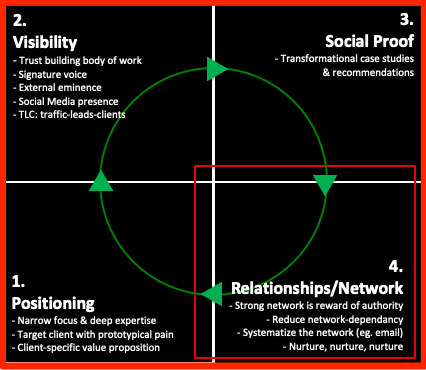 In 2021, I saw several of my clients improving their reputation in a specific expertise domain, and they started thriving. A few of them had their best year ever.
Amazing how an authority-led approach - done well - can have such a strong commercial impact. I am calling it your reputational footprint.
Reputation = expertise x visibility x trust
Learning #2: FOMO remains the #1 toxic underlying challenge in consulting
I've been talking a lot about this already. It's one of the most toxic underlying habits in consulting.
See also my Linkedin post on this subject. We live in a world full of restlessness and indecision. In consulting, that often translates into 'keeping all the options open' out of Fear Of Missing Out (FOMO). What I've seen the past year, more than ever before, in working with consultants is the chasm between:
the indecisiveness to focus out of fear (to lose income/revenue) and

the deep desire to be recognized as a consultant for specific, compelling expertise.
We seem to struggle to make deep commitments to become those long-haul heroes who courageously invest in particular expertise and stick to it for years. If you can't commit, that misleading belief that we can be successful by keeping all options open will burn you out in the long run.
Deep fulfillment, satisfaction, and recognition come from becoming allergic to our infinite browsing mode. Keeping all options open in consulting is toxic. Solo consultant, boutique consultancy, big consultancy firm? There's no difference.
Recommended reading: Want To Be a Furiously Successful Consultant? Put All Your Eggs in One Basket.
Learning #3: Laser-sharp Positioning is the foundation for consulting success
Robust positioning as a consultant or consultancy is the genesis of success in consulting (and therefore Quadrant #1, see the visual in Learning #1).
I cannot repeat it enough, success in consulting comes from a clear-cut positioning strategy:
Narrow focus, deep expertise (with an obsession for repetition and pattern recognition)

Specific target audience with specific, prototypical pains

Client-specific value proposition with a distinct problem-resolution process
Poorly positioned consultancies will always struggle with a multitude of business development goals. They often get under mental pressure to start selling downstream availability (order takers instead of transformational experts) and usually start overservicing the clients at too low a price. Poor positioning is a losing battle in both visibility and trust-building with prospects.
Stop going there. There's too much saturation in the crowded, competitive consulting market, too many competitors doing the same thing.
Learning #4: Get rid of the inside view, move to the outside/client-view
I learned that consultants and consultancies have a tough time getting rid of their incredible inside view. Almost unanimously, their websites sound like this: we are the best in this, the best in that, we are unique, we are award-winning, we have a collective experience of 80 years, we are innovative, leading, passionate, result-focused, client-centered, and fascinated about teamwork. Amazing.
Who cares what you are fascinated about? Everybody says that. Here's what you should think and talk about:
Where's the client in all this?

And which clients are you focusing on anyway?

What are the pains of the client you can transform?

What is the specific transformation you can deliver for those prototypical pains?

What is your point of view about this prototypical client pain?

What is the value or impact you will have?

Where's your value proposition?

Where is your specific social proof about your useless we-we-we vanity claims?
Do you really believe you differentiate by telling the world you are passionate (that monster cliche)? Useless, self-centered bragging. Unappealing and pure commodity. Write this down and stick it to the office wall:
"It's not about what you think you are (inside view), but about what transformational impact for the client you can have (outside view)".

Stop with your (inside-driven) self-love. It's not what it is but what it does.
Recommended reading: Your Consulting Positioning Has the Single Biggest Impact on the Buying Decision
Learning #5: Specialization is key
It's one of the biggest debates I am having with consultants, and (driven by FOMO, Ego, Pleasing Syndrome, etc.) they keep challenging me on my specialization mission. I get all kinds of pushback, but I hope that, if you read the previous learnings, you get the idea that - given the fierce competition in the market - you'd better stand out with 'something' or you better find a regular job. Really.
Until now, none of the objections I receive have ever been proven: eg.
the risk that certain specializations could get less attractive in the market (well, you need to stay agile, keep finetuning your service offering, be a T-shaped specialist)

the boredom of doing the same thing (repetition to learn all the patterns is an incredible discovery journey, I've been there and never/ever got bored)

missing out on opportunities (doing less to achieve more, yes that works, seriously)
Here's what I learned: specialization in consulting is a superpower! Here are 7 wonderful outcomes of commitment to specialization:
You will have more time growing the business;

You will move to a higher-quality life, instead of running in the downstream treadmill;

You will be able to charge premium prices, and you won't be challenged a lot;

You will get recognized as an expert, your infinite energy supply;

You will know everything, you can always/anytime answer all the questions; countering strenuous client objections is a walk in the park;

Clients will come to you, and you won't have to sell, persuade, negotiate a lot;

Your love for your craft will let you sleep well and protect you against stress or burnout.
While most consultancies and consultants try to be everything, depth and specialization are superpowers. Variety in consulting is hell.
SUBSCRIBE TO 'THE AUTHORITY' NEWSLETTER
Learning #6: Sharing expertise to build trust!
Business development in consulting has changed forever. I've been talking a lot about it in the past year. Consulting is a 100% trust-based business. Buyers of consulting services have access to an abundance of information that empowers them to navigate (confirmed by research) 70-80% of the decision-making process before they contact a consultancy.
So, you'd better get included in 'the buyers' homework'. There's still tremendous opportunity in consulting, but you will need a robust reputation footprint to win in a crowded, highly competitive consulting market with risk-avoiding, impatient buyers who can find anything in seconds.
You need to have a bold point of view and a fundamentally new way to solve the problem(s) of your target audience. Your main goal is to inspire them with the transformational potential of your expertise, picture them 'The Promised Land', and educate them to move away from their status quo. Business development in consulting is all about building and growing trust at scale.

In the new world, you no longer have a choice: you will need to develop and share the best possible educational content consistently. If you don't, you'll belong to the loser's camp sooner or later. Seriously. Solo consultant, a boutique consultancy, or big firm? There's no difference! It's the buyer, stupid. Experts write and share.
Learning #7: The evil RFP? Maybe!
It has been another year of discussions about the evil RFP. I get that. But, believe it or not, I know a whole range of consultancies and consultants who get invited without any RFP process. I even know a few who refuse to play the RFP game, and in 70-80% of the cases, they successfully push back. Why is that? These consultancies are known for their unparalleled expertise and reputation. They get invited because the prospect wants them.

I enjoyed most of the RFP's I was involved in because it was effortless to demonstrate expertise if the client had done the homework (in 95% of the cases). Evil procurement people? I don't know. I'm seeing that experts who get invited seem to get 'air cover' from the client.

And yes, there are nasty gatekeepers. They exist. But ask yourself: is it about your (still missing) expertise and reputation level or is it about 'the ugly others'? Take a deep breath.
Interesting in reading an excellent RFP-related article from author David C. Baker? You can find it here.
Learning #8: Help, we have bad clients!
Another returning discussion in my working with consultants/consultancies: the so-called difficult clients. Suppose you are a thru follower of my writings...
In that case, you probably already know my pushback: all those bad clients just don't exist, you have made them bad by selling your unlimited availability, by allowing bad behaviors and processes, by accepting the gatekeepers, by authorizing big discounts, and many more reasons (I wrote a LinkedIn post).
And the reason why you are doing this is that you are afraid of losing the client. Fearful of losing income, of losing revenue, of losing your incentive. So, even unconsciously, you quickly slide into one of the most toxic consulting illnesses: over-servicing and undercharging.

And it all starts with 'being like all other consultancies': not having the power in the collaboration because you lack authority, visibility, and reputation. The client is buying your availability and is not (yet) inviting you for your robust transformational expertise and impact.

Suppose you don't fanatically tackle your very own underlying fear of losing the client. In that case, you will unfortunately never achieve an unambiguous authority positioning to stand out in a competitive consulting market, and your mental health will be at stake in the long run.
Learning #9: OMG, we don't have time!
Another stubborn discussion: not having time to build the necessary reputation footprint (visibility x expertise x trust).
Suppose you don't build a solid reputational footprint. In that case, you will have to sell your availability at a low hourly rate, you will have to work and sell like crazy to protect income/revenue, and you won't have the critical time to grow the business. It's what I call the vicious loop to hell (and burnout).
Your consulting business will never grow if you don't dedicate 20-30% of your time to deepening your expertise, boosting your reputation, and getting invited at premium rates to compensate for the 20-30% business development.
However, finding the time to build your reputation as a consultant is NOT BY THE CLOCK! It's by reverse-engineering the fundamentals of your consulting business: focus/expertise, reputation, pipeline by invitation, premium pricing, 20-30% biz-dev. The glorious loop to heaven (and quality of life).
Recommended reading: You Will Always Have a Time Problem as a Consultant Until You Do This
Learning #10: Cold outbound in consulting doesn't work
I am still getting confronted with consultancies trying to make stupid outbound sales. I even crossed paths with two mid-sized consultancy firms, both using a call center making cold calling sales.

I was flabbergasted. Cold calling in consulting? Wow, that doesn't work. Why not? In 99% of the cases, prospects - if the call agent can reach the right decision-makers at all (likely NEVER) - are not in need to buy consulting services. And potential buyers cannot be inspired by a call agent who has no clue (with all due respect).

Cold calling? Cold outbound? Forget it. Such a waste of time and money. What should you be doing instead as a consultancy? If you know me: it's easy to understand. The consultants will need to become a magnet of their expertise. How?

Here's the thing: effective selling in consulting requires YOU to build TRUST in YOUR expertise. Share, teach, share, teach. Build and grow your reputation as a consultancy with your consultants. Inspire your prospects with an abundance of 'trust stuff'. Nurture them with the latest insights, trends, research, lessons learned, use cases. Consistently.

Once you get in the trust-building flow, your 'sales life' will radically change. You won't need call centers again. Unfortunately, there are no trust-building hacks. It takes time. A year, two years, maybe even more. It's a long-haul play.
Ooh, I almost forgot to say: and it never stops! But I am damn sure you'll start getting a flood of prospects coming through. It happened to me twice. Starting from scratch. Stop your stupid consulting call center practice! You can't delegate trust-building to a call center.

Sleazy sales hacks in consulting don't work! You are fooling yourself. And you will be destroying your reputation.
In conclusion
I help consultants and consultancy firms with authority-led business development. This is what I do and this is my passion. So I have talked to hundreds of consultants by now and continue to have these conversations on a regular basis.
I see a lot of push back, a lot of hesitancy to change. And I understand that. As someone who started my business from scratch right before the pandemic hit, I have first-hand knowledge of the fears that come with change.
However, I also know that, as consultants, we must be agile. We must keep our finger on the pulse of the industry and be willing to adjust the way we do business when the market requires us to do so. It's either evolve or become a dinosaur.
The things I listed today, I strongly encourage you to consider them as you plan and/or rethink your next quarter, your next year, your next five years. Nothing has to happen overnight, but you do have to start making changes today. The long haul, you know.
Interested in receiving all my learnings to become a better consultant? No spam, no BS. Pure teaching! Subscribe to my newsletter.

SUBSCRIBE TO 'THE AUTHORITY' NEWSLETTER

Hello, I'm Luk Smeyers, and I'm helping mid-sized consultancies become high-performing consulting firms. I have been in the consulting businesses for more than 20 years, in very different roles: as European CHRO in a global consultancy, as a founder of a mid-sized analytics consultancy, and as a leader in a 'Big 4' consultancy, post-acquisition of my consultancy. I had the privilege of achieving global visibility as a consulting leader, and I never had to sell, persuade, or negotiate as a result. I have now bundled all those experiences, expertise, know-how, research, reading, successes, struggles, and failures from managing and advising consultancies in the past years.