3 Simple Content Hacks for Consultants
"You need to share your knowledge," I tell consultancies. "You need to showcase your expertise by producing content that addresses your target audience's pain points, that offers insightful solutions, that sounds authentic. And you need to do all that on a consistent basis, measuring results and optimizing the process as you go."
If you know anything about me and what I do, then you know that this is the message I'm trying to get every consultant and consultancy to hear. Often, during such conversations, consultancies tell me they don't know what to write about.

Wow, I really don't get that! Why not?
All right, so the overarching vision is to share your expertise and to educate your audience in order to build trust, right?
As Source Global Research points out in its recent study, 87% of clients feel that trust has become a more important part of their purchasing decisions due to COVID.
Heck, TRUST is the blood in your consulting veins. So why is building and growing trust in your expertise so difficult?
That's why I am revealing in this article my simple hack of how to identify relevant topics for my target audience. I guarantee you that if you adopt this approach, you will never struggle to come up with topics for your thought leadership content. That's why I recommend that you start doing these tomorrow. Nay, TODAY!
My sources of inspiration to build trust
Not all content is trust-building material. You can write generic articles until you're blue in the face and see no results.
Don't create to put something — anything — out there without considering if what you're sharing is valuable or useful to your audience. (Felicia C. Sullivan)
True thought leadership content doesn't shy away from addressing difficult subjects. On the contrary, it dives right in. Thought leadership content provides actual value – when it comes to consultancies, it's in the form of answers to questions that keep clients up at night.
According to research by Grist, 60% of decision-makers use thought leadership content to evaluate the expertise/insight of potential advisors.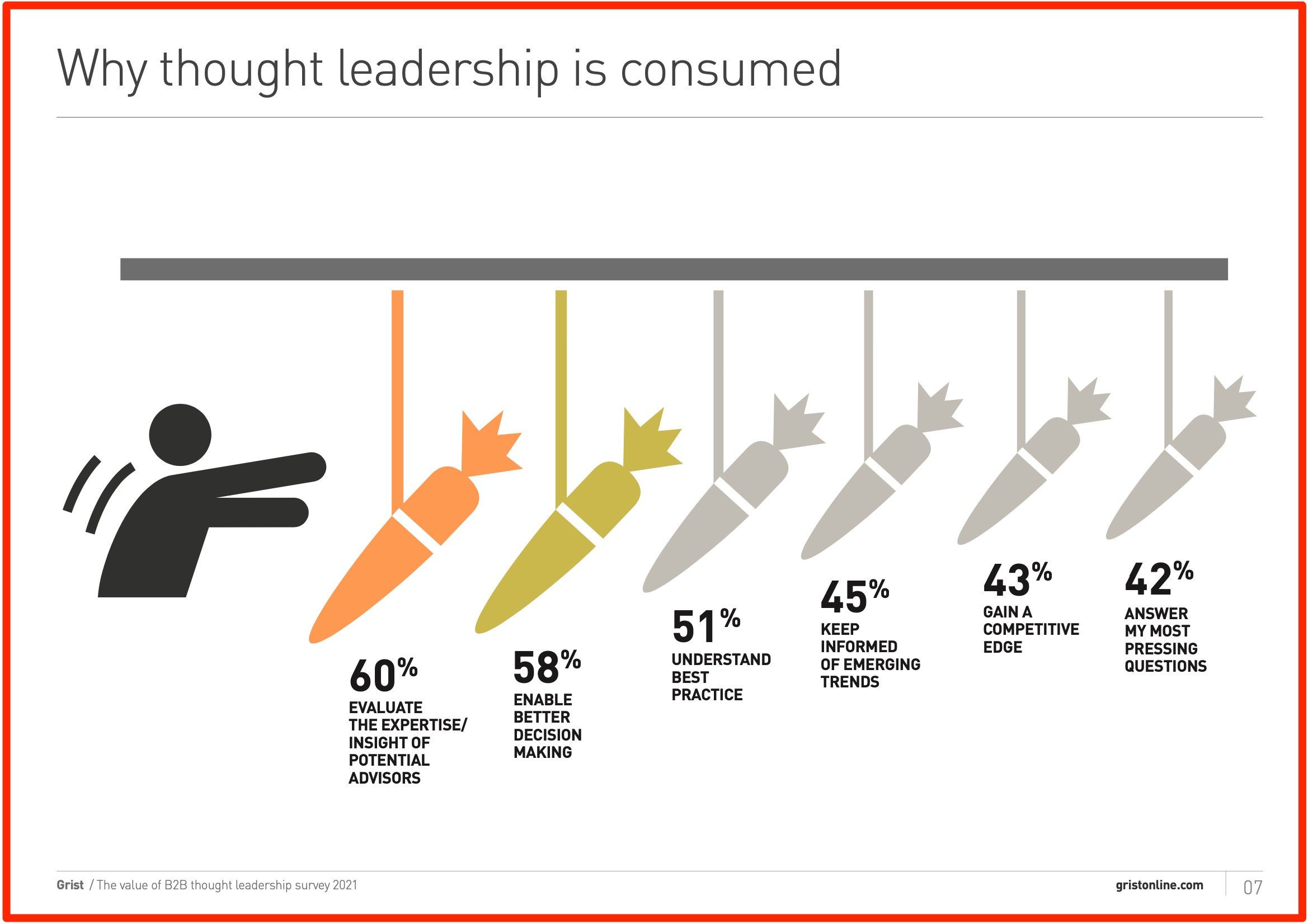 For more than a decade now, I have been consistent and persistent in building my reputational footprint. I wrote close to 250 case studies, articles, columns, and >1.500 LinkedIn posts.
This is my ultimate writing focus: 'What knowledge did I acquire that would be valuable to share with my target audience?'

The truth is that a content-driven reputation is the only thing that is going to make you stand out in a crowded and very competitive consulting world. Now even more than before! The more you open up, the more your clients and prospects can relate to you as a consultant and expert. Solo, small, big consultancy? It doesn't matter at all.
So if you analyze your day-to-day work, you'll discover that almost every client and prospect interaction you have could be a potential source of content.
My Top 3 sources of inspiration, I call them my 'content hacks':
Documenting and sharing prototypical client objections
Documenting and sharing typical client problems advice
Documenting and sharing project learnings
SUBSCRIBE TO 'THE AUTHORITY' NEWSLETTER
#1. Document client objections
You should always be extremely eager to understand clients' objections and (immediately) document them. All the time. Obsessively.

Right now, I have already documented three pages of objections/questions I've received from prospects and clients since I started my new consultancy in early 2020. This is gold.

Every consultant/consultancy should systematically gather such objections to start building a FAQ (e.g., on the website) and to train (leaders AND team) the instant responses to prospect/client questions.

As I always say: to learn your lines! And share it. Share. And share again.
#2. Document prototypical client pains, struggles, challenges
As consultants, we need to study the patterns of success and failure and document them.

Pattern detection is the foundation of expertise development. And if you don't deliberately document them, you will struggle with growing your expertise and building/growing your reputational footprint.

It should be one of the critical success components of winning pitches for every consultancy: your ability to explain patterns of success and failure to prospects/clients. Effortlessly!

By the way, if your consultancy is all over the place with FOCUS, pattern discovery - and educating your audience - will be a nightmare.
So, document the patterns of client pains and share. Share. And share again.
#3. Document project learnings
Consultancies should be case study writing machines and openly share them all the time.

It should be your #1 driver of organic pipeline growth. Prospects come to you because they get attracted to the case studies.

No detailed case studies - available with a click - mean poor social proof and this will always result in more business development stress and lower revenue.
I wrote >100 case studies in the past decade, and I openly shared them all the time. It was the #1 driver of organic pipeline growth in combination with these 3 characteristics:
laser-sharp positioning (one audience, one prototypical pain, one value proposition)
visibility in the market (to build trust)
social proof (client testimonials)
Documenting learnings, objections, and client pain points is a team effort
Consultants often tell me that they struggle to find the time to produce thought leadership content.
Now, the root of the problem, of course, needs to be addressed. However, this is where your team comes in. As a senior expert, you can easily plug in the rest of the team – junior consulting associates and marketers – to help you document learnings, objects, and client pain points.
Simply make sure to have a central depository of this information and divide responsibilities. Over time, optimize the process until it functions like a well-oiled machine. Under your leadership.
The main takeaway
Here's a short and simple version of the truth: without educating your target audience, you won't be able to build TRUST in your expertise, grow your reputational footprint and stand out in a crowded consulting market (despite lots of opportunities).

Everything you document should ultimately result in openly sharing trust-building 'pain-resolution advice' to your audience.

Consistently. And it never stops. Never.
Interested in receiving all my learnings to become a better consultant? No spam, no BS. Pure teaching! Subscribe to my newsletter.

Hello, I'm Luk Smeyers, and I'm guiding consulting firms through the journey of growing their business by helping them transform into go-to experts in their market. I have been in consulting businesses for almost 20 years, in very different roles: as European CHRO in a global consultancy, as a startup founder in an analytics consultancy, and as a leader in a 'Big 4' consultancy, post-acquisition of the startup. I had the privilege of achieving global visibility as a consultant and I never had to sell, persuade, or negotiate as a result. I have now bundled all those experiences, expertise, know-how, research, reading, successes, struggles, and failures from managing and growing that visibility in the past years.