Looking to Package Your Consulting Services? This Productization Model Is for You
In one of my earlier articles – Regain Control as a Consultant by Packaging Your Services – I argued that offering tailor-made services to your consulting clients is a draining experience, especially if you are striving to offer upstream types of consulting services. I then advocated that consultants consider packaging their services and productizing their business model.
Following the publication of that article, I received a lot of questions from my readers and my larger network. So, I decided to further elaborate on the subject and go deeper into why this is my ideal approach, a step-by-step process, key success principles, pitfalls to watch out for, and a list of examples from other consultants.
What is productization in consulting?
There are many definitions, but most of what you will find is about the productization of online services, and that's a different space than consulting work.
Let me use this definition from author Jonathan Stark:
A productized consulting service is fundamentally a service, but with product-like benefits that allow you to systematize and optimize the packaging, pricing, marketing, sales, delivery, and follow-up.
The advantages of productizing your services: the clients' perspective
I've already explained the advantages of packaging your consulting services in my earlier article. For example, it makes pricing your services much simpler, it helps you narrow down your focus and deepen your expertise, it saves you a lot of time, and many more.
From the clients' perspective, there is one more giant reason to switch to packaged services: they know exactly what they will be receiving and what it will cost.
I've been talking about this already several times: buyers have a short-term horizon these days (3 to 6 months), they are looking to solve their problems fast and reliably.
Productized services are the most inviting format for them to get your 'expertise in a box', reduce risk, increase decision-making and delivery speed, understand the scope and timing, outline their precise involvement and seize the final output/delivery they will receive. Sounds like a stroke of genius, not?
SUBSCRIBE TO 'THE AUTHORITY' NEWSLETTER
A bullet-proof consulting productization model
There are, of course, various ways to offer your consulting services in a packaged form. Here's the 3-step process I've been using myself. I've discovered that it has wide applicability for consultants who are looking to offer upstream services (diagnostic/advisory support as opposed to implementation services).
This approach works equally well for solo experts and medium-/large-size consulting firms. It works for projects that are €15k and €500k in scope. It's a unique way of conducting consulting projects and remain in the driver's seat all the time. Believe me, you can apply it in almost any consulting project. Yes, any.
Step 1: Perform an upfront discovery, diagnosis or feasibility study
Step 2: Develop a roadmap for the implementation (implementation done by the client)
Step 3

: Provide implementation guidance (advisory retainer)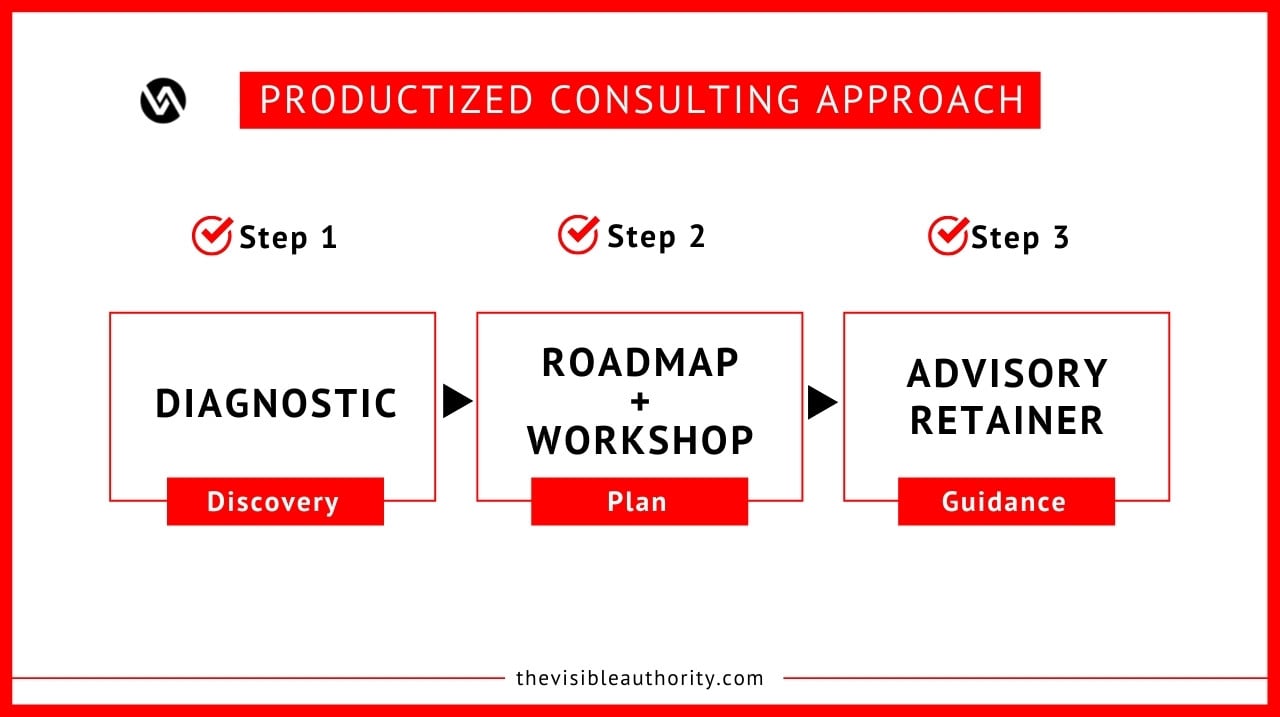 I will go through each step individually.
Step 1: Upfront discovery and/or diagnosis (or feasibility study)
Let me be straightforward with you. I would never start a consulting project again without PAID upfront discovery. I'd advise you to develop a solid diagnostic (probably with external specialist/scientific support) on the back of your expertise.
I've learned that most clients don't understand their problem(s) or have difficulties explaining it accurately. The biggest win? You don't write proposals. Never. You are not an order taker but an expert, an authority in your expertise domain.
Your diagnosis is your fixed-priced methodology to understand the client's problem and is your stepping stone, your Trojan Horse to start the engagement. Clients commit to a precise and transparent project with a specific result in mind: understanding the outlook and specifics of their problem and receiving a roadmap (Step 2) for improvement.
Included in your diagnostic: every possible characteristic of the prototypical client pain you are specialized in. And all these characteristics are the input for your roadmap in Step 2.
Step 2: Roadmapping as a core component of productizing in consulting
Your upfront discovery or diagnosis leads to Step 2, creating a so-called roadmap. It is your critical strategic process of determining the actions, chronological steps, and resources needed to solve your client's problem.
Roadmapping is often falsely assumed as the act of designing a roadmap. And indeed, a vital output of the roadmapping process is a roadmap :-).
However, creating such a roadmap requires a synthesis of all your knowledge and expertise. It determines all the significant components and the prioritization hierarchy to solve the problem of your client. And, most importantly, it also secures buy-in and support from executive stakeholders.
Apart from the solution components, the prioritization, the resources, and the stakeholder involvement, the upstream consultant leverages the roadmap to inspire the client to self-sufficiency. And promoting client self-sufficiency should always be a key responsibility of every upstream consultant. Reason: you don't do implementation work yourself.
Here are a couple of resources you can use to help with roadmapping:
The

virtual collaboration tool Miro

has a special section on roadmapping. You can use their roadmap templates to collaborate with your client. Enter the search term 'roadmap' in the search bar.

Cambridge University

has a department that provides roadmapping expertise and training! Great expertise!
Step 3: The long tail: your advisory retainer, the client's 'peace of mind'
It doesn't matter, being a big, small or solo consultancy, I'd advise any expert-like consultant to stay away from hardcore implementation work to protect your time and altitude of involvement (upstream, strategic). You can read my more detailed argument in my There Are Two Ways Of Doing Consulting, One Is Toxic article.
If you have excess capacity (e.g., in big consultancy firms), the roadmap (Step 2) is your starting point to sell implementation work. It has all the components of the problem-solving approach and you can decide which components you can provide implementation work for.
If you are a solo consultant, I'd advise you to stay away from implementation. You limit yourself to diagnosis, roadmapping, and providing high-level roadmap implementation guidance (the advisory retainer).
There's a lot of great content about advisory retainers, here's a great article from Hubspot (my business software). You can read all the pros and cons, reasons, costs, payment, etc.
But here's how I see it: your client is buying 'peace of mind' over a longer period of time (e.g., 6 or 12 months). The client pays 'access to you' and you are available to them with your expertise. 'Being available' is the essential difference between 'pay for access' (upstream advisory retainer) versus 'pay for work' (downstream implementation work).
I'd always advise you to give the retainer a basic structure, such as reviewing the roadmap once a month with the team or the C-person (preferably) in a workshop format.
Two watch-outs I experienced with my clients:
C-level only: limit your contact to the C-level (or senior project owner), avoid getting dragged into the implementation work by the implementation team (being in cc in 100's of mails, help!). That's why you'd better define the boundaries of your retainer (e.g. 1x workshop per month for roadmap review, C-level contact only, etc.).
Volume risk: selling AR's is a great way to have predictable income/revenue but you also have to be careful to oversell and running out of capacity all of a sudden with too many retainers.
SUBSCRIBE TO 'THE AUTHORITY' NEWSLETTER
Pricing of your productized consulting services
It's impossible to give precise details about the amount of revenue you can generate with a productized consulting approach. I've seen projects (with the 3 steps) varying from a few 10.000's to almost a million. Especially in large-scale technology, the Step 1 diagnosis (or sometimes also called 'feasibility study') can be pretty big in volume.
Here's what I learned in the past decade and what my consulting clients are putting into practice:
Sell the total package: the goal should always be to (carefully) sell all the steps at once. From a pricing altitude point of view, that's your highest possible anchor point. The total cost (of the 3 steps) also helps to create a more positive perception of the (lower-cost) for the diagnosis or feasibility study (Step 1) only (if the client would choose for Step 1 only).



Study/learn:

there's a lot of research and study in productized pricing models. I prefer the work of Blair Enns in his book '

Pricing Creativity

' where he explains 'progressive pricing' as mentioned above (with a 3-tier step approach).


Trojan Horse: I often debate the cost of Step 1 with my clients as step 1 can be used as an easy entry point with a new client (Trojan Horse approach). However, my advice is to maintain solid pricing for step 1, as too low pricing might create a poor perception of your expertise. 'Giving it away' at low pricing to get an entry ticket is not always a smart move. It might harm expertise perception, and it might be challenging to ask for higher price points in the following steps (too big delta).


Being expensive: what I am seeing with my students, their clients feel proud of hiring an expensive expert to help them solve their problem(s). Expensive experts provide clients with feelings of 'being taken care of'. And, in my experience, they tend to listen better and accept candid feedback more constructively.


Personal recognition: and what about you? I am sure you will feel recognized for your expertise. That's called a win/win. Right?
Examples of productized consulting services you can learn from
Having spoken to 200+ consultants, dozens of which were my clients, there are a number of great examples of consultancies productizing their services that I've aggregated. Have a look.
Example 1: Salesforce post-M&A integration consultancy (experts in merging Salesforce after enterprise M&A):
Step 1: diagnosis of integration challenges, opportunities, duration estimation, and cost estimation

Step 2: roadmap to integrate the two systems (mainly done by client with expert guidance)
Step 3: CIO gets personal guidance during 12 months (advisory retainer)
Example 2: CRM sales improvements (expert in enterprise B2B sales process improvement):
Step 1: diagnosis of improvement opportunities (mainly how to improve moving from MQL to SQL - marketing qualifies leads to sales qualified leads)
Step 2: roadmap to enhance the internal sales process, including the development of playbooks and a training program (delivered by consultants, beyond step 2)
Step 3: CMO and CSO getting personal guidance during 12 months (with one workshop per month - follow-thru of the roadmap) and execution of training program (to help clients getting self-sufficient)
Example 3: Retail demand forecasting improvements (experts in automating supermarket demand forecasting using AI):
Step 1: feasibility study to uncover demand forecast improvement opportunities, including initial opportunity-based cost estimations
Step 2: roadmap to improve demand forecasting, including a training program for the CoE analytics
Step 3: 6 months personal guidance for the demand forecasting leader
Tips to help you make a move to productization in consulting
Standardizing your services is an important element of the consulting business approach that I advocate, but it will only work if you change your mindset about:
narrowing down your focus and expertise, you need to understand all the patterns of the prototypical pains of your (narrow) target audience;
designing a client-pain-centered value proposition, sharply positioning your expertise to prospects;
allocating 25-30% of your time consistently to marketing;
learning to say no to incoming opportunities outside of your narrow area of expertise to protect your time and expertise deepening (and to have a high quality of life, see my post about my 4-day week

)
Having said that, here are a few dos and don'ts of productization:
The main target is helping the client become self-sufficient (and you should talk about that many times).
Therefore, the approach should always be: the execution of the roadmap is the client's responsibility, but you provide expert guidance.
You must strive for a 5-star experience in the way you execute the diagnostic (e.g., automated questionnaires, top-notch reporting, and advanced data gathering) and deliver the roadmap (e.g., with virtual roadmap tool

Miro.com

).
If you are starting to use a productized approach, don't go all the way from the start. I always advise doing it in small steps, carefully testing and validating your approach before going big.
Beware of becoming the 'order taker' of the project leader, and make sure you stay away from getting in cc in team email streams. As the expert, you are the strategic advisor, and you provide 'peace of mind' for your C-level clients.
Be careful with the number of productized projects. It's great to sell them to the market, but you have to be careful to keep the volume of follow-thru and executive guidance doable. Scaling is the objective, but balance is necessary.
Do not productize yourself out of the job
Here's a perfect example of what I'm talking about.
A consultant explained to me that she was selling her clients licenses of the tool she had developed. She developed the software tool for herself in the past years, to improve the quality, speed, and pricing of her consulting service. It was her way to productize her expertise. Well done!

But now she started selling user licenses for this tool to her existing clients. I consider this a big mistake.

What happened? She already lost 2 important clients who used her (productized) services in the past. They are now using the tool and told her they will be doing the work themselves.

The price of the license, that's what I was afraid of, was way too low to compensate for the client loss.

She asked for my advice. My answer is quite easy, there are only 2 ways:
Productized consulting
You use your self-developed tool as your productized consulting approach and deliver higher quality consulting, faster, and at a fixed (high-end) price. It's a perfect way to scale your expertise and consulting work.


Product development


You build a product 'the startup way' and you stop doing consulting with it. If you believe you can make money with scaling such a product, you will need to hire developers, build a tech stack, hire a sales team, maybe get investment money (or a bank loan), etc. That's a new space for any consultant and a very different business model.
It's either/or. Avoid a hybrid approach because it will cannibalize your upstream consulting work and erode your reputation as an expert.
In conclusion
Productizing your consulting services is an excellent way to become an expert in a niche area. It's a time saver. Your clients will be happier and will know exactly how to recommend you to their network.
Productization is not about eliminating customization. It's about having expertise deep enough that you can categorize your prospects' pain points and needs. It's about creating transparent expectations with your new clients and delivering a 5-star experience.
The consulting productization model that I suggest will work for pretty much any consultant, irrespective of the size of their consultancy or project scope, IF they deliver upstream work. While there are, of course, productization models for downstream consultants, this is not the path I urge my clients and readers to take – it's a toxic way of running your business that will drain your resources.
Recommended Reading: Regain Control as a Consultant by Packaging Your Services
Interested in receiving all my learnings to become a better consultant? No spam, no BS. Pure teaching! Subscribe to my newsletter.

Hello, I'm Luk Smeyers, and I'm guiding consulting firms through the journey of growing their business by helping them transform into go-to experts in their market. I have been in consulting businesses for almost 20 years, in very different roles: as European CHRO in a global consultancy, as a startup founder in an analytics consultancy, and as a leader in a 'Big 4' consultancy, post-acquisition of the startup. I had the privilege of achieving global visibility as a consultant and I never had to sell, persuade, or negotiate as a result. I have now bundled all those experiences, expertise, know-how, research, reading, successes, struggles, and failures from managing and growing that visibility in the past years.