A Summary Of My Content - January-March 2020
I have always been a proponent of openly and generously sharing your knowledge to take your career as a consultant to the next level. This mindset and approach allowed me to succeed as a consultant in the field of people analytics and things are no different now with my new venture, The Visible Authority.
I will continue to share everything I've learned throughout my professional journey, honestly and transparently admitting to the mistakes and highlighting the points of pride. The blog section will be updated regularly with new content and, to make it easier for you to go through it and identify the topics most relevant to your business, I will offer short recaps/summaries of current content.
Here we go, the recent blog posts summarized (click on title to read the full blog post):
The biggest blunder that consultants can make is to think that somehow potential clients will find them. Nothing could be further from reality. You could be the only expert on a particular subject, but, if you are not showcasing your expertise openly, frequently and consistently, no one will come knocking on your door.
I argue that contributing your knowledge to the public pool is what establishes your authority and helps you grow your business. In this blog I am giving you a full overview of the results that I was able to achieve in the past years by openly sharing my expertise.
Consultant don't like marketing and sales. Of course, this is not a universal rule, but, in my experience, consultants are more often than not hesitant about proactively selling and marketing their services and expertise. It is perceived as "sleazy" and "beneath them."
In this post I argue that not only should you reframe your thoughts around marketing and sales, but that creating an authentic marketing strategy is both easy and setting you up for long-term success as a consultant.
Growing a consulting business takes time – the one thing many consultants do not have (or make). I believe that making time to market your business and your expertise is a must.
In this article I outline some of the most common challenges consultants face when trying to allocate resources towards marketing and offer practical solutions and tools that I personally have and am still utilizing to consistently free up 20-30% to grow my visible authority.
SUBSCRIBE TO 'THE AUTHORITY' NEWSLETTER
In this post I dive into the subject of FOMO – Fear of Missing Out. It's something that we often experience in both our professional and personal life. The idea of saying 'No' to a client or a prospect is an uncomfortable one. I know because I've experienced it. However, FOMO is a five-headed monster.
I explain in this article how the fear of saying 'No' can lead to the very thing we, as consultants, are so scared of – missing out on the opportunities, both in terms of growing our business and improving our expertise.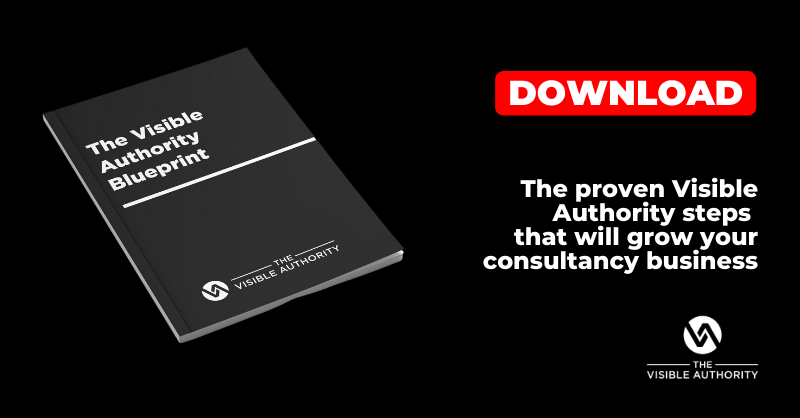 I've been in consultancy for almost two decades and, while I feel eternally grateful for all the achievements, the journey was not always smooth. Often it was because of the mistakes I've made as a consultant. The silver lining is that those mistakes were learning opportunities that allowed me to grow as a business owner and a subject matter expert.
In this article I'm sharing some of these mistakes, hopefully providing consultants with a roadmap of blunders to avoid.
Out of fear of missing out on opportunities (and/or income/target achievement), many consultants say 'YES' to every new opportunity. What happens next? They become a fearful Jack of all trades! Or with the wise words of Zig Ziglar: A wandering generality instead of a meaningful specific"! (Zig Ziglar).
In this article I show you how you can move from 'The Consulting Vicious Loop To Hell' to 'The Consulting Glorious Loop To Heaven'.
Back in 2019, I commissioned a series of in-depth interviews with high-level consultants, both those working as independents as well as those working for medium-sized and large consultancy firms, to get an even more clear understanding of the consultant's' world. Through this research I've discovered that the consultants' three biggest pains are Time, FOMO (Fear of Missing Out), and Marketing.
In this post I break down these pain points into concrete challenges and offer practical suggestions on how you, a consultant, can overcome them. My advice is based on personal experience as I, too, was not immune from falling into certain traps when I was starting off my career as a consultant and a subject matter expert.
Our lives are hectic and we are in a constant race to keep up with our daily tasks. We all wish we could read more books, but, unfortunately, we tend to fail to make the time. So I've put together a list of five books that I believe will add great value to your professional life and help you take your consulting career to the next level.
The books I included on this list cover a range of topics, from converting insights into business opportunities to understanding the strategy behind content marketing to developing certain time management habits. I hope you enjoy these books as much as I did.
Interested in receiving all my learnings to become a better consultant? No spam, no BS. Pure teaching! Subscribe to my newsletter.

Hello, I'm Luk Smeyers, and I'm guiding consulting firms through the journey of growing their business by helping them transform into go-to experts in their market. I have been in consulting businesses for almost 20 years, in very different roles: as European CHRO in a global consultancy, as a startup founder in an analytics consultancy, and as a leader in a 'Big 4' consultancy, post-acquisition of the startup. I had the privilege of achieving global visibility as a consultant and I never had to sell, persuade, or negotiate as a result. I have now bundled all those experiences, expertise, know-how, research, reading, successes, struggles, and failures from managing and growing that visibility in the past years.