25 People I'm Thankful For This Year And What You Can Learn From Them As A Consultant
Consultants getting hit by the pandemic
Who would have thought that when we made plans for 2020, they would be completely wiped from the table? Apart from the enormous health and quarantine suffering caused by the pandemic, the consulting world was suddenly turned upside down.
As consultants, everything we ever did before was no longer valid, was instantly changed, superfluous, or suddenly very necessary – a roller coaster for everyone.
30 pro-bono calls, fully booked in 30 minutes
At the end of March 2020, I made a LinkedIn call to consultants who were suddenly in trouble because of COVID-19.
I opened up 30 one-hour slots for consultants to book a call for free advice. Imagine, all slots were fully booked in about half an hour. I never expected that.
The situation was very mixed in those days. A few saw opportunities (but were hesitating to leverage the pandemic), but most of the consultants were deeply puzzled or even depressed.
Some had lost all their assignments overnight. Hit by the COVID-19 bus adrift. Some of them really didn't want to continue anymore. Wow!
There's no crisis for expert consultants with a narrow focus
Now, 8 months later in this crisis, the situation has completely changed. At least with the consultants I was able to support in 2020. Some of them have had their best year ever. They were able to strike back, resilient as they are, and have been able to reinvent themselves. Amazing.
And what about my own new business? Just like when I started iNostix in 2008, in the middle of the financial crisis, I was now again in the middle of my starting period when the pandemic crisis struck.
In 2008 I had a tight start-up plan, and it worked wonderfully then. Despite the crisis years at the time, iNostix became a success and was acquired by Deloitte in 2016.
I therefore knew that the 2020 crisis would not blow me over because I once again had a good start-up plan.
This was my start-up approach in 2020, similar to 2008
Narrow Audience: I targeted the narrowest possible audience (minimal viable audience)


My sweet spot: I started leveraging my 'sweet spot': the intersection of passion (teaching), credibility on the market (having successfully grown a consultancy) and targeted audience (focusing on a small market segment, never leaving my lane)


No FOMO: I never get into FOMO – Fear of Missing Out: my narrow focus is my most important 'asset' and I am not afraid of losing other non-ideal (and confusing) opportunities


Pains and gains: I thoroughly researched the pains and gains of my future clients, I commissioned an external agency to help me with this (my bible: The Value Proposition from Alex Osterwalder & Co)


Product approach: I developed a pain-resolution product approach and mindset: how exactly can I help my clients with solving their key pains with (a limited number of) specialised 'products' (methodologies, approaches, diagnostics)?


Educational content: I started building my visibility and building up the organic trust in my expertise by sharing high quality educational content (measuring the quality of my content has been my #1 KPI in 2020)


Time strategy: I am protecting my 75/25 'time structure' like hell: 25% being the time to grow my visibility and authority and 75% client work (and I hope to achieve a 50/50 in the coming 2 years)


TLC: I've built a strong TLC approach (from Traffic to Leads to Clients) and have built a content sharing 'machine'
And these are my 2020 achievements
I applied the same strategy when launching my consulting business. Here is what I was able to achieve in terms of my visibility and driving relevant traffic to my content:
LinkedIn traffic: By June 2020, using a highly automated approach to content promotion, I was driving 60% of my traffic from LinkedIn – a platform where I have by far the highest number of relevant readers and prospects.


1.500 new followers: In about 5 months' time (first half of 2020), I was able to increase my following on LinkedIn by another 1.000 to an all-time record and to +1.500 at year end.


3x organic traffic: Within 7 months I was able to triple the organic traffic to my website through strategic use of relevant keywords.


Automation success: By July 2020, I got recognized by the team at Hubspot as one of the most active users of social automation – Hubspot being the platform I use to automate all of my marketing.


40% organic traffic: By September 2020, I was driving over a third of my website visitors (39.4%) through organic search.


Reading time: By now – December 2020 – users stay on my blog for an average of approx. 4 minutes, reading my content. Amazing!


Business growth: And the most important thing, of course: I have a wonderful group of clients and a solid pipeline of prospects.
What I learned: Just stick to the plan, mate!
I am extremely thankful for these people and their 2020 inspiration
For those who know me, inspiration always comes to me. It's right across the room. It finds me. Unasked. All the time. Driven by the many remarkable people around me. What a privilege! A big thanks to all of you...
1. The Expert of the Experts #1: what I learned from David C. Baker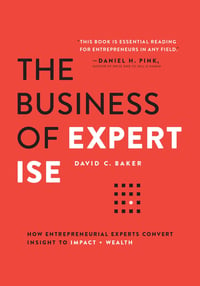 If you are a consultant and you don't know David C. Baker, there's a gap in your know-how. David has written the best ever book on expertise ('The Business of Expertise', see my summary in this blog) and the knowledge he's sharing on a permanent basis, has helped me a lot growing my businesses in the past years - until today.
This week, I received this mail from him and it perfectly summarizes what he's talking about all the time: if your consulting business has a poor positioning (let's call it: the focus of your consulting work), you will struggle big time to grow.
Here are the 6 lessons from David's recent mail:
It's easier to craft a marketing plan because you know who to target and what they are losing sleep over.


It's easier to justify a pricing premium because you're mastering the supply/demand equation.


The focus of your work will make it easier to see the deeper patterns and do better work.


Client relationships will more closely resemble each other, delivering greater efficiency and closer adherence to effective processes.


You'll know more specifically who to hire to fulfill the promises you are making. Prior experience will be a more important ingredient.


You are far more likely to sell your firm some day to a buyer who values the decisions that you have made. Otherwise you're just selling capacity, which isn't all that valuable.
What I learned from David: expertise always wins! (also in crisis times)
2. Bouncing back in crisis: what we can learn from
David Ducheyne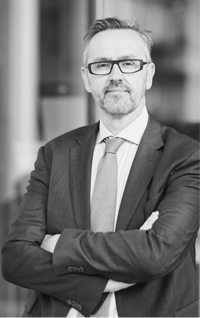 David had just registered for my first Ibiza retreat (March 2020). Until Corona arrived. Ibiza in lockdown. Retreat canceled. And shortly afterward: almost all David's consulting projects got canceled. What a scary experience for him! From heaven to hell in 2 weeks. David was ready to pull the plug, almost giving up working as a consultant.
A few days ago (December 2020), when I talked to David again, he proudly told me he would have his best-ever revenue year. Wow! Can you imagine?
How amazing, his bounce back. I was privileged to support him during all those months and his personal comeback battle has deeply inspired me, thank you, David. What a journey!
He added this during our recent chat, though: "Covid19 brought focus and a sense of urgency, but the fierce comeback battle has eroded the fun part of my consulting work dramatically. It felt all the time like carrying one's children on a narrow ledge: falling was not an option".
What I learned from David: bouncing back - although sometimes extremely difficult - is always possible!
3. We all need a coach: let me introduce my coaches
I always wish I hired myself a coach much sooner in my career than I did. But, I suppose, it's better late than never.
My coaches gave me the second pair of eyes, a new lens through which I could understand and assess my actions and strategies. Having a coach helped me stay focused on achieving my ambitious visibility objectives and also allowed me to maintain a more balanced life where work and play (in my case, competitive mountain bike training) could reside together.
During the eight iNostix startup years, I got the support of two coaches and they are both supporting me again now with thevisibleauthority.com:

1) Vladimir (left) – a growth hacking coach who helped me with the technical setup and global online visibility of my content and expertise.
2) Sabine (right) – a business design coach who helped me with my positioning on the market, the development of my target group messaging ('my voice', see below) and the design of the startup business concept.
Thank you so much for your guidance, Vladimir and Sabine!
What I learned from having a coach: every consultant needs a second pair of eyes!
SUBSCRIBE TO 'THE AUTHORITY' NEWSLETTER
4. Turning my mindset into action #1
In September 2020, I switched off my mobile phone for 4 days. Really? Why? I participated in a 72-hours-unplug retreat from former McKinsey consultant Carlien Cavens. It was an awesome experience.
I couldn't have imagined being without my mobile phone for 4 days. But what a positive experience! The discovery of the year (or maybe, the decade?): I can live without my mobile phone for 4 days!
I got back home enlightened, clearer, recharged, refreshed, and more present again. I am thankful to have joined these well-organized unplug-days, the professional coaching I got together with the inspirational interventions in a unique location in Hubermont, in the Belgian Ardennes.
A big thanks to Carlien Cavens and team: coach Elke Weemaes, bio-hacker Lieven Van Linden, and Lily Joan Roberts for her magnificent cooking art.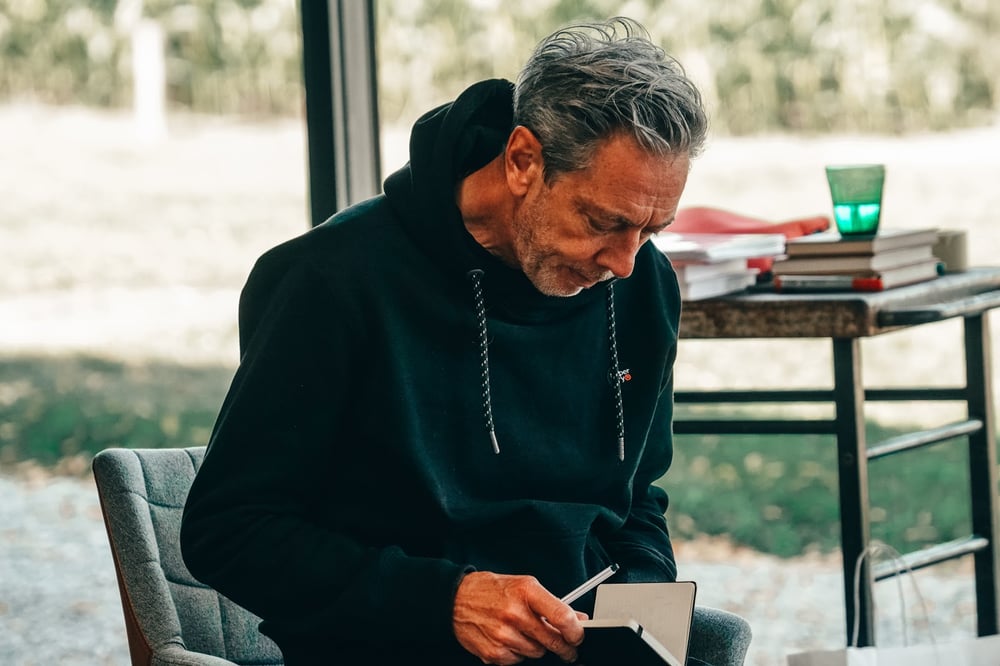 Picture: Taking notes in a cute little old school notebook again, instead of on my (banned) iphone
What I learned from unplugging: to reload, you need to unplug!
5. Waking up with Andy Puddicombe from Headspace
Headspace? Haven't heard of it (where have you been?)? It's one of the best meditation apps (if not THE best).
A few years ago I would have considered such an app as an esoteric, goofy thing. Now, meditation has been at the forefront of my mental health. I wake up and start my daily 10-15' meditation with Andy's deep-voiced mental cure.
What I learned: consistent meditation makes me less stressed, more laid back, more focused, less troubled.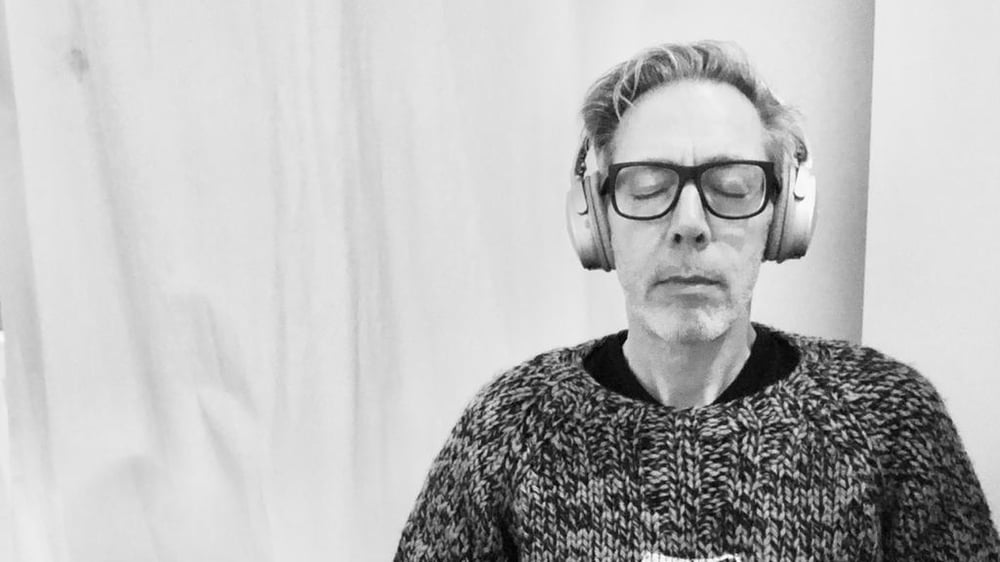 Picture: Meditating with Headspace, early in the morning :-)
6. The Expert of the Experts #2: what I learned from Blair Enns
If you haven't read Blair's book 'Win Without Pitching', you have (another) gap in your consulting expertise. Together with David Baker, Blair is a must read/study to become a better consultant. I listen, read, follow everything from Blair and I have read his book 'WWP' again this year.
The most important paragraph in the first chapter, 'The First Proclamation' in his book: 'If we are not seen as more expert than our competition then we will be viewed as one in a sea of many, and we will have little power in our relationships with our clients and prospects'.
Read a summary of the 12 Proclamations of Blair in this blog...
What I learned from Blair: We will specialize!
7. The new consultant archetype #1: lessons learned from Adam Grant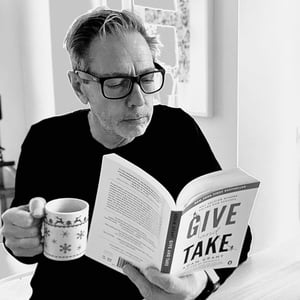 Getting/staying in the 'helping mindset' is an unparalleled mental guiding principle. Not only did it result in developing better content to help my audience, but it also made it way easier to embrace the marketing aspect (sharing educational content) in consulting.
People like Adam Grant - with his book 'Give and Take' - are unique inspirational sources to help you to reframe your head. You should definitely read this book as a consultant!
Ordinary consultants sell. Authorities share. Ordinary consultants tend to have big ego's. Authorities tend to be modestly brilliant.
Consultants need to understand that the consultant archetype of today looks nothing like it did a decade ago (and Adam can help you getting there).
Here's how I'd like to describe 'The new consultant archetype':
Transparent in their approach
Helpful, educative, and authentic in the knowledge and expertise they render to their audience
Caring, empathic, and supportive in identifying and addressing their target audience's pain points
Vulnerable and real in admitting past challenges, mistakes/failures, struggles
If your personality cannot get in sync with this new archetype, you will struggle to become an authority!
What I learned from Adam: I consciously reframe my head from 'selling' to 'helping' and this makes me immune for sleazy sales as a consultant.
8. Craftsmanship: so good you can't ignore these experts
9. The one App I can't miss: Medium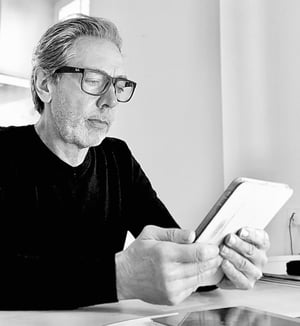 My early morning routine: the use of 2 apps on my iPhone/iPad: Headspace (see #5) and Medium.

After having accomplished my short meditation in the morning, I switch to the algorithm-driven article recommendations from Medium.com. Without exception, I get served 2 or 3 inspirational articles daily. I love it.

Thank you Evan Williams, who launched Medium in August 2012. Williams, previously co-founder of Blogger and Twitter has a great quote I love in the context of the work I am doing with consultants...see below in red.

What I learned from Evan (quote from him): 'The #1 rule for success is focus. Do less. Pick one thing and do it 100%. Don't let anything distract you. Say no. Say no. Say no'.
10. Turning my mindset into action #2: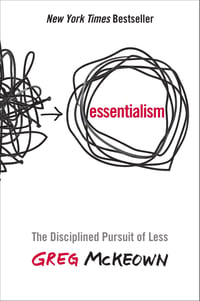 I learned a lot from Greg McKeown and I am extremely thankful for it. Greg's ideas are helping me with making the right (essential) choices to be able to perform my most vital tasks to the highest possible standards.
He has been another guide on my 2020 journey to focus on doing a few things exceptionally well to grow my consulting business.
Because I have created a very precise positioning for myself, I can sharpen my mindset and trim the fat around all non-essential things. How cool! Have a look at all my learnings from the book in my book summary blog.
What I learned from Greg:

The wisdom of life consists in the elimination of non-essentials.
SUBSCRIBE TO 'THE AUTHORITY' NEWSLETTER
11. On my spinning bicycle with Seth Godin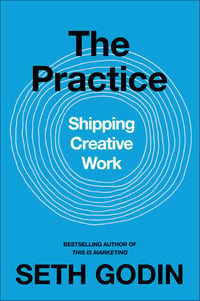 I guess you already know best-selling author Seth Godin. I've sent his latest book 'The Practice' to all my clients as a Christmas gift.
Learning to trust - yourself, your audience, and your work - is the core component of 'The Practice'. Definitely another must read for any consultant.
Every Tuesday, I am having my weekly home indoor cycling hour in front of the TV. My favorite program? Watching (amazing number of) YouTube interviews with Seth Godin.
There's a wonderful interview about his new book 'The Practice' you should watch!
What I learned from Seth: Focus on your smallest possible audience (narrow, narrow, narrow) and provide them with an abundance of trust in your expertise (content, content, content).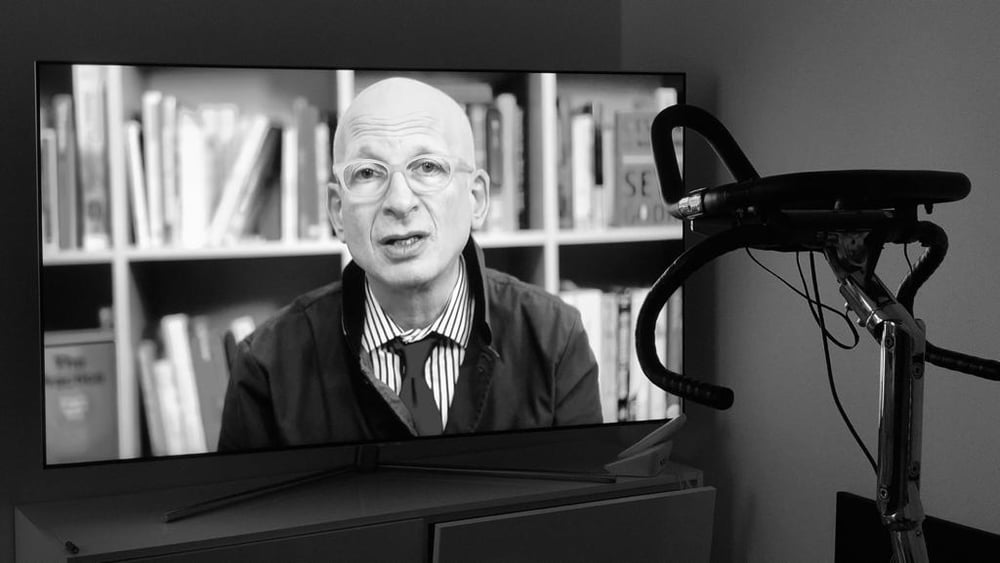 Picture: My 4 best friends, every Tuesday afternoon: my TV, YouTube, Seth Godin and my spinning bicycle
12. The new consultant archetype #2:
About giving & helping. About the new archetype consultant.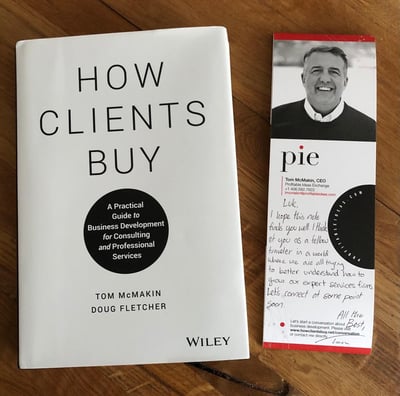 I wrote a summary of Tom McMakin's book 'How Clients Buy' and I informed Tom about the summary and - of course - tagged him in my social media.
A few weeks later, I received 3 free copies of the hardcover book (sent from the US) with a handwritten note to thank me. Wow!
Amidst the Corona crisis, there's this friendly, thankful, helpful consultant in the US who takes the time to send handwritten notes to recognize people for support. How admirable. Awe-inspiring!
What I learned from Tom: consulting is a credence business, people need to know, like and trust us before they buy!
13. The guru of the gurus
Meet with my daily training partner Neil Patel. Almost every day, I take 5-10' to watch his new instructional video. What an amazing content production volume, can you imagine?
Neil is my SEO (Search Engine Optimization) guide but on top he's been one of my key instructors in 2020 with his fabulous free training programs. Have a look at his digital marketing training page.
Thank you Neil for your incredible value you are providing all the time, day in day out. How special!
On top I am a lifetime subscriber of his Keyword tool Ubersuggest and if you haven't checked it out, you should do right away. Your consulting competitor is only one click away, you need to get better at online marketing!
What I learned from Neil (quoting him):

"Sometimes all we need is to be surrounded by a group of others trying to do better."
14. My wonderful clients
It was an incredible 2020 for me. Those wonderful clients, eager to learn, grow, hit the road. All of them getting hit by the Corona crisis and all of them bouncing back. It's the word of the year in my work: bouncing back.
Thanks a million to all of you, from all over Europe. Thanks for the trust in my work, coaching and teaching.
You are all my magnificent inspiration to my everyday hustling, writing, developing, thinking, teaching, coaching, mentoring, supporting, helping. I love you all! See you back next year!
15. The Unsung Background Heroes
I had the privilege in 2020 to be surrounded by the best coaches, the best clients, the best software, the best inspiration, the best teachers and my amazing background heroes:
Saida: my Budapest-based super-duper-faster-than-my-shadow social media manager for almost a decade. Without her, my 1-day content machine wouldn't be existing, my editorial consistency would be a nightmare, my social media would go south and my visuals would be shitty.



Johan & Johan

: masters of the online universe, owners of

Leadstreet

, a Belgium-based Hubspot agency. I almost got lost in the (amazing) Hubspot megacosm but you guys got me (and some of my clients) back on track. Humble as you are, effective and efficient like no one else. I love that!
Interested in receiving all my learnings to become a better consultant? No spam, no BS. Pure teaching! Subscribe to my newsletter.

Hello, I'm Luk Smeyers, and I'm helping mid-sized consultancies become high-performing consulting firms. I have been in the consulting businesses for more than 20 years, in very different roles: as European CHRO in a global consultancy, as a founder of a mid-sized analytics consultancy, and as a leader in a 'Big 4' consultancy, post-acquisition of my consultancy. I had the privilege of achieving global visibility as a consulting leader, and I never had to sell, persuade, or negotiate as a result. I have now bundled all those experiences, expertise, know-how, research, reading, successes, struggles, and failures from managing and advising consultancies in the past years.